This is your daily reminder Dr. Fauci helped fund the virus that caused Covid, then lied about it, and is not in prison.
During an interview with the Atlantic, Fauci explained it's highly likely that individuals won't be considered fully-vaccinated unless they get booster shots." They are going to move the goal post all the way to the grave and gulags.
Fraudci changes the definition of 'fully vaccinated' to include booster shots
"It is likely, for a real complete regimen, that you would need at least a third dose," Fauci said.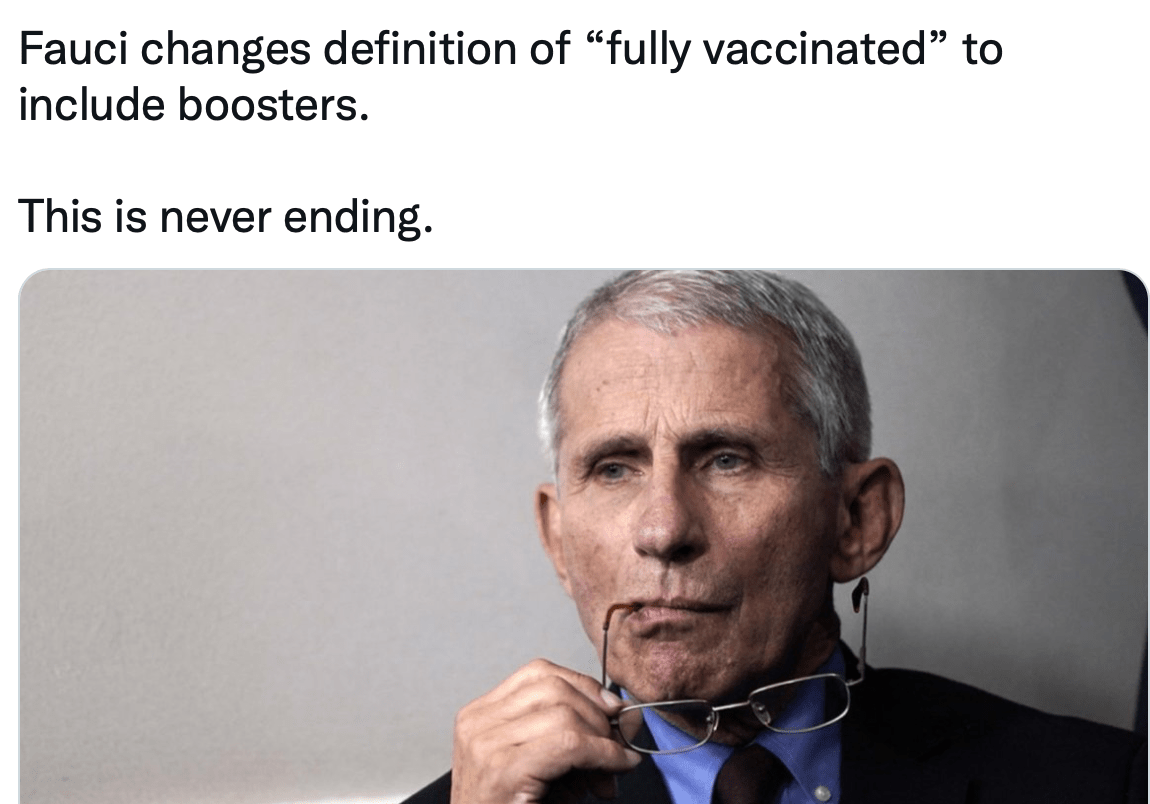 In an exclusive interview with The Atlantic, Joe Biden's chief medical adviser Dr. Anthony Fauci revealed that COVID-19 booster shots don't keep people alive but can allegedly prevent severe effects from the virus.
Finally!@hughhewitt challenges Dr. Fauci on why he doesn't resign seeing as his history of hypocrisy, flip-flops, and failed predictions have destroyed his value as a public-health official.

Fauci, unsurprisingly, is aghast & refuses to take the suggestion seriously. pic.twitter.com/tzV7ckfP4T

— Tom Elliott (@tomselliott) September 30, 2021
Almost all of the people that died of covid yesterday in New South Wales were vaccinated (6 out of 7) pic.twitter.com/XXJ69DZtLR

— JON MILLER (@MillerStream) September 29, 2021
Many experts now agree with Sen. Rand Paul that America's most famous doctor, Anthony Fauci, was wrong about mask mandates, the origin of COVID-19 and risky gain of function research. Join OAN's John Hines as he sits down with Paul for an exclusive interview on his story. #OANN pic.twitter.com/HFWBl39uVc

— One America News (@OANN) September 29, 2021
Fauci asked to explain why in Israel, which is most vaccinated, Delta cases are rising. His answer confirms:

A) he's a charlatan, as he still promotes for the US what he implies here is bad for Israel

B) what we've been saying for ages: hybrid immunitypic.twitter.com/m1gDuCJZzo

— Maajid أبو عمّار (@MaajidNawaz) September 29, 2021
Dr Fauci was wrong then and his wrong now. pic.twitter.com/4kTXWhBioe

— The Juggernaut (@TheJuggernaut88) September 26, 2021