Rowen Dean The Spectator Australia 4 September 2021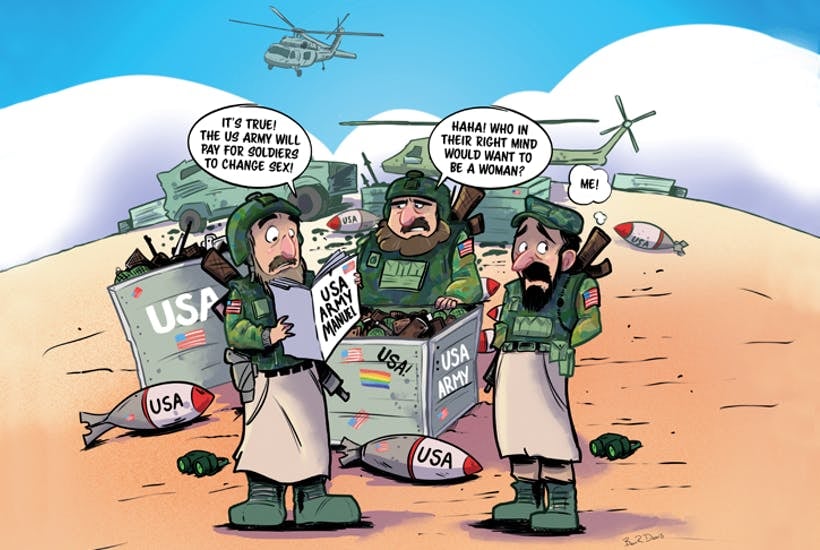 News that the Biden administration – clearly the most inept group of individuals ever to take up residency in 1600 Pennsylvania Avenue in its 222-year history – managed to 'gift' the Taliban some $85 billion worth of US army equipment is just one more stinging lash in the humiliating whipping the West is now enduring. On every conceivable level, as David Adler predicted in these pages the week Joe Biden 'won' (inverted commas optional, depending on your point of view) the 2020 election, the Middle East is being plunged into darkness. Indeed, the lights now literally go out in Kabul every evening at 9pm due to a Taliban-mandated blackout and curfew, giving an added dimension to the concept of this blighted land hurtling back to the Dark Ages. Still, no doubt the climate alarmists in the West will applaud this as a woke-worthy effort on the part of the Taliban to reduce carbon emissions in order to save the planet, along with being 'nicer to women' (copyright Ms J. Ardern).
As our cover image suggests there is plenty of black humour to be derived from the idea of these Islamist terrorists fumbling around trying to make sense of the sophisticated military equipment they have – as much to their surprise as ours, no doubt – now found themselves in possession of. But the grim reality is that this weaponry will be used mercilessly against Western interests and against the innocent populaces of the Middle East. Many, many lives will be lost and the blood will be on Joe Biden's hands. Those who, fuelled by an irrational hatred of Donald Trump, turned a blind eye to Mr Biden's manifest unsuitability for high office share in that culpability.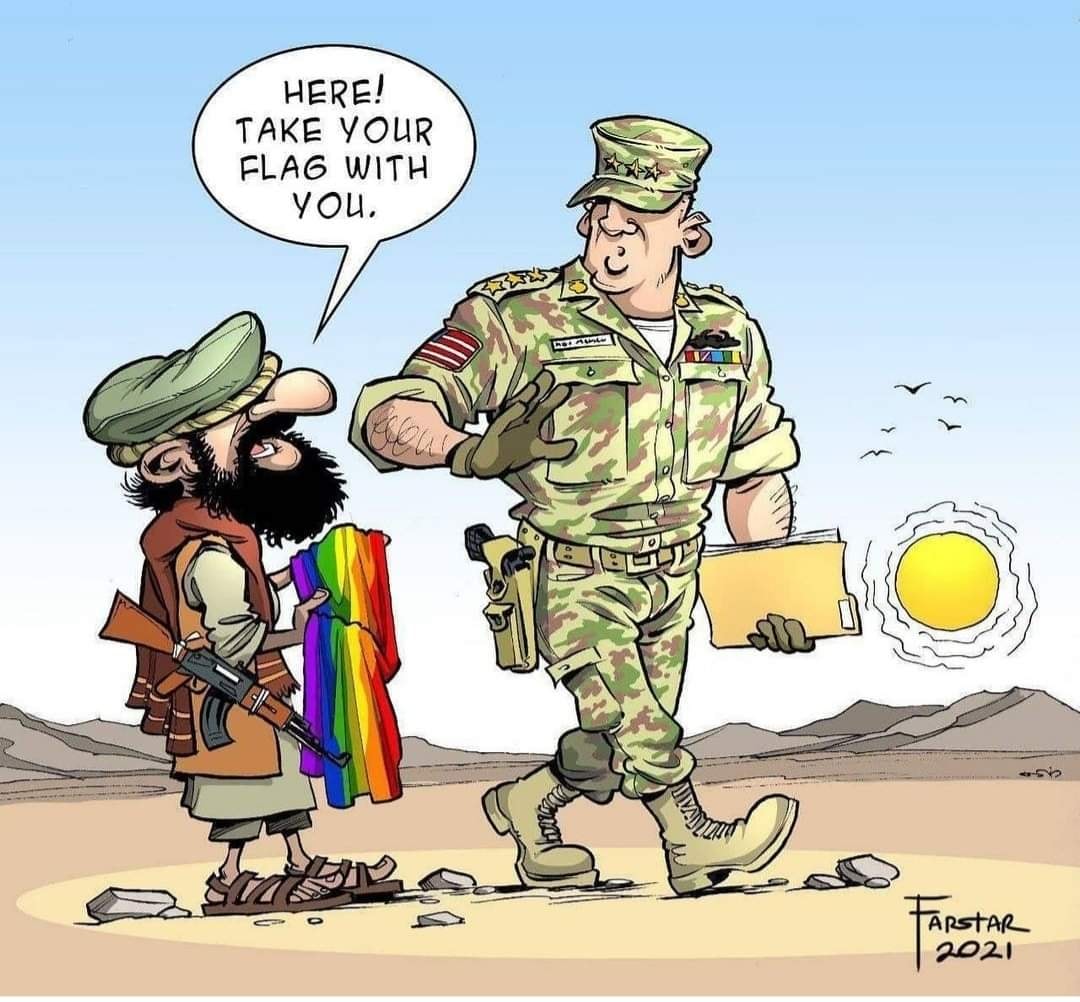 It beggars belief that it was only twelve months ago that the ink was still drying on the Abraham accords, the series of previously unimaginable peace treaties organised by President Trump between Israel and various of its Arab and Muslim neighbours. This extraordinary success came after a string of other victories against the West's foes, including – most importantly – the defeat of the Isis caliphate in Syria and cancellation of the Iranian nuclear deal. Not to forget other more symbolic achievements such as moving the US embassy to Jerusalem.
.
Under President Biden we have seen an increasingly belligerent Hamas in Gaza, an increasingly belligerent Hezbollah in Lebanon, an increasingly belligerent Iran, an increasingly belligerent China, chaos on the southern US border and now an excessively emboldened Terrorism, Inc. set loose upon the world. That's some CV, and we haven't even reached the end of Year One of the Biden/Harris presidency. One shudders to think what horrors still lie ahead.
.
But the biggest defeat of all that has now been thrown into sharp focus is the defeat of the West's morality and of Enlightenment values. The victory of our enemies has only been achievable thanks to the manner in which, over the last couple of decades, we have relentlessly defeated and obsessively undermined ourselves. That those conservative voices which warned against this decay have been shown to have been right all along is little consolation.
.
The capitulation in Kabul is the inevitable consequence of the modern West's craven abandonment of reason and rationality in favour of 'progressive' fads like diversity and inclusion (laughably, a rainbow flag flew above the US base in Kabul); of neo-Marxism's long march through our institutions (critical race theory is now studied by the US Army); and of a spiritual vacuum that encourages racial guilt and colonial shame as national virtues. To paraphrase G.K. Chesterton, 'When men choose not to fight to win, they do not thereafter just become incapable of winning, they then become incapable of fighting for anything.' And herein lies the problem. Our much-vaunted, 'woke' victories – pretending that biology can be changed with a surgeon's knife, fantasising that humans can alter the weather by the cars they drive, linking morality to skin pigmentation – are not victories at all, they are defeats. Worse, by focussing on these imaginary problems and fake intellectual pursuits, we have now poisoned the well of our academic superiority. Our universities are beholden to Chinese financial interests as much as they are in the grip of flawed science and deranged humanities subjects. What hope for the protection of our nations and our values when our armed forces put more effort into gender reassignment surgery and reducing carbon emissions than they do into planning successful military operations.
.
At some point, alas, we shall no doubt have to learn – all over again – how to fight to survive.
.
Cover by Sarah Dudley, illustration by Ben Davis
The Spectator Australia