Supreme Court reinstates Boston Marathon jihad murderer's death sentence
It's cruel to make him wait. He deserves  his  just  deserts.

Marathon bomber's Dzhokhar Tsarnaev's death penalty: 'State-sanctioned murder is not justice, no matter how heinous the crime'
U.S. Rep. Ayanna Pressley, who oversees part of Boston, condemned the Supreme Court's decision to reinstate the death penalty for Boston marathon bomber Dzhokhar Tsarnaev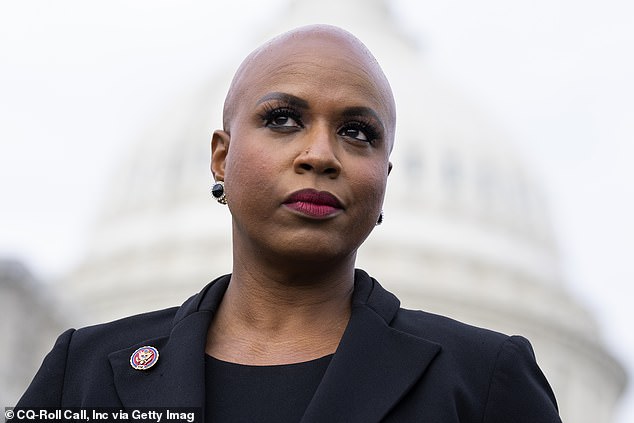 US Rep. Ayanna Pressley bashed the Supreme Court for its decision to reinstate the death penalty for Boston Marathon Bomber Dzhokhar Tsarnaev on Friday  
Voting along conservative-liberal lines in a 6-3 decision, the court said a federal appeals court  was wrong to throw out the death sentence for Tsarnaev
Pressley, who represents part of Boston, called on Biden to halt any executions and for fellow congress members to pass her proposed ban on the death penalty
US Attorney General Merrick Garland had imposed a moratorium on federal executions after Donald Trump over saw 13 in 2021
Both the Biden and Trump administration had pushed the Supreme Court to rule on the matter to avoid a new sentencing that would reopen Boston's wounds 
The appeals court had ruled that it was improper to exclude evidence on how deeply influence Tsarnaev was by his older brother, Tamerlan
The defense described Tamerlan, who died in  a shootout with police following the attack, as the real mastermind behind the bombing 
His victims, of course, get no chance to appeal at all.
"Supreme Court votes 6-3 to reinstate Boston Marathon Bomber Dzhokhar Tsarnaev's death sentence after rejecting claims jury should have been told of accomplice brother's influence on him," DailyMail.com, March 4, 2022:
Supreme Court justices have voted 6-3 to reinstate the surviving Boston Marathon bomber's death sentence, after tossing out an earlier court's ruling that jurors should have been informed of his accomplice brother's influence.  

Dzhokhar Tsarnaev, 28, was ordered back on to death row by Friday's ruling, when a majority of justices said they agreed with the Biden administration's call to execute Tsarnaev over the April 2013 terror attack that killed three and maimed 255 others.   

'Dzhokhar Tsarnaev committed heinous crimes,' Justice Clarence Thomas wrote for the majority, with conservatives ultimately voting to reinstate, with liberal justices coming out against. 'The Sixth Amendment nonetheless guaranteed him a fair trial before an impartial jury. He received one.' 

The First U.S. Circuit Court of Appeals in Boston ruled in 2020 that the trial judge improperly excluded evidence that could have shown Tsarnaev was deeply influenced by his older brother, Tamerlan, and was somehow less responsible for the carnage. Tamerlan was shot dead by cops in the Boston suburb of Watertown four days after the terror attack.

The appeals court also faulted the judge for not sufficiently questioning jurors about their exposure to extensive news coverage of the bombing, but the Supreme Court has now ruled that this was a moot point. 

Associate Justice Stephen Breyer, writing a dissent that was joined by two of his colleagues, noted that when 'death is at stake…particular judicial care' is required.

'In my view, the Court of Appeals acted lawfully in holding that the District Court should have allowed Dzhokhar to introduce this evidence,' Breyer wrote.

Daniel Habib, a lawyer for Tsarnaev, declined to comment about the ruling. Judy Clarke, another lawyer representing Tsarnaev, did not immediately reply to DailyMail.com's request for comment.  

Tsarnaev was found guilty in 2015 for the deaths of Lingzi Lu, a 23-year-old Boston University graduate student from China; Krystle Campbell, a 29-year-old restaurant manager from Medford, Massachusetts; and 8-year-old Martin Richard, of Boston….