Russia's guided-missile cruiser Moskva, the flagship of its Black Sea fleet, suffered a damaging explosion and had to be towed to port. The Ukrainian government claimed that one of its cruise missiles had struck the Moskva, but Russian authorities said an internal fire caused the explosion, which had nothing to do with an enemy attack.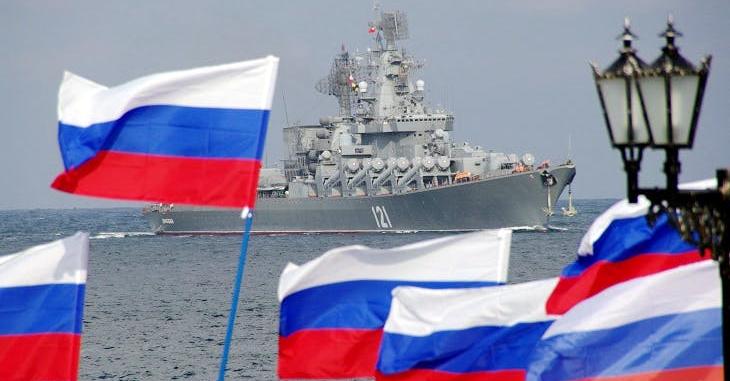 The sinking of the
#Moskva
represents more than the loss of a Russian warship, it could be the turning point of the
#Ukraine
war.
.
'It's early days yet, but the sinking of the Russian cruiser Moskva in the Black Sea, apparently by Ukrainian missiles, looks like being the most significant sinking of a warship in combat since the loss of the ARA General Belgrano, 40 years ago in the Falklands War.
.
As this is being written, the first reports of the Black Sea action are still emerging, but it appears two shore-based anti-ship missiles aided by drone distractions managed to hit the Russian vessel, causing serious damage. Fires broke out, and unable to be stopped, later caused the ship to capsize and sink. Hundreds of sailors may have died.
The questions raised will be significant.'
.
Query one will be how such missiles got past the ship's defences. It seems to be the case that the Russian vessel – the flagship of their Black Sea navy, so a serious blow to their morale – was cruising for much of the present two-month-long conflict within range of such weapons for weeks. If so that points to several serious Russian errors. For example, why did they not know such anti-ship missiles – apparently a 170 mile range (270 kilometre) Neptune, derived from the Soviet-designed Kh-35 – were deployed? Their intelligence apparatus may have some answers to provide there.
Then again, presumably the Neptune presence was known and discounted.
🛥 As governments seize the prized assets of Russian oligarchs, superyachts are accumulating in shipyards across Europe https://t.co/OZ1uDA1pdH

— The Telegraph (@Telegraph) April 18, 2022
Is this true?