Hundreds of protesters – reportedly armed with clubs, iron rods, stones, and other rudimentary weapons – attempted to storm President Gotabaya Rajapaksa's house in the Mirihana district of Colombo, Sri Lanka, on Thursday night, demanding his government address the chronic shortages of fuel, food, medicine, and electricity the country is experiencing.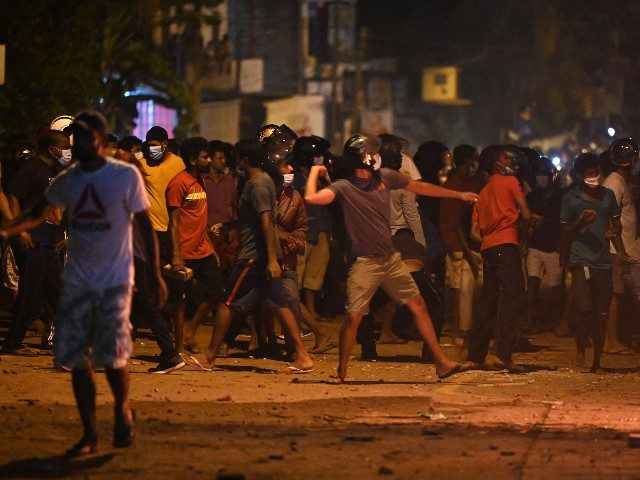 Sri Lanka has been experiencing nearly ceaseless protests in the past month, prompted by widespread shortages of basic goods such as gasoline, food, and medicine. Hospitals have begun canceling surgeries because of a lack of critical medicine, and power shortages have caused regular blackouts lasting up to 13 hours. Gasoline refueling lines have become so long that outraged citizens have killed one another on them. (Breitbart)
No gas, no medicine, no food: What life's like in crisis-hit Sri Lanka 
Speaking to India Today, 69-year-old Thomos from Colombo said citizens are finding it difficult to get petrol, medicines and even food in crisis-hit Sri Lanka.
As the economic crisis in Sri Lanka spirals out of control, 69-year-old Thomos from Colombo told India Today that petrol is unavailable, medicines are difficult to find and essential food items are being sold at extremely high prices in the country.
Sri Lanka declares state of emergency as protests spread
President Gotabaya Rajapaksa invokes tough laws amid protests over Sri Lanka's deepening economic crisis.
Sri Lankan soldiers walk past a bus burned by demonstrators at the top of the road of President Rajapaksa's residence in Colombo, Sri Lanka [Dinuka Liyanawatte/Reuters]
Sri Lanka's president has declared a state of emergency, giving sweeping powers to security forces a day after hundreds tried to storm his house in anger over an unprecedented economic crisis.
President Gotabaya Rajapaksa invoked the tough laws on Friday allowing the military to arrest and imprison suspects for long periods without trial as demonstrations calling for his resignation spread across the South Asian nation.