Nothing is more demented than the myth of the noble savage.
Al AGE is stirring the pot:
Historical Perspective. Illustration by Cathy Wilcox. Read the letters to the editor here: https://tinyurl.com/mr27t6yu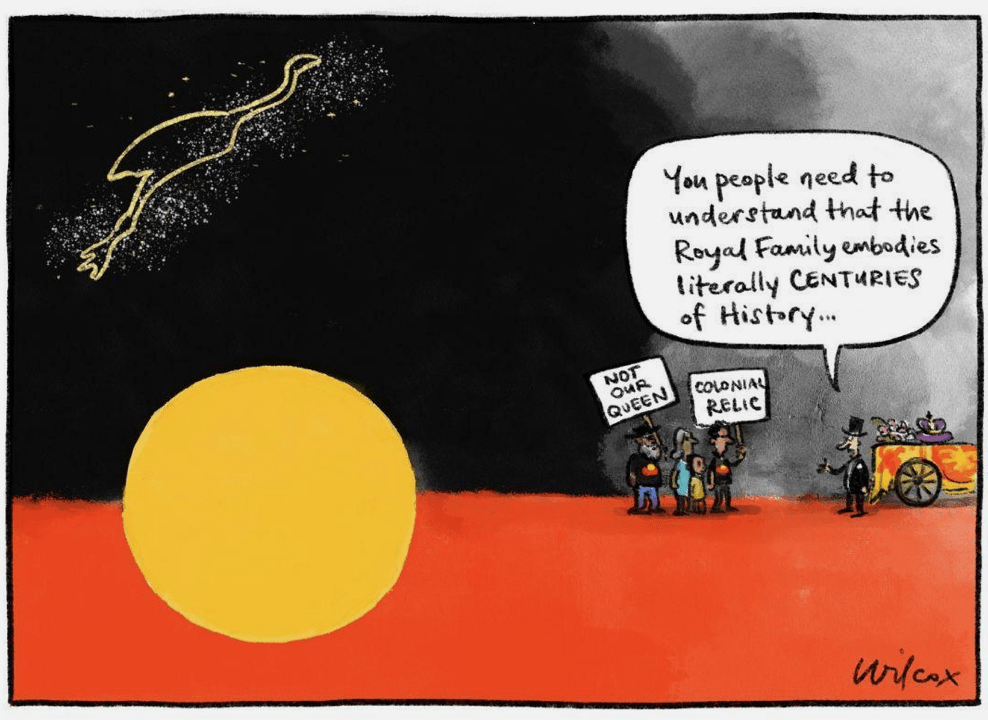 The Breaking Up: Australia's history since 1788
Apparently, this is Reconciliation Week.
My question is "why" – and "for what"?
.
Aboriginal peoples were made British citizens shortly after 1788 and have the same rights in law.
.
As well as more benefits, than anyone else.
.
Perhaps more critical, the vast majority of the roughly 700,000 who bother to register Aboriginal ancestry are more Anglo-European in ancestry than anything else; and in no other country on the planet could they register as Native with less than 50% ancestry – let alone less than 1%.
.
As well as being minimally Aboriginal in ancestry, most of this group are in mixed marriages.
.
All of which says that *Reconciliation* has been going on for centuries and calling for more is simply unnecessary – unless the goal is virtue-signalling for imagined crimes of the past.
.
Surely, if we are to retrofit modern values and attitudes to the past we must do so to all, and not just condemn those few acts of violence committed by Europeans against Aborigines.
.
If such violence was wrong, then all such violence was wrong, whether Aboriginal on Aboriginal – of which there was much more – or Aboriginal on European – of which there was a lot.
If it was wrong for Europeans to attack Aboriginal men, women, and children, even in the name of retribution, then surely it was wrong for Aborigines to do the same to European men, women, and children, even in the name of retribution?
.
The very common atrocity of Aborigines slaughtering shipwrecked survivors, one of the worst instances being in South Australia with the wreck of the Maria, is surely to be condemned.
.
Is the argument that as 'primitive stone-age peoples' they are to be held to lesser standards?
.
Surely that denies their inherent humanity – and is utterly racist?
It is the double standards at work which are so destructive.
.
If Europeans today are asked to apologise for colonisation in the past, then surely those with Aboriginal ancestry must apologise twice – first for the colonisations of their Aboriginal ancestors and second for the colonisations of their European ancestors.
.
Every human who has ever lived here has been a colonist, some just rocked up a bit earlier, but colonists they still were.
.
Reconciliation is when we stop the racist division which believes having 'some' Aboriginal ancestry, no matter how small, creates inferior function – and all those with it are going to need extra help to function normally.
.
Reconciliation is understanding that the vast majority of those who register as indigenous/Aboriginal are doing as well as anyone else – and often better – and the tiny minority still struggling are mostly those who remain in tribal communities and are the least assimilated into the modern world.
.
No amount of *sorry* is going to fix that.
.
Only assimilation into the modern world can fix that.
Only leaving behind backward tribal traditions can fix that.
.
Reconciliation is understanding that there was never 'a united Aboriginal group' – and that from 1788, 350 plus different groups, many no more than family clans without a common language, we now have thousands of variations on those themes with intermarriage…. with everyone having a common language – English – and one shared 'tribe' – Australians.
.
The British created the only 'nation' which has ever existed on this land and made us all one.
.
Reconciliation is acknowledging we are all Australians, and we all have equal rights….
.
…and 'our ancestry' – while personally interesting – it should be utterly irrelevant to us as citizens.
.
Let every Australian tick 'the indigenous box', for everyone born here is indigenous…. let's end this racist division of Australia once and for all.
.