UK Considered Killing All Cats Because Covid
Mass-hysteria is a powerful weapon in the hands of lunatics.
"There was an idea at one moment that we may have to ask the public to exterminate all the cats in Britain."
Skerritt gives weasel evidence … again!
For Skerritt to downplay C-19 vaccine deaths by comparing them to paracetamol/Panadol deaths is misleading. If he is untruthful about such a matter, what else is he lying about?
Pfizer Unable To Finish Press Conference As Spokespeople Keep Collapsing pic.twitter.com/eALOTsGgCR

— The Babylon Bee (@TheBabylonBee) March 2, 2023
Here are just a few examples of how desperate big media was to make you feel like an idiot for thinking the mysterious bat virus lab might have unleashed a mysterious bat virus:
"Scientists Debunk Lab Accident Theory of Pandemic Emergence," NPR, April 22, 2020
"Senator Tom Cotton Repeats Fringe Theory of Coronavirus Origins," New York Times, Feb. 17, 2020
"Fact Checker: Was the new Coronavirus accidentally released from a Wuhan lab? It's doubtful," Washington Post, May 1, 2020
"Trump's Wuhan Lab Coronavirus Conspiracy Theory Is Bogus, According To Uh, Everyone," Vice News, May 5, 2020
"Lab leak Covid-19 theory is like something out of a comic book, virologist says," CNN, March 31, 2021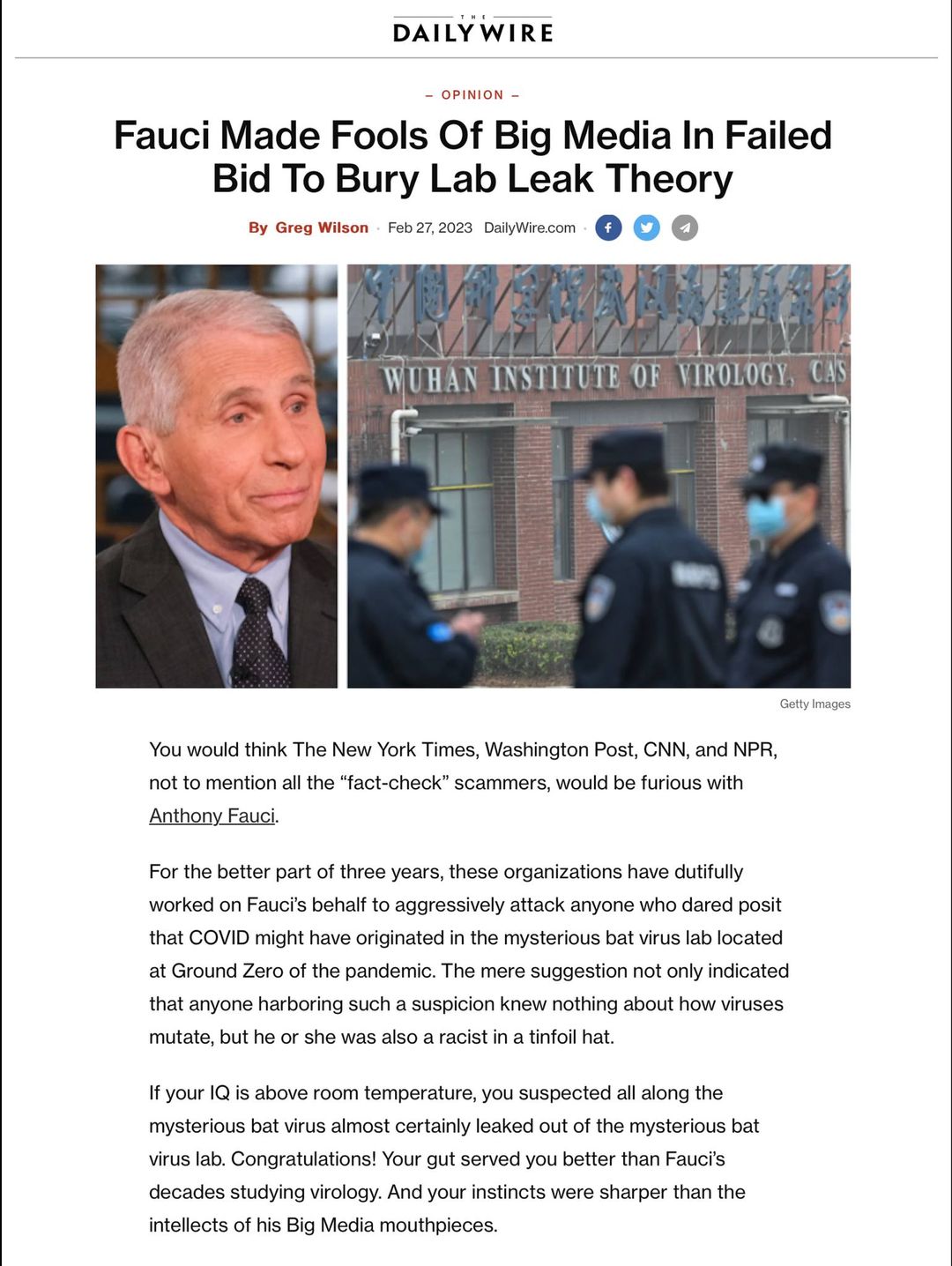 Ann Coulter
"…the shutdowns accomplished absolutely nothing."
Pfizer confirms it ended COVID-19 vaccine pregnancy trial early…