Here comes the Brain-Police: is Britain on the way to become another Saudi Arabia?
Govt unveils campaign to check deviant ideologies
Police scour BNP membership to find officers breaching ban
Just in thanks to Shiva
Update:Â BNP protest after arrests
• Merseyside PC was former driver to chief constable
• Mixture of defiance and denials from those named

* Australian Muslim groups move  block BNP leader's Aust entry/ thanks to Darrin

* Check out the updates below!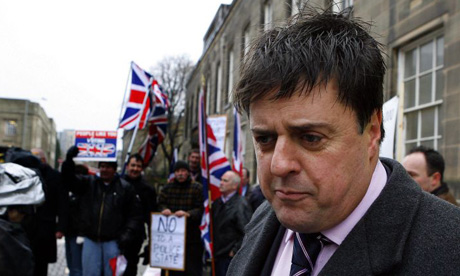 Every police force in the UK was tonight scouring the leaked British National party membership list for names of serving officers, after the Merseyside force confirmed it was investigating one officer's links to the far-right party.
The Prison Service pledged to oust any employee on the list and far-right supporters spoke of fear for their livelihoods as the BNP was plunged into crisis.
Party officials complained that hundreds of members had received threatening or abusive telephone calls within hours of the list being posted on the internet, and feared that the episode could lead to a damaging slump in support and membership.
Merseyside police, who discovered the name of one of its constables on the list, identified him and said that he had served briefly as the chief constable's driver. A spokesman said: "We are very clear: membership of the British National party is totally incompatible with the duties and values of the police service and Merseyside police. We will not accept a police officer or police staff being a member of BNP. As a matter of urgency, we have immediately started an investigation into all aspects of this case."
Scotland Yard, Surrey and West Yorkshire police also confirmed that they were studying the list, and the Association of Chief Police Officers said it expected every other force to follow suit.
A detective inspector serving in the professional standards department of a Midlands force, who was checking the list against his force personnel records, said: "Even people on the list who are lapsed members of the BNP, or who have just approached the party expressing an interest in joining, will be of interest to us."
Any officer found to be a member of the party will face disciplinary action and is likely to be dismissed. The Prison Service is also investigating whether any of its officers are on the list. The secret membership lists the occupations of some members, and one individual, living near York, is identified as a serving police officer.
Rod Lucas, a presenter with TalkSport radio station, was also identified as a member, but said he joined the BNP at the same time that he joined around 20 other organisations, during a research project. "I find the BNP distasteful, I wouldn't vote for them. Sometimes you have to get your hands dirty," he said.
Around 13,000 names and addresses appear on the list. It is thought to include a number of lapsed members and possibly the names of individuals who contacted the party and expressed interest in joining but did not do so.
However, the BNP has confirmed that it is essentially a genuine membership list. It includes the names of a number of clergymen, an actor, two solicitors, at least one doctor and a number of primary and secondary school teachers.
A handful of those contacted by the Guardian said their names appeared by mistake, claiming to have no interest in the BNP. "We're absolutely horrified by this," said a retired teacher from West Yorkshire, who has appeared on the list with her husband. "We're absolutely devastated and wondering if we offended someone and they applied to the BNP with our names as a joke. We're contacting lawyers but what can we do?"
Many were open about their membership, however, declaring they had nothing to be ashamed of. "There's nothing wrong about being a member of the BNP," said John Page, 66, recently retired from teaching foreign students at Barnfield College in Luton. "Some people at work — colleagues and students — knew about my membership. I've never had any problems with it."
Ida Jordan, 80, from Preston, said she had received threats. "It was an educated male voice. He said: 'Take care now. You are a racist.' My opinion is that we should look after our own country, our own people, but I don't have any animosity toward people of a different colour or religion."
Jan Gibson, a pensioner from Quorn in Leicestershire, said she and her husband had been members for four years. "I have nothing against coloured people at all. They can't help their colour. I can't help being white," she said. "Our friends know we are in the British National party. They actually agree with us. They have not got the courage to do what we do. A lot of people think as we do."
The release of the list offers a new insight into areas of the country that appear to have the highest numbers of supporters for the BNP.
A total of 192,746 voters cast their ballot for the party in the 2005 general election, just 0.7% of the total vote, restricted to the limited numbers of constituencies where the party put up candidates. Previous analysis of the BNP's support base relied on its recent successes in local elections. The party has its largest numbers of councillors – 12 – in Barking and Dagenham, with strong representations in councils in Stoke-on-Trent and Epping Forest in Essex.
Although the police and the Prison Service are thought to be the only public bodies that prohibit membership of the BNP, many other individuals could face disciplinary action once their membership is known.
Nick Griffin, leader of the BNP, said he had little doubt that the leak was "a disgraceful act of treachery" by disgruntled former BNP officials.
* Now if this is not fascism I don't know what is.
 
BNP protest after arrests
 
19/11/2008
BNP supporters were demonstrating outside a police station after its members were arrested for stirring up racial hatred in a town riven by race riots.
BNP leader Nick Griffin in Burnley
Four men were held this morning after a police investigation over the distribution of leaflets in Burnley, Lancashire, branding Muslims responsible for the heroin trade.
Police would not say if the four were BNP members – the party said two were members in the local area.

Nick Griffin, leader of the far-right party, visited the town, to protest outside Burnley Police station at the 'persecution' of its members arrested after 'Gestapo-like dawn raids' by police.
Today's arrests come after the publication of a list of more than 12,000 BNP supporters was leaked on the internet – which allegedly includes a serving police officer, a vicar and a prison officer.
Each of the leaflets features a harrowing photo of Rachel Whitear, 21, who was found dead at her flat in Exmouth, Devon, in May 2000, holding a syringe.
The photo of Rachel made national headlines after her parents agreed for it to be released to warn other youngsters of the dangers of drugs.
Rachel's mother, Pauline Holcroft, 58, of Ledbury, Herefordshire, later said the leaflets were "insulting and offensive".
The leaflet was distributed to homes in Burnley – which suffered race riots in 2001 – and is also reportedly circulating in other parts of Lancashire, Cumbria and Yorkshire.
It says people should "heap condemnation" on Muslims and that it is time for them to "apologise" as it claims they are responsible for 95% of the world's heroin trade.
The leaflets, which first appeared around March, were first distributed by a former BNP candidate, according to the party's website.
Burnley has a high proportion of Asian residents.
It also has four British National Party councillors sitting on the borough council.
A spokesman for Lancashire Police said: "A 41-year-old man from Burnley, a 43-year-old man from Blackburn, a 53-year-old man from Preston and a 57-year-old man from Nelson were all arrested today on suspicion of the publication and distribution of written material intended to stir up racial hatred and the possession of racially inflammatory material.
"They will be questioned by detectives at Burnley Police Station during the course of the day."
In a separate development, police called in independent investigators today to look into claims that a serving officer is on the list of leaked members of the BNP.
The list was removed from the original blog where it was published but remains available on other websites.
According to the BNP, the published list is based on its 2007 membership list although a number of names of people who were not, or are not party members had allegedly been added.
Injunction 
Earlier this year, the party obtained an injunction at the High Court in Manchester banning any publication of the list.
The list is just over a year old, according to BNP leader Nick Griffin, who initially blamed the leak on former BNP staff members who have now been sacked.
But earlier today BNP spokesman Simon Darby said: "It is looking increasingly likely that this is the work of Labour Party supporters. If they have not protected their IP (internet service provider address) properly, there will be an electronic trail leading back to the culprit."
The BNP carries out some of its administration in Welshpool, and North Wales police pledged to investigate any information breach "in the usual robust manner".
A spokesman for the Prison Service refused to reveal whether an employee is under investigation.
He said: "The Prison Service is very clear on this issue – we take allegations of racism very seriously and have a zero tolerance policy of those who hold racist views.
"When being recruited externally or applying for transfer or promotion, candidates are asked to state categorically that they do not belong to the BNP, National Front or Combat 18, or any other group or organisation promoting racism.
"Membership of such organisations is entirely incompatible with working in the Prison Service and, if it is confirmed that a member of staff belongs to one of them, they will be subject to our disciplinary procedures.
"We have dismissed a number of staff for their actions in the past, and were the first public sector employer to ban staff from being members of racist organisations.
"If we receive information indicating that a Prison Service employee is a member of a proscribed organisation, these claims would be investigated, and the appropriate action taken."
In April this year the BNP brought an injunction at the High Court in Manchester against five people to stop them publishing a list of party members.
They were ordered by the court to destroy all records of the information that they held.
****
"Groups" move to block BNP leader's Aust entry

     *    Which groups?

PRINT FRIENDLY
EMAIL STORY

PM – Thursday, 20 November , 2008  18:26:00

Reporter: Alexandra Kirk

MARK COLVIN: The leader of the British National Party, Nick Griffin, faces an uphill battle in his bid to come to Australia.    Key Jewish and Islamic groups are pressing the Immigration Minister to block Mr Griffin's entry, on the grounds that he could incite racial and religious hatred.

* Â WTF? Telling the truth about Islam "incites racial and religious hatred?"

   

Mr Griffin has lodged an electronic visa application, but because he's on Australia's movement alert list he must now submit a full written application.

From Canberra, Alexandra Kirk reports.

ALEXANDRA KIRK: A group called The Australian Protectionist Party says on its website that Nick Griffin has accepted its invitation to visit Australia on a speaking tour.

The party says it's made up of people who've been politically active in several other nationalist and patriotic movements; and who intend to develop a new social movement in Australia and "take back the moral high ground".

It says Nick Griffin will speak about his party's fight to protect Britain and its people from "the demographic genocide that is threatening their homeland, caused by the large-scale immigration of people from the Third World". 

It's understood Mr Griffin lodged an electronic visa application earlier this month, but that because he's on Australia's official movement alert list, it won't be automatically processed. 

Instead, he must now submit a full written application that will trigger a character assessment. PM understands Mr Griffin is yet to do that.

The character test includes provisions to ensure a non-citizen won't vilify, incite discord in, or represent a danger to the Australian community or part of that community.

* Obviously there is no problem with Muslims who vilify, incite discord in, or represent a danger to the Australian community or part of that community,or  is there?

The Executive Council of Australian Jewry has written to the Immigration Minister Chris Evans, asking him to block Mr Griffin's entry. 

* We are our own worst enemy!

Robert Goot is the president of the Executive Council. 

ROBERT GOOT: What we have said in our letter to the Minister is that he should give urgent consideration to exercising his discretion to deny him entry into Australia under the Migration Act.

The grounds are those set out in the Migration Act in section 6C of the Act, which relates to good character. Specifically the grounds in the Act which we say apply here are a significant risk that Mr Griffin with vilify one or more segments of the Australian community; or insight discord in the Australian community or in a segment of that community in breach of the character test in the Migration Act.

ALEXANDRA KIRK: And if Mr Griffin were to come here as a tourist, not to give lectures or be on a speaking tour, would you still have the same objections?

ROBERT GOOT: No. 

ALEXANDRA KIRK: The Federation of Islamic Councils is in the process of drafting a similar letter to the Minister. 

President, Ikebal Patel, says it's not in the national interest to allow Mr Griffin into Australia.

 

IKEBAL PATEL: Look I think Nick Griffin has done a lot of damage in England and is continuing to do so and I don't think there is any place for Nick Griffin or people like him to be invited to Australia.

* What kind of damage, Mr Patel? Who are you to say who is to come and speak in Australia? Start cleaning up the mosques!

ALEXANDRA KIRK: You don't think the level of political debate in Australia is sophisticated enough to handle him being here?

Wingeing and whining:

IKEBAL PATEL: I think Nick Griffin's agenda is very clear. It's very far right and I think the level of debate in Australia is mature enough to know that that's no good that's going to come out of his visit. 

We've had issues not so long in the past with Cronulla and others and you know the time is such that it's coming in the same sort of months where we'll be in the heat of summer and there'll be a lot of partying and things going on and we don't want somebody like Nick Griffin to come and spoil the party.

ALEXANDRA KIRK: Do you think the Government is likely then to block his entry?

IKEBAL PATEL: I think the Australian Government would certainly listen very seriously to the opposition to this planned visit by different groups; and I think they will act responsibly in ensuring that we don't have some outsider coming here and trying to break the peace and serenity that we all are enjoying. 

ALEXANDRA KIRK: Mr Patel hopes the unanimity of the Jewish and Islamic communities will add weight to their request. 

The Minister Chris Evans declined to be interviewed, but said through a spokesman that the Rudd Government strongly opposes the fostering of extremism, hatred, division and incitement to violence.

* False claims from a friggin wimp!

   

MARK COLVIN: Alexandra Kirk.