"Tolerance is one thing, but naivety is something quite different," and: "We should not repeat the same mistakes that other European states made in relation to Muslims."
H/T ZIP
Actualne/Brno – Two high-ranking officials of the Christian Democrats (KDU-ÄŒSL) on Monday rejected plans by the Muslim community in Brno to build a second mosque in the city, citing fears of Islamic radicalism and cultural tensions. The statements came only months before October's general elections.

"Tolerance is one thing, but naivety is something quite different," said David Macek, KDU-ÄŒSL deputy chairman. He said many western European countries had been tolerant to Muslim immigrants and now had to face clashes between them and the majority society. "We should not repeat the same mistakes that other European states made in relation to Muslims."

Stanislav Juránek, the party's leading candidate for South Moravia and the region's former governor, voiced concerns that local traditions might be "pushed out by a foreign culture and religion". He went on to say that, "There are no churches in Yemen or Saudi Arabia. Their construction is completely impossible."
The two officials added that construction of new mosques should not be allowed anywhere in the Czech Republic.
"Existing mosque getting too small"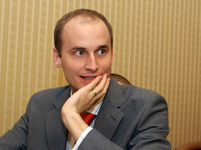 David Macek warns that excessive tolerance might result in cultural clashes.větší obrázekAutor: hra
Brno already has one mosque, built on Vídeňská street 11 years ago as the first Muslim sanctuary in the Czech Republic. The growing community of Brno's Islam followers now finds the facility too small. The community has not yet applied for a building permit or even selected a suitable location, but merely announced its plans to build a new mosque. (The mosque is not allowed to have a minaret/ed)
Muníb Hasan, chairman of an Islamic foundation in Brno, says the community needs especially lecture and reading rooms. He previously expressed hopes the town hall would support the plans to build a new mosque, citing very good relations between majority Brno residents and Muslim immigrants. Now he rejects the Christian Democrats' concerns, saying Brno Muslims have always denounced any form radicalism.
But Daniel Rychnovský, Brno deputy mayor and another Christian Democrat, has already told local Muslims that city officials from his party will not back the plan. "I personally believe that Brno already once expressed its tolerance by allowing the construction of the Vídeňská street mosque. That should be enough," he said.
City officials, bureaucrats and some residents had also opposed the construction of the first mosque 11 years ago. In the end the Muslim community received permission, but was not allowed to decorate the shrine with a traditional minaret. The authorities ruled this would damage the city's atmosphere.

The first mosque in Brno, the capital of South Moravia with the population of some 400,000, is currently attended by some 120 worshippers and their number is growing. There is one other mosque in the Czech Republic, in Prague.