Brawl erupts outside Sydney court
Moments after three brothers were convicted over a brawl with police, there was screaming, punching and wailing as another altercation with officers erupted at a Sydney court.
Dozens of officers and riot squad police swarmed over level four of Downing Centre Local Court on Tuesday after brothers Adel, Hussain and Ali Mehanna were convicted of numerous offences, including affray and resisting arrest.
After the decision was handed down, Adel yelled out from the dock at people leaving the court: "I'm going to f***ing kill you."
An altercation with police and one of the brothers then spilled out of the court into the foyer.
As bewildered members of staff and the public stared on, six officers tried to restrain one of the brothers who lay writhing on the floor, screaming: "Help me, somebody help me."
His mother Rafah Mehanna wailed and screamed out "No, no". She was later taken from the court in an ambulance.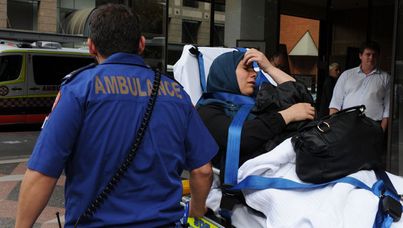 Rafah Mehanna is taken on a stretcher by ambulance officers from the Downing Centre Court in Sydney. An altercation broke out between the Mehana family and police just outside the door to the courtroom as their police assault charges were being heard. (AAP)
The three brothers, as well as their mother, their father Mohammed and sister Zainab had just faced charges in court over the altercation with police at their Bankstown home.
The court heard police had been called to the property after reports of a domestic dispute in the early hours of New Year's Day last year.
When two officers arrived, the three brothers were smoking on the front lawn.
Magistrate Darryl Pearce said Ali had sworn at them, calling one a "slut" and telling them it was a family matter.
Despite police discovering there was no case of domestic violence, at least 10 more officers turned up.
The situation escalated and a "brawl" broke out, with the brothers found to have assaulted a number of police and resisted arrest.
However, Magistrate Pearce dismissed the charges against Mr and Mrs Mehanna and Zainab, saying they had only acted in defence of their family.
He said the trio would have come out of the house to see one officer with a gun drawn, others holding tasers and others punching the three men.
Speaking outside court, a supporter of the family alleged the Mehannas had again been attacked by police on Tuesday.
"If you don't believe us, you can believe the camera footage," he told reporters.
Hussain was taken into custody following Tuesday's ugly scenes while Adel remains in custody. Ali was given bail.
The matters will return to court next month.