Muslim leader bashed as battle over mosque worsens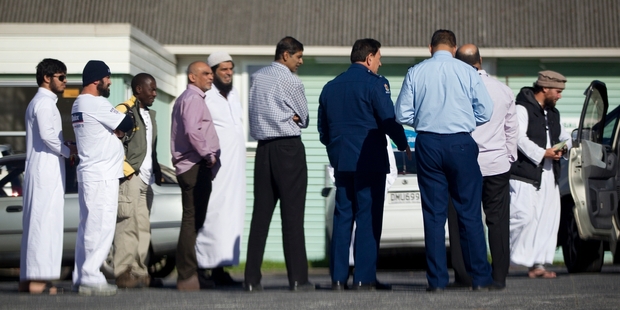 A man is in hospital with serious injuries after he was beaten up at an Auckland mosque.
Haider Lone, immediate past president of the NZ Muslim Association and administrator of the Avondale Islamic Centre, says he fears for his life as he believes the attack was an assassination attempt.
Yesterday, police and security were again called in as ugly scenes erupted at the Blockhouse Bay Rd mosque where two Islamic factions are fighting for control.
Security officers had to intervene to stop a worshipper from using a weapon to attack another man who turned up at the mosque border despite having been trespassed.
New Zealand Police Superintendent Wally Haumaha, who went to the centre after the incident, said police were working with the parties towards a "peaceful solution".
The centre's imam Sheikh Abu Abdulla, 50, was trespassed along with his sons and some supporters on May 6.
Mr Lone was bashed the next evening, resulting in fractures, broken bones and severe injuries to the eyes.
Mr Haumaha confirmed that police were investigating a complaint involving an assault on an individual.
"These people have said to me they want to come here and pray in peace, and as long as everybody is here in the name of peace then well and good," Mr Haumaha said. "Haider's made a complaint, and anybody who's made a complaint of an assault or otherwise, the police will certainly be investigating."
Mr Haumaha said the police would "certainly not condone any criminal activity whatsoever".
Mr Lone said in a phone interview that the attack against him was "very well planned" and an attempt to take his life. "There was a convoy of cars … the whole street was covered, and they sent the one guy who was wearing a hoodie and boxing gloves," he said.
"Inside the gloves, he had steel or brass things [that were used to] break my bones."
Mr Lone said he has been in hospital for the last 10 days but was keeping his whereabouts a secret for safety and security reasons.
"My eyes are very badly damaged … my brains, my head has been very badly [injured], I'm vomiting, losing balance and one of my eyes might be [permanently] damaged."
Mr Lone believed supporters of Mr Abdulla were behind the attack.
Mr Abdulla yesterday denied any knowledge of the attack or that any of his supporters were among the attackers.
Mohammed Faiaz, the association's acting president, said in a statement yesterday that violence at the mosque had escalated in recent weeks.
"Senior members have been seriously assaulted, their cars damaged and their lives threatened," Mr Faiaz said.
"Some members have also had mobs turn up to their houses threatening them and their families."
At least six security guards were on site and three police cars were seen patrolling the mosque during afternoon Friday prayers yesterday.
Mr Faiaz said the centre had been embroiled in a takeover attempt for two years. Several attempts at mediation had failed.
-Â NZ Herald
NZ: IMAM BARRED a second time for extreme teaching.
A Muslim imam accused of teaching "extreme Islam" has been barred for a second time from his Auckland mosque sparking a row between worshippers.
Security guards were called at the end of 12.30pm prayers at the Avondale Islamic Centre yesterday to remove supporters of Sheikh Abu Abdullah, a Salafist imam, from the prayer room where they were seeking support for a "mosque takeover".
A Muslim imam accused of teaching extreme Islam has been barred for a second…