The nauseating dismayed shock of some, not all of them Muslims,  is reported — nauseatingly but unsurprisingly because it's The Guardian — here. (Hugh Fitzgerald)
French Muslim women on burqa ban ruling: 'All I want is to live in peace'
Jonathan Birchall, of the Open Society Foundations established by the billionaire financier George Soros, said: "We are all rather shocked by today's burqa ban ruling … the court seems to have invented a new legal concept to justify the ban."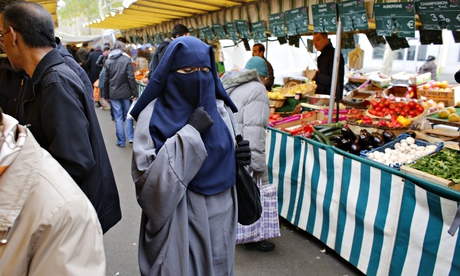 A woman wears a burqa at a market in Paris despite it being banned in France. Photograph: Philippe Lissac/Photononstop/Corbis
Anti-discrimination organisations have expressed shock after the European court of human rights ruled that France has the right to ban women from wearing the full-face veil in public in the interests of everyone "living together".
Update:
Stop presses! The burqa, believe it or not, is unislamic!
"For too long the British establishment has been hoodwinked by Muslim zealots that the burka/niqab is intrinsic of Islam. Â It is nothing of the sort: it is pre-Islamic, non-Koranic and ipso facto un-Muslim. … " –Taj Hargey
More on the hoodwinked British establishment at Express thanks to Mullah, pbuh…..