Nicolai Sennels:
1/10 Muhammed now most popular boys name in all of UK
What a great benefit to British society! What rich tapestry of diversity and …..what exactly?
It is not a good sign for the UK, that so many parents chose to name their baby boys after the starter of Islam. Looking at the life and teachings of Muhammed, it is almost comparable to naming one's son Hitler. Jihad means "struggle" and so does "mein Kampf". Both Islam and Nazism strives for exterminating the Jews, conquering the world through war and terror and installing a world wide totalitarian Reich or Caliphate.
"As exclusively reported by Breitbart London last week, Muhammed has been crowned Britain's most popular boys name in figures published by the Office of National Statistics (ONS) today. The name of the Muslim prophet beat Oliver as the most popular boys name chosen by parents in Britain in 2013."
2/10 Sweden's collapse: After state anouncing 2 percent tax increase to finance Muslim immigration, immigration authorities needs 48 billion kroner extra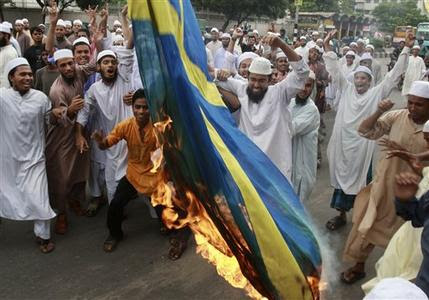 (
Muslims showing their appreciation of the Swedish flag)
Sweden imports at least a houndred thousand Muslims each year, and the country is already experiencing extreme rise in crime. Every Swede pays one monthly wage per year to finance immigration and the government already warned that taxes will increase more than two percent the next four years. The entire Swedish defense, including civil emergency, coast guard etc. costs around 42 billion. The entire Swedish justice system costs 40 billion kroner. A brave Swedish Socialdemokrat asks: We were told that immigration is an economic benefit for our country. "So where is the money?
Recently a Muslim participating in an Arab talk show got the Swedish police on alert as he exclaimed that "Until the day we die, we will engage in war against Sweden and Europe". Asked about receiving welfare from the Swedish infidels, he answered: "No. It is not their money, the money can only come from god."
"According to the Swedish Migration Board the increased funding needs for asylum and migration totals 48 billion kroner for this year and the next four years. 48 billion, in addition to already budgeted amounts, that is."
3/10 France's anti-EU, anti-Islam party Front National would win presidential elections if held today

(Marine le Pen – next leader of France?)
"The IFOP poll for political magazine Marianne shows that Marine Le Pen would beat all candidates from the two mainstream parties, including incumbent president François Hollande, with 26 percent of the vote.
Despite his ongoing legal problems, former president Nicolas Sarkozy would still run Le Pen a very close second, with 25 percent of the vote, seeing him through to a second round run-off against the Front National leader.
Hollande lingers in third place on just 17 percent, along with Prime Minister Manuel Valls, who is seen as his potential successor."
4/10 Comedian Robin William joke about jihad
Many Muslims slammed Robin William after his death for joking about Islam's #1 doctrine: violent, holy war – jihad.
Watch William doing stand-up about it here: https://www.youtube.com/watch?v=osvvTOzzQBE&feature=youtu.be
5/10

Italy sailed 100.000 Africans to Europe in first half of 2014
Just about all of them are unassimilable Muslims, of course….


(European tax-payers: "Here we come! Supply us!")

After a boat last year sank and houndreds of Africans drowned, the EU launched Mare Nostrum, that aims at saving illegal immigrants from dying.
"Close to 100,000 migrants have now landed in Italy so far this year — far higher than the previous record of some 60,000 arriving in 2011 at the height of the turmoil triggered by the Arab Spring revolutions.
Figures released at the end of July showed some 93,000 migrants had been rescued since the start of 2014."
6/10 Professor: Muslims try to spread killer ebola-virus in the West
(Testing for Ebola)
WHO on Ebola:
"-Â Ebola virus disease (EVD), formerly known as Ebola haemorrhagic fever, is a severe, often fatal illness in humans.
– EVD outbreaks have a case fatality rate of up to 90%.
– The virus is transmitted to people from wild animals and spreads in the human population through human-to-human transmission."
"A Cambridge University disease expert warns that terrorists are planning a dirty bomb containing the Ebola virus, even planning to send Muslim suicide teams in the public to spread the disease. They may travel in planes, go into crowded shopping malls, then it spreads from there.Speaking to The Sun, biological anthropologist Dr. Walsh says that the risk should be taken seriously of terror groups getting their hands on the Ebola virus, one radical Muslim group was suspected of collecting bodies of the dead in Africa last week.
A bigger and more serious risk is if Muslims manage to harness the virus as a powder, then explodes it in a bomb in a highly populated area. It would cause a large number of horrific deaths.
Walsh states that Muslim terrorist are trying to harness the virus out of west African nations where the outbreak is prevalent.
"Only a handful of labs worldwide have the Ebola virus and they are extremely well protected. So the risk is that a terrorist group seeks to obtain the virus out in West Africa where it is out int he open, uncollected bodies are a true risk.
This scenario could "cause a large number of horrific deaths.
It is a threat that is taken very seriously.
Ebola has no vaccine or antidote."
7/10 Majority of Germans: Islam does not belong in Germany
But they are too cowardly to do something about it. And a 52% majority is not convincing…..
"Islam 'does not belong in German society'. A majority of Germans have rejected former President Christian Wulff's famous statement that "Islam is now also a part of Germany", with 52 percent against the idea."
8/10 Sweden:
Asylum seekers unhappy about the food, attacks cooks with "chair legs"
The new masters of Sweden. The Socialist loons wouldn't have it any other way….
(Traditional Swedish meat balls)
"At 14 o'clock the police was called to asylum accommodation Stora Ekeberg in Skara, where a large brawl had broken out, writes GT. Two residents were unhappy with the food that was served. They went to the kitchen staff with chair legs and fists. The two people were arrested and are suspected of abuse.
'- Kitchen staff reported that they had been assaulted by two people who are refugees,' says Tomas Vänerfors from Lidköping police."
9/10 Islamic State cuts arms and legs of non-Muslims


They are just following Muhammad's instructions:
"Displaced Yazidi people fleeing across a bridge into Syria from northern Iraq told FRANCE 24 reporters on the ground of the horrors committed by Islamist militants terrorising their region.
"They took the women and the young girls. The men were killed with butcher's knives," one young woman told FRANCE 24.
"They cut off their arms and their legs. They killed my family, I have no one now," a young man added.
Yazidis, a Kurdish-speaking religious minority, are fleeing the violence of the militant group Islamic State in Iraq and Greater Syria (ISIS or ISIL), which wants to force them to convert to Islam."
10/10 Saudi dies attempting to rape donkey


That donkey did the right thing:
I have written about the psychological consequences of Islam's views on Women here.
(Dead arab killed by his "lover")
"A Saudi Sheikh has died attempting to sexually abuse, a donkey.
The poor animal, which is primarily a victim in this case.
According to reports circulating on the net, Saudi police found the body of Sheikh abuser the day after the murder, and found that the victim-victimhood received a severe kick in the face and three kicks in his chest when he tried to sodomize the animal. The man died of his injuries after long moments of suffering.
Police who found the donkey and tied the victim's car near the body also speculated that Sheikh had removed his pants and left in his vehicle (4X4) before trying his misdeed."