"Experts" threaten Austria with the real Islam if the government continues to demand a milder form of the disease:
"A paranoid fear is being instilled in society.
Austria's Islam bill to prevent radicalism will backfire, experts warn
"We want an Islam with an Austrian character," Integration Minister Sebastian Kurz had told public broadcaster ORF last October, supporting the current views that Austria wants to shape Islam with its own ideology. …
More on the plan to alloy iron with clay at Daily Sabah thanks to Mullah, pbuh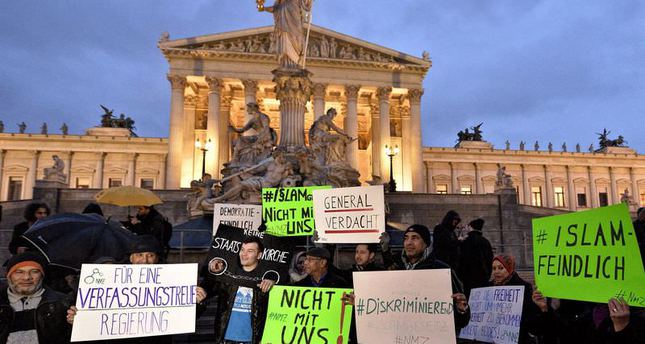 Austria's desire to have tighter control of its Muslim community, which has been manifested in a bill that seeks to change the status of Muslims, will backfire if it is implemented, experts say. Despite Austria having witnessed no terrorist activities perpetrated by its Muslim community, they are seeking to pass an "Islam bill" to prevent radicalism from occurring.
What looks like a preventative measure to prevent Islamic radicalism in Europe has started to have unsettling consequences for the Muslim community residing in Europe. Countries in the region that are already suffering from increasing Islamophobia, are looking to implement precautions to prevent potential violence from "radical Muslims." The latest in a series of these cautions has come from the Austrian government, which is seeking to bring changes that have been deemed to be extremely discriminatory against Muslims.
The draft bill, which seeks changes in the status of Muslims, is thought to be a precursor for regression of the rights of Muslims in the country and has prompted an angry response from the community.
The bill, which has ignited debates in the country since it first became public on Oct. 2, was suspended due to harsh reactions from Muslims who cited discrimination. It was then reopened to discussion at the constitution commission on Jan. 14. The commission accepted the bill after making some changes in accordance with the reactions of the Muslim community in Austria. Muslims, although hailing the changes, maintain numerous concerns regarding some articles that they believe are still problematic for the freedoms of Muslims.
In its current form, the bill aims to prohibit foreign funding for Islamic organizations in Austria and imposes a standardized German translation of the Quran and other religious texts. It also prohibits imams from being appointed from abroad, instead making it mandatory that they receive education from the theology departments of Austrian universities. In doing so, according to experts, Austria is aiming to establish its own version of Islam. The consent for only one determined translation of Islam is an apparent sign of the government's wish to control Islam through its own understanding of it, some believe. They also suggest the move indicates that the Quran is considered problematic by the government.
"We want an Islam with an Austrian character," Integration Minister Sebastian Kurz had told public broadcaster ORF last October, supporting the current views that Austria wants to shape Islam with its own ideology.
"While they aim to prevent radicalism in Islam, this will backlash with rising instances of extremism. The authority gap that will emerge after the law will abolish the concept of unity, which is the natural outcome of attachment to a certain administration, and the vacuum caused by the lack of authority will be filled in an unstable manner. That will lead to radicalism in Austria," Enes Bayraklı, a foreign affairs specialist and an academic at Istanbul's Turkish-German University said.
Highlighting that the bill sets a bad example for Europe, Bayraklı said that taking precautions against Muslim extremism has no reasonable grounds since Austria has not been the victim of any terrorist activities.
"A paranoid fear is being instilled in society. Muslims in Austria have never engaged in terrorism or extremism in Austria thus far. Taking into consideration the peaceful atmosphere in Austria, the government's purpose seems to be nothing but an engineering and social manipulation project," Bayraklı said.
The ban on foreign income to Muslim foundations in Austria, which are backed by Turkey's Presidency of Religious Affairs (DİB), has also been branded as blatant discrimination against Turkey as no such rule has been applied to other religious communities in the country.
Another article of the bill also makes it possible for the government to recognize a certain community or abolish it. The draft bill has also been criticized for including offensive and accusatory language against Muslims, which are deemed as being against the principle of equality.
DİB head Mehmet Görmez has also condemned the draft bill saying it would bring restrictions and inequality to religious freedom in the country.
"Austria will go back 100 years in freedom with its Islam bill," Görmez said.
Görmez also said he had talked about the matter with Viennese Cardinal Christoph Schonborn, who he said sided against the bill.
The Muslim community in Austria is expected to take the bill to the constitutional court once it passes parliament. If rejected by the top court, the community will reportedly consider taking it to the European Court of Human Rights for the violation of freedom of religion.
Currently, some 300 imams work in Austria, including 65 Turkish preachers. There are about 500,000 Muslims in the country.