Italy terror suspects 'planned Vatican attack'
Islamic extremists Devout Muslims suspected over a bomb attack in a Pakistani market that killed more than 100 people had also planned an attack against the Vatican in 2010, Italian prosecutors said.
Wiretaps indicated the suspects were planning a bomb attack at the Vatican and that a suicide bomber had arrived in Rome, prosecutor Mauro Mura told a press conference in Cagliari, Sardinia.
Update:
Arrests of 18 suspects prevented suicide bombing at the heart of Catholicism, police reveal. Two of the arrested are former Bin Laden body guards who were also behind several bomb attacks in Pakistan.
The Imam Behind The Latest Plot In Italy
By Hugh Fitgerald
He is Pakistani, and arrived in Italy six years ago.
He has no record of employment.
He has six children, and a wife, whom somehow were supported.
He owned his own dwelling.
He had time to gather funds, apparently, money spent on plots to attack the Western Infidels from within.
Among the targets: the Vatican.
He hates Infidels, and the West in which he has been allowed to settle, and to procreate, supported at every turn by Italian taxpayers, unaware or if aware, feeling hopeless about remedying this situation.
He teaches his children — they are still small — exactly what he believes. They are growing up in an atmosphere suffused with Islam. This can mean nothing good for the Italians among whom they have been allowed to live and obtain support.
It is the same all over Western Europe and North America, among the advanced countries, whose principles, laws, customs, understandings, are flatly contradicted by the tenets and teachings of Islam.
How and why has this been allowed to happen, and keep happening? Why is it not stopped? Where are the political figures who will state the truth, and protect us in our own countries, that is in our homes?
Italy: Terror suspects may have been targeting Vatican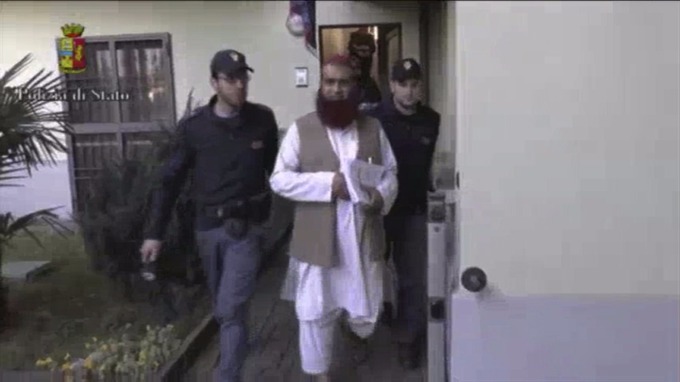 Some of the Al Qaeda-linked suspects arrested in an anti-terror operation in Italy earliermay have been planning an attack on the Vatican, the Italian prosecutor has said.
Cagliari Chief Prosecutor Mauro Mura told reporters that as well as planning to launch attacks in Pakistan and Afghanistan, the suspects may also have been aiming to target the Holy Catholic City State.
Mura said that, in intercepted telephone calls, investigators had heard the suspects say they would launch a "big jihad in Italy," and other conversations suggested that also suggested a target might be the Vatican.