"Middle Eastern men" bringing strange contraptions in and out at all hours of the night? What are you, Islamophobic?
If You See Something…   by Mark Steyn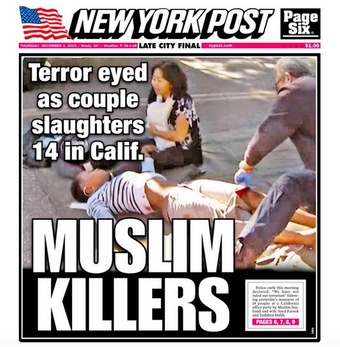 That's Kate McMillan's headline summation of the Big Security State in an age of political correctness.
On the one hand, the Department of Homeland Security enjoins us: "If you see something, say something." It's an expensive, focus-grouped official government slogan.
On the other hand, when it's happening in your street, it's all a bit more complicated:
A man who has been working in the area said he noticed a half-dozen Middle Eastern men in the area in recent weeks, but decided not to report anything since he did not wish to racially profile those people.
"Middle Eastern men" bringing strange contraptions in and out at all hours of the night? What are you, Islamophobic? Who's to say it's not the local distributor for Ahmed the Clock Boy's amusing new Allahrm Clock? If you see a man of Middle Eastern appearance bearing a ticking object, say something – and get sued for 15 million bucks.
Which is why the most lavishly funded government and media on the planet are seriously debating whether "climate change" leads to "workplace violence".
Because what else can you say?
Because climate change leads to desertification in the California desert which means at the county Christmas party everyone stands around saying in the old days before global warming we could have had a snowball fight, and then it all snowballs:
~Honey, I had a argument at the office. Can you put together a few dozen pipe bombs, get Go-Pros, body armor and assault rifles & meet in 15?
~Can we push it to 20? I'm fresh out of the shower. Can your mom take the baby?
President Obama says we have to pass more gun-control laws, because, as he said a couple of days ago, mass shootings only happen in America. He said this in Paris, so who says he's got no sense of humor? In sophisticated Continental countries like France and Belgium, only the government and the terrorists have guns. So, just to be on the safe side, Syed Farook was a terrorist who worked for the government – in environmental-health regulation. So, whether or not climate change leads to terrorism, apparently environmental regulation does.
"California man Syed Farook" had a government job with great benefits. His wife was a pharmacist. These is secure, well remunerated middle-class employment. But in the end they preferred killing people.
As I wearily say every time, all the stories are different, and yet they're all the same. Mr Farook turns out, like almost every other "lone wolf", to be a known wolf:
(CNN)Syed Rizwan Farook — who along with his wife, Tashfeen Malik, carried out theSan Bernardino shooting massacre — apparently was radicalized and in touch with people being investigated by the FBI for international terrorism, law enforcement officials said Thursday.
Farook himself had talked by phone and on social media with more than one person being investigated for terrorism, law enforcement officials said.
So he's in the system, with his name and phone number, with one degree of separation from terror suspects. But he still got to kill 14 people. Because no matter how massively you expand the panopticon Security State it can never have enough manpower to anticipate the moment a Syed Farook goes full Allahu Akbar. Because political correctness requires that we regard as just another part of the vibrant tapestry of diversity people who believe in everything ISIS believes in (sharia, female subservience, clitoridectomies, death for homosexuals) but stop short of chopping your head off. So we cannot stop them before they open fire.
Mass Muslim immigration is imposing strains on western society that we cannot meet now, and we will be buried by in the years ahead. Perhaps if we could talk about that honestly we wouldn't be sideswiped by the next member of the Amalgamated Union of Lone Wolves who – all together now – "appeared to be living the American Dream".
Dream on… Because a moratorium on mass Muslim immigration is – all together now – "not who we are".
But who is that weird female?
She doesn't look Paki  and could even be a western convert.
Walid Shoebat
The reports reveal the two apprehended shooters in the deadly San Bernardino shooting Wednesday were Syed Rizwan Farook, a 28-year-old American citizen, and Tashfeen Malik, "of unknown origin". So why can't anyone seem to locate her origin? It is because there are no records of the two together or are there any records with the name of Tashfeen Malik. The mystery of this Jihad affair grows when Farook recently traveled to Saudi Arabia and returned with a new bride he supposedly met online. The Council on American Islamic Relations (CAIR) says Farook has been married with this woman for two years — but wouldn't confirm whether Malik was the wife's name. Fact is, Farook traveled to Saudi Arabia only six months ago and returned with a wife he supposedly met online. This does not answer the six month old child who was conceived 15 months before and where he was conceived.
This visit, unlike what CAIR claims is recent. And the reason no one can locate her origin is most likely that her name is not really "Tashfeen Malik". No one is able to find any female named "Tashfeen Malik". The name is very unusual for a woman and there is no record of any Tashfeen Malik in the U.S. or even abroad in Arabic.
Tashfeen Malik (King) is a nom de guerre for a Muslim Jihadist from the annals of Muslim history. As he is known to Muslims "تاشفين ملك الموحدين" Tashfeen Malik Al-Muahideen, in English: Tafhseen King of the Unitarians (Muslims) and the conquerer of the west. The history stems from when Yusuf ibn Tashfin led the Muslim forces in the Battle of Zallaqa/Sagrajas. He came to Andalusia from Morocco to help the Muslims fight against Alfonso VI, eventually achieving victory and allowing the Muslims to remain in Spain for centuries. The battle has been symbolic for Muslim victory against the Christians.
This is a hallmark of ISIS. Another hallmark is that Farook was a devout Muslim, but rarely discussed religion at work. Mr. Farook, 28, born in Illinois and who had Pakistani origins. Police says of his operation that "These were people that came prepared," "There had to have been some degree of planning that went into this."
No kidding.
Police Chief Burguan said that although initial reports indicated that as many as three shooters may have been involved, "we are confident now" that Farook and Malik acted alone. He said the pair were "either boyfriend-girlfriend or husband and wife". The reason they cannot get such a resolution to this is that perhaps they do not understand the code-names used might not belong to the real name of this mysterious  woman. She hardly looks Pakistani and could even be a western convert.
The FBI is investigating several possible motives, including workplace violence and terrorism, said David Bowdich, assistant director of the bureau's Los Angeles office, adding that terrorism is "a possibility, but we do not know that yet." The FBI is working with state and local law enforcement.
Where did they get the guns? The U.S. Bureau of Alcohol, Tobacco, Firearms & Explosives reported that the two assault rifles and two handguns used in the killings were all purchased legally in the United States — two of them by someone who's now under investigation. Meredith Davis, a spokesperson for the agency, said investigators are now working to make a connection to the last legal purchaser.
A bag believed to belong to the shooters was found inside the conference. Inside, investigators found three  rudimentary explosive devices packed with black powder and rigged to a remote controlled car. The remote for car was found inside the SUV where Farook and Malik were later killed, a law enforcement official said. They were also wearing GoPro cameras when they were killed. The gunman who killed four people at the Jewish Museum in Brussels filmed his attack with a camera mounted on his chest.
Much planning went into it — tactical gear and clothing, pipe bombs … the works. That takes much training, forethought, planning and preparation which six months is sufficient. The mystery, the planning and the name of the supposed wife spells all the hallmarks of ISIS.
UPDATE: The photos above are now being reported as the brother and his wife. Please read our latest update here.
Al Jizz journo whines because media shows the killers face who usually wore a burqa:
https://twitter.com/RitaPanahi/status/672935645891993600/photo/1?utm_source=fb&utm_medium=fb&utm_campaign=blackpearl_333&utm_content=672958588877279233
Rita Panahi is onto it. Click on the link!