Islamic summits are an absolute must to find a remedy for the Western ailment, whose root cause is using the terms Islam and terror in the same sentence …
Caliph Erdoğan: Jihad is awakening, not terror or killing the innocent
Psychobabble on steroids from Turkish wannabe caliph Tayyip Erdogan: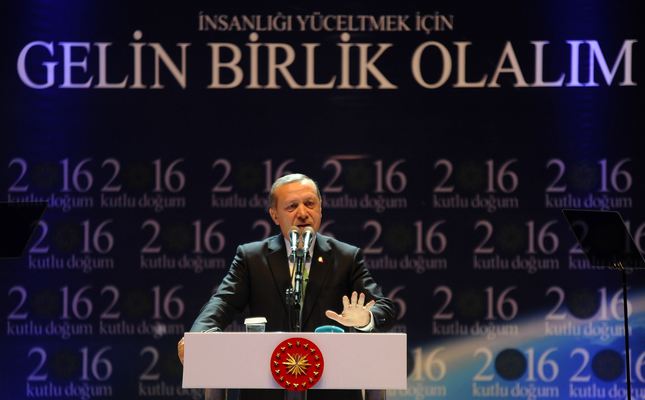 Harshly slamming Daesh, Al Qaida and Boko Haram terrorist organizations in his speech, President Erdoğan touched upon Islam's core value of peace and said that the notion of 'jihad' is perverted and misinterpreted by these terrorist organizations, and is used as a cover for their crimes against humanity
Touching upon the notion of 'jihad' that is "perverted and misinterpreted" by the so-called "Islamic" terrorist organizations, he said that Islam is a religion of peace, and terrorist organizations such as Daesh, Al Qaida and Boko Haram are the biggest enemies of Islam. "Jihad is not terror at all, jihad is not about setting up a terrorist organization and killing, oppressing Muslims and innocent people. The greatest form of jihad is to fight the ignorance that let those terrorist organizations emerge."
"Unfortunately, these terrorists, these so-called 'Muslims,' but in fact the fiercest enemies of Islam, only serve Islamophobia, and are torturing, oppressing, and killing innocent Muslims," he added.
"These modern-day terrorist organizations have harmed Islam…." (More from Daily Sabah)
More idiocy from the same camp:
… "Isis has nothing with Islam," Diab said. "There are isolated incidents all over the world that happen every day where people use the name of religion for their own agenda." …
More nothing to do with islam at WREX thanks to Mullah, pbuh