Hungary's WAR ON MIGRATION: Now Orban unleashes 3,000 extra cops to defend border
THOUSANDS of new police are to storm Hungary's borders in a bid to crack down on the escalating number of illegal immigrants attempting to land in the country.
GETTY 
Hungary is taking a tough stance against the migrant crisis
Some 3,000 officers will patrol the barbed-wire fence erected last year between alongside Croatia and Serbia.

The move comes after Hungary's Prime Minister, Viktor Orban, vowed for a major terror clampdown by saying there is a "demonstrable" link between immigration and terrorism.

Mr Orban has called for a referendum over whether or not Hungary should accept a mandatory quota of migrants imposed by Brussels bureaucrats.

The vote is in response to the EU's plans to relocate 160,000 migrants around the bloc by using mandatory quotes.

More below the fold.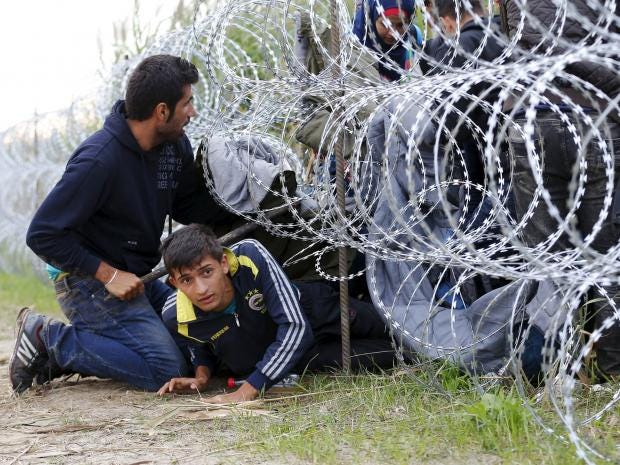 Forces will patrol the barbed wire 
Hungary's Prime Minister, Viktor Orban has vowed for a major terror clampdown 
Karoly Kontrat, the minister of state of the ministry of interior, did not hold back on his criticism as he insisted there are hundreds of terrorists in Europe as a result of migration.So far this year Hungary says it has registered 19,140 asylum applications and more than 14,000 migrants have crossed its southern borders illegally.The referendum, which will take place on October 2, has opened up a huge rift between Mr Orban and the beleaguered European Union as the migrant crisis spirals out of control.

Residents will be asked: "Do you want the European Union to be entitled to prescribe the mandatory settlement of non-Hungarian citizens in Hungary without the consent of parliament?" More here…