Islamic Britannia, this is what it has come to:
Those who are tasked to investigate Mohammedan child abuse by Paki grooming gangs are put on the stand and forced to deny that they are "racist". That makes them "deniers", just like "climate deniers", the same category as holocaust deniers. Note how the swine from the Guardian put them on the defense:
Former child abuse inquiry judge Lowell Goddard denies racism claims
Goddard, who unexpectedly resigned as chair of the UK public inquiry into institutional child abuse, says she is consulting lawyers after Times report —(Grunard)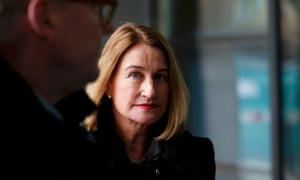 The Times reported on Friday that Goddard, a New Zealand judge who was appointed in February 2015 as the third person to head the troubled independent inquiry into child sexual abuse, was allegedly warned by officials about offensive remarks, including a claim that she had said high rates of child abuse in the UK were "because it has so many Asian men".
In a statement issued on Friday, Goddard said the accusations were false and malicious. She said she had, through lawyers in London, informed the Times of "the falsity of the matters raised, and the malicious background to them".
She added: "I await the advice of my London lawyers on these articles, which I have only just seen. I confirm my absolute rejection of this attack. I am confident that in New Zealand my known reputation from my work over many years will provide its own refutation of these falsities.
"I will be making no further statement and will not engage with those conducting this vicious campaign."
Following her resignation in August, Goddard refused requests to go before the House of Commons home affairs select committee to explain why she stepped down.
The Labour MP Chuka Umunna, (another Mohammedan with Nigerian roots who sails under false flag) who is campaigning to be chair of the committee, tweeted that the allegations against Goddard renewed MPs' desire to quiz her.
Related:
'It takes two to tango': 12 Asian Muselmaniacs men are jailed for 140 years for gang-raping a 13-year-old white girl……
THEMUSLIMISSUE.WORDPRESS.COM
Peter Saunders, founder of the National Association for People Abused in Childhood, who sits on the victims advisory panel for the review, said he was "distressed" by the allegations against Goddard, but suggested they were aimed at undermining the process.
Speaking on BBC Radio 4's Today programme, he said: "The [alleged] behaviour is not behaviour that I personally recognised with Justice Goddard in my dealings with her over many months."
He added: "There are people out there who most definitely want the the inquiry to fail. It has had far too many setbacks, it has had far too many people sniping at it."
Saunders insisted that the inquiry had "turned a big corner" in the last few weeks under Alexis Jay, its fourth chair in two years.
He added: "It is about exposing the failures on an industrial scale in most of our institutions in this country, who failed children and who continue to fail children. That is why this inquiry is so desperately important."
A Home Office spokesperson said: "The independent inquiry has a vital role to play in exposing the failure of public bodies and other major organisations to prevent child sexual abuse. We owe it to victims and survivors to get to the truth and the independent inquiry is continuing its vital work."
Goddard was appointed by the then home secretary, Theresa May, to succeed two previous chairs – Elizabeth Butler-Sloss and Fiona Woolf – who stepped aside after concerns were raised over their links to the establishment and potential conflicts of interest.
Her abrupt resignation in August this year, claiming the inquiry was weighed down by a "legacy of failure", prompted calls for a reassessment of its work and scope.
The tenure of Goddard's successor, Jay, has also been controversial, with lead counsel to the inquiry, Ben Emmerson, suspended in September after reported conflicts with the new chair. He quit the role soon afterwards.