There can't be a church in Istanbul because it is "not allowed under Turkish law." That alone should be a  good enough reason not to submit to the islamic expansion project.Its good to see the Romanian people stand up against their politicians who are eager to pander to Erdogan's allures.
Romania: Lawsuit Launched to Stop Bucharest Mega-Mosque
by Soeren Kern
The original deal called for a "mutual exchange" in which Romania would build a new Orthodox Church in Istanbul, while Turkey would build the mosque in Bucharest. In July 2015, however, Prime Minister Victor Ponta revealed that the Romanian government had abandoned the Istanbul church project because it is "not allowed under Turkish law." Ponta approved the Bucharest mosque project anyway, saying it was a multicultural symbol of Romania's acceptance of the Muslim community.
Ponta's decision to approve the mosque, which will mimic Ottoman-era architecture, was greeted with outrage in a country that was under Ottoman Turkish domination for nearly five centuries until 1877.
"This plan is not about worship, it is about marking the territory of their authority through a monument." – Ozgur Kazim Kivanc, a Turkish activist opposed to Erdoğan's destruction of public commons to build mosques.
"Once Islam enters a land, that land becomes Islamic and Muslims have the duty to liberate it someday. Spain, for example, is Islamic land, and so is Eastern Europe: Romania, Albania, Macedonia, Serbia, Kosovo and Bosnia…" – Omar Bakri Muhammad, a prominent Sunni Islamist cleric.
"We consider the disposal of free land which, ironically, belonged to the family of Prince Constantin Brâncoveanu, who was beheaded by the Turks on August 15, 1714, to be a betrayal of the Romanian people." – Pending lawsuit calling on the court to annul the government's grant of free city land for the mosque project.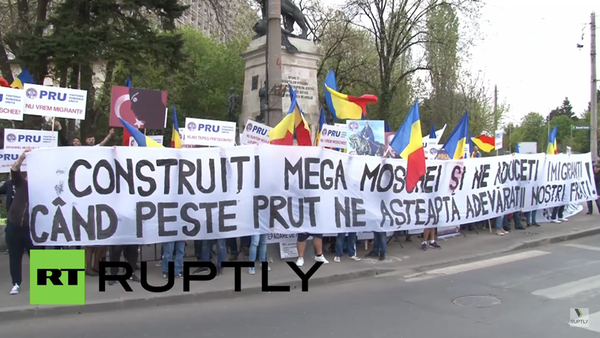 Romanians protest against a proposed Turkish mega-mosque in Bucharest, April 10, 2016. (Image source: RT video screenshot)
Opponents of a proposed Turkish mega-mosque in Romania's capital, Bucharest, have filed a lawsuit against the government in an effort to halt the project. The court is set to begin hearing the case on October 14.
The lawsuit seeks to reverse a June 2015 decision by the Romanian prime minister at the time, Victor Ponta, to approve construction of what could become the largest mosque in Eastern Europe — second only to the Blue Mosque in Istanbul — on a large tract of city-owned land in northern Bucharest.
The property, valued at more than four million euros ($4.4 million), is being provided for free by the Romanian government, while the construction costs, estimated at three million euros ($3.3 million), are being paid for by Turkey.
Continue Reading Article