Outrage as Cologne New Year's Eve Sex Attacks Wiped from Crime Record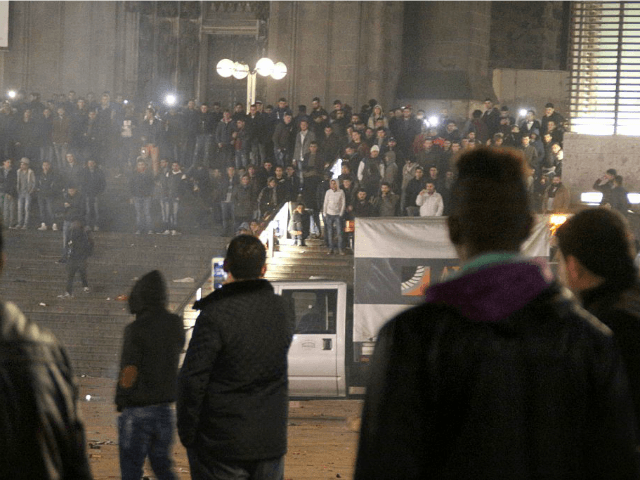 Events in Cologne on New Year's Eve gained international attention as mobs of migrants robbed insiscriminately and launched group sex attacks on a scale previously unseen in Europe, but they failed to make any impact on police statistics.
Of the 500 attacks which were filed in detail with the police, only 17 appear in the Police Crime Statistics (PKS) — the best known and most often cited police statistics — and those that do appear are recorded for the months of April and June.
Christian Democratic Union (CDU) MP Ina Scharrenbach noticed the discrepancy between reports of the events of New Year's Eve and the lack of any indication they occurred in official police data, and demanded to know where the other reports went.
The state's Interior Minister, Ralf Jäger, told her that reports of crime are not recorded in the PKS until they are forwarded to the public prosecutor and explained that "this is not always the same as the month in which the crime was committed".
Continued below the fold.
BY ROBERT SPENCER
The Qur'an teaches that Infidel women can be lawfully taken for sexual use (cf. its allowance for a man to take "captives of the right hand," 4:3, 4:24, 23:1-6, 33:50, 70:30). The Qur'an says: "O Prophet, tell your wives and your daughters and the women of the believers to bring down over themselves of their outer garments. That is more suitable that they will be known and not be abused. And ever is Allah Forgiving and Merciful." (33:59) The implication there is that if women do not cover themselves adequately with their outer garments, they may be abused, and that such abuse would be justified.
'We're being taken for fools!'
Furious MPs demand ministers 'get a grip' as they admit there's nothing stopping adult refugees who falsely claim to be children being put in British schools
Immigration minister Robert Goodwill says 'child' refugees required to undergo age checks are treated like a child until age test is completed
It means they could be housed along with other children in care and could be sent to local schools 
Alarming development came as Tory MP Philip Davies  said Britain's 'generosity is being abused' 
"Iranian workers at Chelmsford pizza shop accused of drugging and raping underage teen girls," by Oliver Pritchard, Essex Live, October 18, 2016:
A gang of Iranian men sexually exploited and groomed vulnerable girls by supplying them with drugs and offering them free pizza, a court heard.
All three victims, who were as young as 16, were allegedly targeted by the group of takeaway workers who "farmed them out like cattle" to other men.
The group's ring leaders were allegedly Mohammed Rostami, 37, Mehdi Zare, 32, and Amin Kaveh, 35, all of whom had links to pizza shops in Chelmsford.
Opening the case at Chelmsford Crown Court on Monday, prosecutor Christopher Paxton claimed they would pick the girls up from the shops before plying them with highly-addictive drugs, including cocaine and methadone.
This lead to the vulnerable girls quickly becoming pawns, who would have sex with anyone for drugs.
Mr Paxton said: "At the heart of this case are three young women, vulnerable and troubled who have been sexually exploited by the defendants over two distinct periods of time.
"To these defendants, these vulnerable young girls presented opportunities for sexual exploitation, farming them out for sex within a tight-knit group or just having sex with them for their own gratification."
One victim was only 13 when she apparently met Rostami, who worked as a chef at Essex Pizza in Duke Street, Chelmsford, back in 2006, Judge Patricia Lynch QC heard.
The jury was told that he started by offering her and her friend free pizza before supplying the girl, who had a troubled background, with cannabis.
Mr Paxton explained that Rostami, of no fixed address, would take the girl out in his car before their relationship rapidly turned sexual.
He would pick her up from school while she was in her uniform and knowing how old she was, eventually supplying the girl and her friend with free drugs including cocaine, he added.
She quickly became addicted and by the age of 14 was taking two grams of cocaine a day, worth around £100.Mr Paxton said: "After a few months providing them drugs for free, Rostami told the girl that she had to start earning or paying for the drugs. He said 'otherwise I am losing money'.
"It is clear that aged about 14 she would have to have sexual intercourse with much older Iranian men."
Mr Paxton said Rostami treated the girl like "cattle" and "farmed" her out to his friends for financial gain.
The girl continued with it, despite not liking it, because it was her main way of getting drugs and she thought it pleased Rostami, the court heard.
The first victim moved away from Chelmsford in around 2010 and came back in 2012. She still had drugs problems and saw Rostami, who told he could get her methadone, known as M-Cat, for free, Mr Paxton told the court.
She went with him in his car and they stopped where Rostami gave her a "large bag of cocaine" because they started kissing and having sex.
It is claimed that the girl felt guilty because she had a boyfriend and asked him to stop but he continued, and after finishing, told the girl "it wasn't his fault".
The same girl was also allegedly raped and sexually exploited by Mehdi Zare – who she called Medi One.
Zare, 32, of Lupin Drive, Chelmsford, also had connections to Essex Pizza and had known the girl and her friends for several years.
He started spending more time with her as she got older and Rostami showed less interest as she approached 16, the court heard.
Mr Paxton said: "They engaged in sexual activity when she was under 16 and he arranged for the girl to have sex with other men for drugs."
She told police: "Medi was the one who really got us bad."
Zare would allegedly take the girl to have sex with men from the Iranian community at addresses around Essex and east London.
Amin Kaveh, who was most recently living at an address in Shoebury, also knew the victim through the pizza shop and would allegedly supply them with drugs in exchange for sex.
The second victim was a girl who grew up abroad and moved back to Chelmsford aged 20 in the autumn of 2012.
She apparently met Kaveh, who she knew as Amir, through a pizza shop at the end of 2012.
He quickly approached her and convinced her and a friend to come to a house with him for coffee.
The court heard that when there arrived they found a lot of Iranian men taking mephedrone.
He is accused of taking the two women into a bedroom where he offered them a plate which he said contained mephedrone.
Mr Paxton said: "They did not want to take the drug but were pressurised into it by Mr Kaveh. He told her if she did not do it he would push her face into the plate.
"The drug had a dramatic effect, causing the woman dizziness and numbness and caused her to lay on the bed.
"She did not think it was mephedrone. The next thing she knew Mr Kaveh was taking her clothes off and opening her legs and penetrating.
"The woman did not consent to this."
The jury was told that a week later the woman was waiting for the bus home in Chelmsford when Kaveh approached her and pulled out a taser disguised as an iPhone.
Mr Paxton said: "He demanded that she come and work for him as a prostitute and drug dealer and if she didn't said 'bad things would happen'.
"She felt she had no choice but to go along and pleaded with him to keep her friend out of it."
The girl spent the following two years working as a prostitute and began regularly using mephedrone, the court heard.
Kaveh would allegedly drive her to various Iranian men's houses where she would have sex with "whoever he said".
One of these is apparently Mohammed Zarei, 32, a taxi driver, of Delamere Road, Chelmsford, who is charged with one count of rape between September 22, 2012 and September 1, 2014.
Kaveh took the girl to see Zarei for sex.
During the encounter she told him she didn't want to, but Zarei allegedly told her that he would tell Kaveh that they had sex if she performed oral sex on him.
The second rape is said to have occurred when the victim met Mehdi Khashi, 32, also a taxi driver, of Rookes Crescent in Chelmsford, between September 22, 2012 and September 1, 2014.
The last victim was from a troubled background and met Kaveh while she was working as a prostitute in Southend in June 2013.
The girl was already addicted to mephedrone, with Kaveh accused of exploiting the addiction for his own gain.
Mr Paxton said: "He started farming her out to his contacts and made arrangements for them to come to his address and told them she was 'great'.
"She was taken around different men in the Iranian community which was arranged by and involved Mr Kaveh.
"She was often paid in grams of M-Cat and was expected to have sex with the men.
"He controlled her as a prostitute. She believes she had sex with various men over several months in 2013 and 2014.
"One time at his flat, she had sex with different men over four hours for 10 grams of M-Cat, worth about £200.
"She was a heavy user of the drug at this time and was prepared to have sex with everyone who Mr Kaveh brought to the door.
"The fact that she was involved in prostitution does not make her any less vulnerable in fact she was perhaps more vulnerable."…
Cologne Whitewash:
In addition, the Social Democratic Party (SPD) minister said cases are only submitted to the prosecutor if they are particularly serious. "The vast majority of acts on New Year's Eve in Cologne were criminal offenses like pickpocketing, and insults on a sexual basis," he said.
Scharrenberg, the CDU faction's spokesman in the parliamentary committee for the events of New Year's Eve, said: "It takes my breath away that the offences of the night were apparently not serious enough to be detected."
While group sex attacks have been brushed under the table in North Rhine-Westphalia, authorities in Brandenburg last month announced a new methodology was put in place to ensure that as many "right-wing crimes" as possible are recorded in police statistics.
Brandenburg Prime Minister Dietmar Woidke said the influx of migrants to Germany seen last year had brought about a surge of such crimes. He spoke to rbb24 about how the state has made changes to its recording system so that this will be reflected in the data.
The SPD politician explained: "The police will count each attack, in which there is no evidence that the perpetrator has no right wing motivation, [as a right-wing hate crime] in the statistics."
A police report from the German federal police (BKA) in July revealed that across Germany on New Year's Eve in Cologne, Stuttgart, and other cities over 1,200 women were sexually assaulted.