"We are losing control of the streets."
That's the plan:
"The purpose for which the Muslims are required to fight is not, as one might to think, to compel the unbelievers into embracing Islam. Rather, its purpose is to put an end to the suzerainty of the unbelievers so that the latter are unable to rule over people. The authority to rule should only be vested in those who follow the True Faith; unbelievers who do not follow this True Faith should live in a state of subordination. Anybody who becomes convinced of the Truth of Islam may accept the faith of his/her own volition. The unbelievers are required to pay jizyah (poll tax) in return for the security provided to them as the dhimmis ("Protected People") of an Islamic state. Jizyahsymbolizes the submission of the unbelievers to the suzerainty of Islam."—Sayyid Abul A"˜la Mawdudi
During the first six months of 2016, migrants committed 142,500 crimes, according to the Federal Criminal Police Office. This is equivalent to 780 crimes committed by migrants every day, an increase of nearly 40% over 2015. The data includes only those crimes in which a suspect has been caught.
Thousands of migrants who entered the country as "asylum seekers" or "refugees" have gone missing. They are, presumably, economic migrants who entered Germany on false pretenses. Many are thought to be engaging in robbery and criminal violence.
Local police in many parts of the country admit that they are stretched to the limit and are unable to maintain law and order.
"Drug trafficking takes place right before our eyes. If we intervene, we are threatened, spat on, insulted. Sometimes someone whips out a knife. They are always the same people. They are ruthless, fearless and have no problems with robbing even the elderly." — Private security guard.
According to Freddi Lohse of the German Police Union in Hamburg, many migrant offenders view the leniency of the German justice system as a green light to continue delinquent behavior. "They are used to tougher consequences in their home countries," he said. "They have no respect for us."
"It cannot be that offenders continue to fill the police files, hurt us physically, insult us, whatever, and there are no consequences. Many cases are closed or offenders are released on probation or whatever. Yes, what is happening in the courts today is a joke." — Tania Kambouri, German police officer.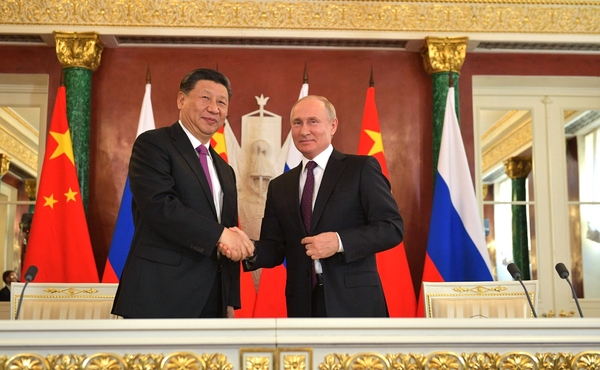 German police are shown deployed to break up a mass brawl between migrants (Image source: SAT1 video screenshot)
The rape of a ten-year-old girl in Leipzig, the largest city in Saxony, has drawn renewed attention to the spiraling levels of violent crime perpetrated by migrants in cities and towns across Germany — and the lengths to which German officials and the media go to censor information about the perpetrators of those crimes.
The girl was riding her bicycle to school at seven o'clock in the morning on October 27 when a man ambushed her, threw her to the ground and raped her. The suspect is described as being in his mid-thirties with short brown hair and a stubble beard.
Leipzig police have explicitly refused to say whether the suspect is a migrant, but have implicitly admitted that he is. They published a facial composite of the suspect with the politically correct warning:
Continue Reading Article

by Jagdish N. Singh  •  October 31, 2016 at 4:30 am
King Solomon built the First Temple here around 1000 BC. The Babylonian King Nebuchadnezzar tore it down 400 years later. In the first century BC, King Herod refurbished a Second Temple. It is here that Jesus Christ lashed out against the money-changers. The Roman General Titus exacted revenge against Jewish rebels, sacking and burning the Temple in 70 AD.
UNESCO seeks to erase this history of faiths and replace it with a jihadi narrative that would deny both Christians and Jews their age-old access to the symbols of their faiths. If they are not stopped, the Islamist backers of the UNESCO resolution will be emboldened eventually to back Islamist elements in India to question its Hindu historical and religious sites.
After so many recent votes at UNESCO erasing Judeo-Christian history in favour of Islamist misrepresentation one thing is clear: the sooner democracies leave the UN, the better. Consider the UN's oil-for-food scandal of 2004-2005 and its growing sex-for-food scandal that is still ongoing. Now, with the UN's wholesale erasure of Biblical history, the only intelligent response is to head for the exits. The UN seems nothing more than a bloated, corrupt jobs program of champagne for diplomats. It does far more harm than good. Nothing worth having can come from such a degraded place.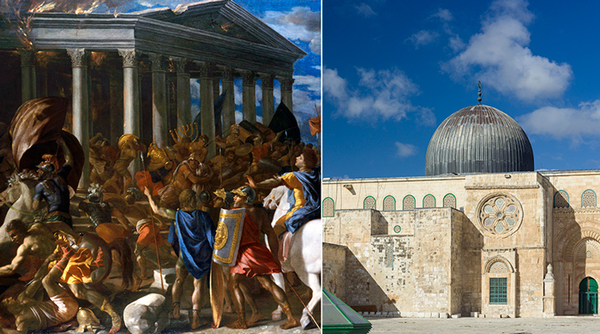 The second Jewish Temple, completed by King Herod in 19 BC, was destroyed by the Romans in 70 AD (depicted at left in a 1626 painting by Nicolas Poussin). The current al-Aqsa Mosque (right) on the Temple Mount was first built in the year 705 AD, seventy-three years after Muhammad's death in 632, and rebuilt several times after earthquakes. (Images source: Wikimedia Commons)
One wonders what India's Permanent Delegation to the United Nations Educational, Scientific and Cultural Organization (UNESCO) is doing in Paris today. India joined it way back on November 4, 1946. Given the potential of this cultural agency in spreading enlightenment derived from scientific education and fostering development throughout the world, New Delhi sent to the organization internationally acclaimed philosopher and future President, S. Radhakrishnan as a member. He rose to become its chairman during 1948-49. New Delhi's abstention from voting on the October 18 resolution in UNESCO's Executive Board, however, indicates the Indian delegation now in Paris is absolutely ineffective.
Continue Reading Article