ANTI-TRUMP PROTESTERS TAKE TO STREETS FOR THIRD NIGHT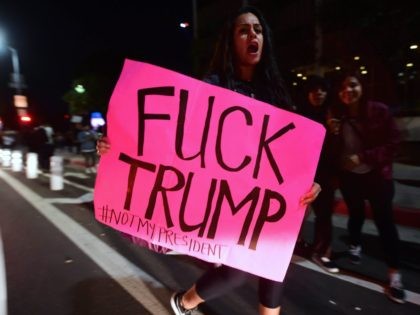 Oakland Residents: Riots Have 'Nothing to Do with Trump'
Protests and riots exploded across California and throughout the nation for the third night after Donald Trump's surprise victory in the presidential election. In Oakland, the East Bay Times reports, the rioting is almost out of control.
However, the link between the protests and the election is increasingly unclear. "This has nothing to do with Trump," one resident told the Times. "It was just an excuse for people who want to get their frustrations out. It makes me feel really bad for my city."
The PuffHo launches recruitment drive, uses Sikhs to appeal to useful idiots
Your Muslim And Sikh Neighbors Need You Now More Than Ever
After Trump's victory, non-Muslim allies let their Muslim and Sikh friends know they're loved and supported.
"Non-Muslim allies" are the useful idiots for Islamisation. Sikhs (a Hindu-warrior sect) are historically and by tradition the greatest enemies of Muslims. Muslims have wiped  out more than 80 million Hindus and eradicated Buddhism almost entirely from the Indian subcontinent.
Utah Mustards 'Fear' Mormon's Don't 'Have Their Back'
Utah's Muslim community posted a brief comment early Wednesday: "We are all waking up to broken hearts and crying eyes," the post read. "Have faith. He is the best of planners." 
"He is the best of planners" is a deliberate falsehood, another false Koran translation. It actually says "Allah is the best of deceivers."
It was accompanied by a link to advice on how to talk to Muslim children about Tuesday's election, quoting Hadith 19, part of the faith's sacred accounts from the life of Islam's Prophet Muhammad: "And if the whole world were to gather together in order to harm you, they would not harm you except if God had written so."
Nearly 20,000 Muslims call Utah home. (20,000 too many)
In other news:
Comedy Gold
Terrorist who incited Cardiff teen to join Islamic State wants sentence cut after a 'change of heart'
Adeel Ulhaq's principal crime involved encouraging Cardiff teenager Aseel Muthana to travel to Syria to wage holy war
A teenage terrorist who enticed a Cardiff teenager to join Isis in Syria says he has now had "a change of heart"
Adeel Ulhaq, now 22, was locked up for six years at the Old Bailey in February after being convicted of preparing for acts of terrorism and arranging terrorist funding.
Following a hearing at London's Appeal Court, senior judges ruled Ulhaq cannot complain about his tough sentence.
Ulhaq was obsessed by global jihad, the appeal court heard.
He ranted on social media about wanting to "behead" unbelievers, and had extensive internet contacts among like-minded fanatics.