Germoney
The Merkel -regime conceals all important facts about migration. Statistics are not published or frozen so that they no longer contain any usable actual data. The Germans are not supposed to know exactly what is happening.  They are to keep their mouths shut. If one believes the regime, there are only about 2.99 million Turks living in Germany. These numbers have been frozen for the last 30 years. In reality, the regime has already settled about ten to twelve million Muslims in Germany – each one of them  symbolizing  state lies and broken promises to the Germans.
Turkey Accused of 'Dissolving' Camps as Migrants Flood Greece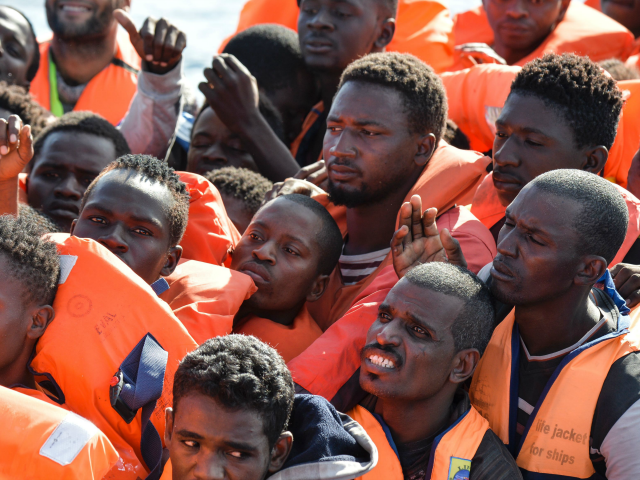 Hundreds of migrants arriving on the Greek island of Lesbos have claimed that they came from a "dissolved" migrant camp in north-west Turkey, and Greek port authorities allege the Turkish coastguard that monitors the Aegean Sea border has "disappeared".[/caption]
On Friday 200 migrants, mostly originating from Africa, travelled across the Aegean Sea and landed on the eastern Greek island of Lesbos. In addition, the European Union (EU) border agency Frontex picked up 66 migrants off the coast of Chios. On Saturday morning, a further 330 arrived on the both islands.
400 Migrants Storm Spanish Enclave in North Africa
The rush of migrants trying to penetrate the Spanish territory is the highest in recent years. The Red Cross has reported that it has led to many of the migrants getting injured in the process including 25 hospitalisations and 103 suffering minor injuries, as well as two police officers being injured, reports El Faro de Ceuta.
According to reports the migrants stormed the border fence in several separate areas using tools and scissors to cut through the fence as others attempted to climb over the massive structure. Authorities say that most of the migrants were men from southern Africa and El Faro de Ceuta posted footage of the men who chanted "Spain!" 
St Mark's Cathedral is the "seat of Egypt's Orthodox Christian church and home to the office of its spiritual leader, Pope Tawadros II."
Muslim Brotherhood operatives have long hated Pope Tawadros and the Coptic Christians, blaming them for the toppling of the Muslim Brotherhood regime in 2013, and considering them kuffar harbi, infidels at war with Islam whose lives can, because of that war, be lawfully taken.
"The blast took place as a Sunday mass being held in the chapel was about to end and coincided with a national holiday in Egypt marking the birth of Islam's Prophet Muhammad."
The bomb seems to have been timed to maximize the carnage.
"St. Mark's Coptic Orthodox Cathedral in Cairo bombed, killing dozens," Associated Press, December 11, 2016:
CAIRO – A bombing at Egypt's main Coptic Christian cathedral killed 25 people and wounded another 35 on Sunday, in one of the deadliest attacks carried out against the religious minority in recent memory.