Islamic Christmas Message From Prince Charles
Moonbattery
In the aftermath of the Muslim atrocity that killed 12 at the Christmas market in Berlin, here's a Christmas message from Prince Charles:
"Normally at Christmas we think of the Birth of our Lord Jesus Christ. I wonder though if this year we might remember how the story of the nativity unfolds, with the fleeing of the holy family to escape violent persecution. And we might also remember that when the prophet Muhammad migrated from Mecca to Medina he was seeking the freedom for himself and his followers to worship.
"Whichever religious path we follow, the destination is the same – to value and respect the other person, accepting their right to live out their peaceful response to the love of God," he said.
Not even inbreeding can explain not being able to distinguish between Christianity and its polar opposite, Islam.
Chucklehead went on to equate Brexit with the Holocaust. Seriously.
This Islamophilic moonbat is in line to become King of England. Good thing it is mainly a ceremonial position. However, technically the monarch is the Commander in Chief of the Armed Forces. This is good news for the Islamic State.
In other news: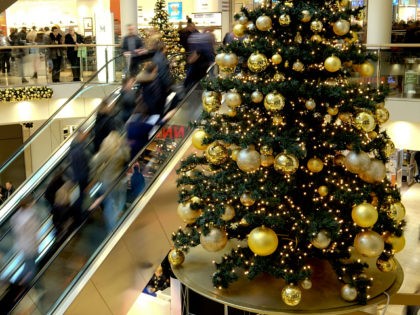 Kuwaiti Minister Orders Removal of 'Un-Islamic' Christmas Tree
Update:
The Vatican is bracing itself for an increased threat this Christmas. Visitors to this year's Christmas Eve Mass can expect heightened security including tougher checks and bag searches
.
Psychobabble from the redistributor in chief:
.
More:
.
More on his bleeding hearts, mufti-hugging lunatic below the fold
Update 2:
Donated between $1m and $5m to the Clinton Foundation.
Anyone found illegally celebrating Christmas in Brunei could face up to five years in prison, according to a reported declaration by the Sultan of the tiny…    WWW.INDEPENDENT.CO.UK
This year's global jihad against Christmas intensifies. "Sixteen Hurt in Christmas Eve Blast at Catholic Church in Philippines," Reuters, December 24, 2016: Sixteen people were wounded in a grenade explosion outside a Catholic church during a Christmas eve mass in the Philippines' restive southern island of Mindanao, a priest and police said on Saturday. Security […]
All these heightened security measures should immediately be dismantled. Why? The Pope's own words. These security measures are hardly welcoming to the stranger. "It is hypocritical to call yourself a Christian and to chase away a refugee, or anyone who needs your help. Jesus taught us what it means to be a good Christian in […]
Incitement: the Qur'an depicts the Jews as the strongest of all people in enmity toward the Muslims (5:82); as fabricating things and falsely ascribing them to Allah (2:79; 3:75, 3:181); claiming that Allah's power is limited (5:64); loving to listen to lies (5:41); disobeying Allah and never observing his commands (5:13); disputing and quarreling (2:247); […]
In Christmas Message, Pope Laments Children in War, Poverty
VATICAN CITY — Pope Francis urged Christians to celebrate the birth of Jesus by thinking about the plight of today's children, bemoaning how some must escape bombs or flee in migrant boats and how others are prevented from being born at all.
Francis celebrated a somber Christmas Eve Mass in a packed St. Peter's Basilica, processing to the altar behind cardinals draped in golden vestments as the Sistine Chapel choir sang "Gloria" and the church bells rang out across Rome.
Francis has spent much of the year denouncing the Islamic extremist violence that has driven Christians from Mideast communities that date to the time of Christ.
He hardly said a word about them.
He has also demanded Europe in particular do more to welcome refugees, saying Jesus himself was a migrant who deserved more than being born in a manger. And he has called out the wasteful ways of the wealthy when children and the poor die of hunger every day.
He says that every day. So often, in fact, that one could suspect he is a secret Muslim.
In his homily, Francis urged his flock to reflect on how children today aren't always allowed to lie peacefully in a cot, loved by their parents as Jesus was, but rather "suffer the squalid mangers that devour dignity."
Pure fluff.
Among the indignities, he said, are "hiding underground to escape bombardment, on the pavements of a large city, at the bottom of a boat overladen with immigrants."
The immigrants he supports will be the people who will cut his head off.
"Let us allow ourselves to be challenged by the children who are not allowed to be born, by those who cry because no one satiates their hunger, by those who do have not toys in their hands, but rather weapons," he added.
More fluff.
The Mass late Saturday was the first major event of the Christmas season, followed by Francis' noon Urbi et Orbi (To the city and the world) blessing on Christmas Day.
In another appeal, Francis called for the faithful to not get caught up in the commercialization of Christmas — "when we are concerned for gifts but cold toward those who are marginalized." 
Redistribution anyone? Isn't poverty glorious and aren't entitlements and confiscation of other peoples money noble and good.