Really, really wishing the shooter was white, not hispanic, and not Muslim…..
Turns out he is a Sunni Muslim with Salafi beliefs, and he is a father of one.
The leftist media is really boring. After every jihad attack, they feed the public with the same lies and obfuscations. Here is their modus operandi:
.
☑️Deny Terrorist is Muslim
☑️Claim Shooter is White Hispanic
☑️FB quicky removes info
☑️Say Muslims r real victim
Why is CNN attempting to make the shooter look more white?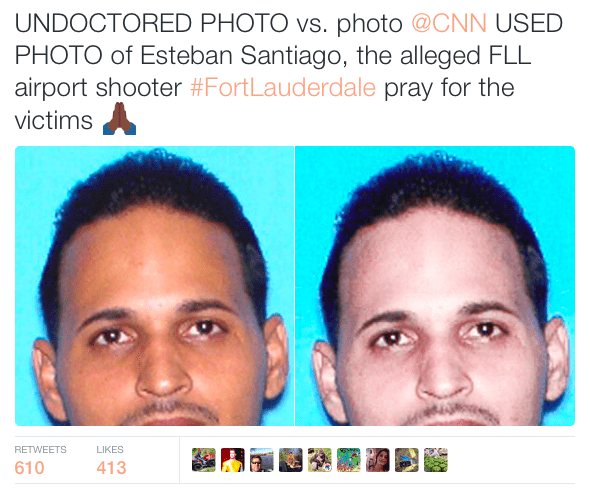 Bizarre.
Here's another "white shooter" from the Oregon Campus shooting. MSM lightened his skin too! Fort Lauderdale #EstebanSantiago #FLLshooting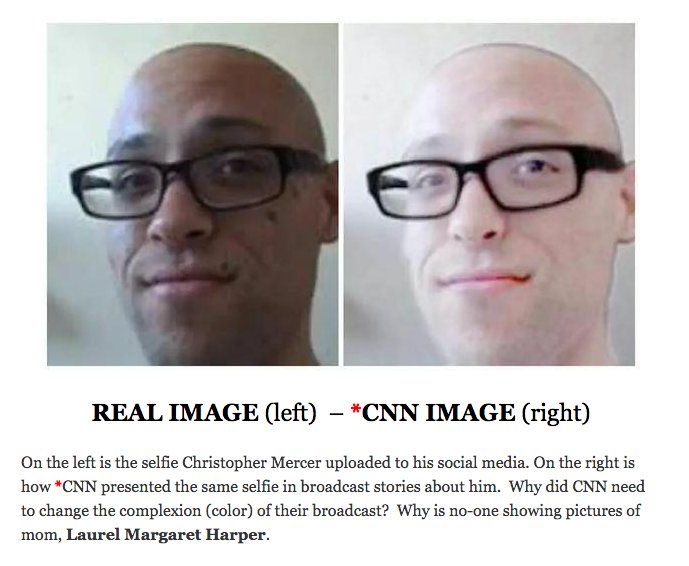 Fort Lauderdale Airport shooter had told FBI he was forced to fight for the Islamic State
Here he is in a photograph making the one-finger sign that signifies belief in the Islamic concept of tawhid, the absolute unity of the godhead.
He does appear to be mentally ill, and so of course the establishment propaganda media is treating as if it were solely a matter of a man who had mental health problems and snapped. But there is no reason to hold to a hard-and-fast either/or in this case or other cases where jihadis have been described as mentally ill. As Hugh Fitzgerald has often noted, Islam attracts the psychically marginal, as it provides both a justification and a purpose for their rage and bloodlust. The jury is still out on Esteban Santiago, and we may never know the whole story if he is a jihadi, since so many people are so intent on concealing such facts, but in any case there is strong reason to believe that there is a jihad component here.
And why wasn't the FBI watching him, when he told them he was ISIS? Maybe they also assumed he was insane, or they didn't care to pursue such matters while Obama was busying downplaying the Islamic State threat, or there are simply too many young men out there like Esteban Santiago. And more are arriving all the time.
"Fort Lauderdale Airport shooting suspect Esteban Santiago-Ruiz 'told FBI he was forced to fight for ISIS,'" by Natalie Evans and Patrick Lion, Mirror, January 6, 2017:
The suspected gunman behind the bloody rampage at a Florida airport previously told the FBI he had been forced to fight for ISIS, it has been reported.
Esteban Santiago-Ruiz is being held on suspicion of killing five people after opening fire at a baggage reclaim area at Fort Lauderdale on Friday.
The 26-year-old, an Iraq veteran, was known to the FBI, according to CBS News.
He is believed to have walked into the FBI office in Anchorage last November and told agents he was being forced to fight for ISIS, sources told CBS.
It comes as his aunt, Maria Ruiz Rivera, claimed he was hospitalised with mental health issues after a tour of duty in Iraq five years ago.
She told newjersey.com: "He lost his mind."
The aunt was reportedly visited by FBI agents while she was being interviewed by reporters at her home in Union City, New Jersey.
She said Santiago-Ruiz was happy after the recent birth of his son.
She told the website he "was happy with the kid" after the birth of the child last year.
"I don't know why this happened," she told them.
Santiago-Ruiz reportedly appeared alone in the Terminal 2 baggage claim area wearing a Star Wars shirt.
The suspect is believed to be from New Jersey, lived in Alaska for some time and had a concealed carry permit for his gun, American media reported.
Santiago-Ruiz reportedly had a history of mental problems and a criminal record with minor traffic violations.
In January last year, a domestic violence case saw him was charged with fourth-degree assault and property damage, the Daily Mail reported, but he settled the charges by "agreeing to unknown requirements".
Santiago-Ruiz was said to be receiving treatment for his mental health after being contacted by the FBI when his employer in Alaska raised concerns about something he had said.
He most recently resided in Naples, the website said, but he lived in Anchorage from for two years until last year.
His girlfriend and child continued to live in the Alaskan city.
According to reports, Santiago-Ruiz flew into Fort Lauderdale and his handgun was in his checked bag.
His itinerary is said to have begun in Alaska before a connecting flight, reported as either Canada or Minneapolis.
Speaking on CNN, Florida Senator Marco Rubio, who had spoken with TSA officials today, said that Santiago-Ruiz may have become embroiled in an altercation on his flight.
"I know that was mentioned as a potential cause and they wanted to kind of look into that a little further and get to that point," Senator Rubio said.
The shooting began just before 1pm local time.
On arrival in the baggage claim area Santiago-Ruiz collected his luggage before going into the men's toilet to take out the weapon, Broward Commisioner Chip LaMarca reportedly tweeted.
Santiago-Ruiz, said to be an army reservist and wearing a blue Star Wars T-shirt, then came out firing….
Police said they would not comment on the shooter for now and what a possible motive could be for the massacre.
The FBI and local police are interviewing him.
Witnesses say he appeared to randomly target his victims during the shooting spree which has left at at least five people dead and many more injured….
Esteban Santiago
He was born in New Jersey, but moved to Penuela, Puerto Rico to live with his brother and mother shortly thereafter. [29]  He moved to Alaska in 2015 years ago for work, and had been employed as a security guard [29] . He was "fighting with a lot of people" during his time in Alaska, including his girlfriend. [29] At the time of the shooting, he was receiving mental help for his Depression. [26]
Career
February 2015: Eviction for nonpayment of rent.
January 2016: Fourth-degree assault and damage of property, from a domestic violence incident. Santiago settled the charges
Shooting
Santiago took Delta Airlines flight no. 1088 from Anchorage to Minneapolis – Saint Paul Thursday night. He landed Friday morning, and then took Delta flight no. 2182 from Minneapolis-St. Paul to Fort Lauderdale. He then appeared in the Terminal 2 baggage claim area wearing a Star Wars shirt.[22][3] Witnesses say he appeared to randomly target his victims during the shooting spree which has left at at least five people dead and many more injured. [3] He was apprehended by authorities when he stopped shooting to reload, witnesses said. [3]
Source: https://www.everipedia.com/esteban-santiago/#ixzz4V3eRY3z7
Here's another "white hispanic"
CNN Labels Zimmerman 'White Hispanic'
On Wednesday, CNN once again referred to Hispanic defendant George Zimmerman as a "white Hispanic who is on trial for last year's shooting death of Trayvon Martin, a black teen, in Sanford city." The term "white Hispanic" was coined by the media after outlets wrongly labeled Zimmerman white; Zimmerman's father is white, and his mother is Hispanic. On March 8, 2012, the Associated Press wrote, "The neighborhood watch leader is white." When it came out that he was not, media outlets including CNN began labeling Zimmerman a "white Hispanic" in order to maintain the false narrative that the killing was race-based.