Update:
Australian Prime Minister Malcolm Turnbull hosted an Iftar dinner in June, 2016
The Ramadan dinner cost taxpayers $30,000, government documents revealed 
Mr Turnbull rubbed shoulders with Waleed Aly and an anti-gay Islamic preacher
He later condemned the sheikh's views and voiced his regret for inviting him 
Taxpayers forked out more than $30,000 to fund an Iftar dinner at Kirribilli House last year.
The fast-breaking Ramadan dinner was hosted by Prime Minister Malcolm Turnbull at his official Sydney residence, and was attended by a selection of prominent Muslim figures including TV presenter Waleed Aly and his wife, Susan Carland.
Sheikh Shady Alsuleiman, an Islamic preacher who once said that AIDS was a 'divine punishment' for gays, was also one of the 75 people invited to the exclusive function.
Freedom of Information documents, obtained by The Daily Telegraph, reveal the extravagant dinner in June cost taxpayers a staggering $33,694.
Guess who came to dinner
Prime Minister Turnbull should pay this bill himself:
A dinner party thrown by the PM and attended by an Islamic preacher who once called on God to "destroy the enemies of Islam" cost taxpayers more than $30,000.
That's a whole lotta hummous.
The Kirribilli House event during the holy month of Ramadan was marred by controversy after the Herald Sun revealed Sheik Shady Al-Suleiman, who also denounced homosexuality as an "evil act" and wants adulterers stoned to death, was invited to the feast as a guest of Mr Turnbull.
Online videos also show Sheik Shady saying women would be "hung by their breasts in hell" and should not even look at men.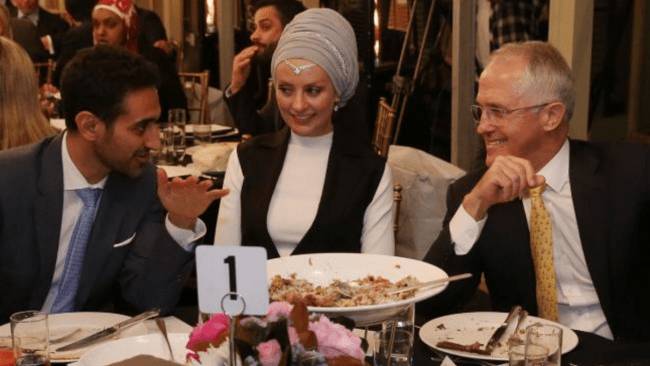 Malcolm Turnbull with dinner pals Waleed Aly and Susan Carland
The Daily Telegraph reports that documents released under Freedom of Information laws reveal the June 2016 dinner cost taxpayers $33,694.
The bill included $7300 for food and beverages at the alcohol-free event.
Turnbull earlier this week: "I expect the highest standards from my ministers in all aspects of their conduct, and especially the expenditure of public money."
UPDATE. These people are ridiculous:
Foreign Minister Julie Bishop used taxpayer funds to attend the Portsea Polo on Tuesday, spending $2716 on "official ministerial business" the ABC has reported …
The ABC also reported that two senior Federal Government ministers and one Tasmanian senator charged taxpayers more than $2500 to attend the AFL Grand Final in 2013.
One of the ministers, Senator Matthias Cormann, is in charge of the government department that oversees politicians' entitlements. Mr Cormann and the two other politicians were guests of the NAB and received hospitality and complimentary tickets.
From an informed commenter:
The dinner was a religious function to celebrate ramadan, so is ineligible for Federal funding unless the PM holds a dinner for Passover with the Jewish community, then a dinner for Easter with the Christian community.
If the PM fails to hold the Easter/Passover dinners, then he must be held to account and embarrassed until he complies.