Bin Laden said  "when people see a strong horse and a weak horse, by nature, they will like the strong horse". Is it possible that this pope changed sides?   It doesn't look like he's on ours.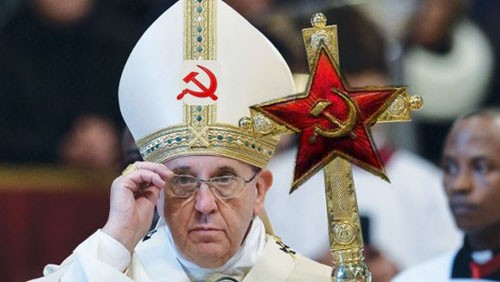 Pope Francis: Rejection of refugees "rooted ultimately in self-centredness"
Self-centeredness? Let's see.
Somali Muslim migrant Mohammad Barry in February 2016 stabbed multiple patrons at a restaurant owned by an Israeli Arab Christian; Ahmad Khan Rahami, an Afghan Muslim migrant, in September 2016 set off bombs in New York City and New Jersey; Arcan Cetin, a Turkish Muslim migrant, in September 2016 murdered five people in a mall in Burlington, Washington; Dahir Adan, another Somali Muslim migrant, in October 2016 stabbed mall shoppers in St. Cloud while screaming "Allahu akbar"; and Abdul Razak Artan, yet another Somali Muslim migrant, in November 2016 injured nine people with car and knife attacks at Ohio State University. 72 jihad terrorists have come to the U.S. from the countries listed in Trump's immigration ban.
What's more, all of the jihadis who murdered 130 people in Paris in November 2015 had just entered Europe as refugees. In February 2015, the Islamic State boasted it would soon flood Europe with as many as 500,000 refugees. The Lebanese Education Minister said in September 2015 that there were 20,000 jihadis among the refugees in camps in his country. On May 10, 2016, Patrick Calvar, the head of France's DGSI internal intelligence agency, said that the Islamic State was using migrant routes through the Balkans to get jihadis into Europe.
But concern about all that is rooted in self-centeredness. In spreading this nonsense, the Pope is endangering his own people, particularly in light of the papal idolatry that is rampant in the Catholic Church today.
"Leave them; they are blind guides. And if a blind man leads a blind man, both will fall into a pit." (Matthew 15:14)
"Pope Francis: 'the protection of migrants is a moral duty,'" Vatican Radio, February 21, 2017:
…To welcome.  "Rejection is an attitude we all share; it makes us see our neighbour not as a brother or sister to be accepted, but as unworthy of our attention, a rival, or someone to be bent to our will" (Address to the Diplomatic Corps, 12 January 2015).  Faced with this kind of rejection, rooted ultimately in self-centredness and amplified by populist rhetoric, what is needed is a change of attitude, to overcome indifference and to counter fears with a generous approach of welcoming those who knock at our doors.  For those who flee conflicts and terrible persecutions, often trapped within the grip of criminal organisations who have no scruples, we need to open accessible and secure humanitarian channels.  A responsible and dignified welcome of our brothers and sisters begins by offering them decent and appropriate shelter.  The enormous gathering together of persons seeking asylum and of refugees has not produced positive results.  Instead these gatherings have created new situations of vulnerability and hardship.  More widespread programmes of welcome, already initiated in different places, seem to favour a personal encounter and allow for greater quality of service and increased guarantees of success….