Public storm of criticism over sharia law support
STAFF WRITERS, Herald Sun
Sisters of cognitive dissonance:
BUSINESS and community leaders have been urged to support controversial Islamic activist Yassmin Abdel-Magied who has faced a storm of criticism for promoting sharia law.
Ms Abdel-Magied proclaimed on last week's Q&A program that Islam was "the most feminist religion" and made several inaccurate statements about the religion's history.
However, Julie McKay, gender adviser to the chief of the defence force and partner at PwC, believes that the criticism of Abdel-Magied is motivated by sexism.
"Last week, we saw a telling example of what happens to women who stand up for gender equality and dare to voice their opinions with conviction," Ms McKay wrote.
"They become front-page news, their personal lives are attacked, death threats are made towards them, petitions are created to undermine their confidence and credibility.
"As business and community leaders, all of whom have benefited from the advice and insights of Yassmin Abdel-Magied, we could not remain silent while this occurred yet again."
Julie McKay needs a reality check. The criticism of Abdel-Magied is a result of the absolutely ridiculous statements this woman has made about some of the most repressive countries in the world. If Abdel-Magied was a man or a woman, the came criticisms would apply – the fact they have come from a woman makes them even more ridiculous. Abdel-Maggied was in fact standing up for gender INEQUALITY through her support of sharia law.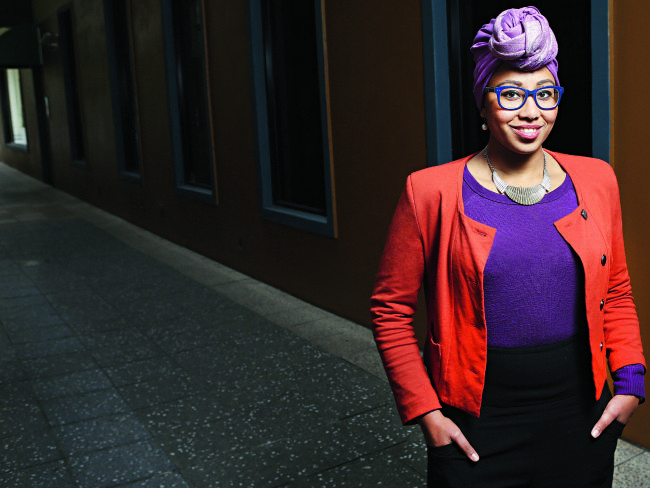 Yassmin Abdel-Magied.
Ms McKay also questioned the media coverage of Abdel-Magied's taxpayer funded book tour of some of the world's most oppressive Islamic countries.
"It is not front page news that DFAT makes investments in public diplomacy and promoting Australia's interests abroad," she wrote.
"If a man had visited the same countries to speak about trade, it would not make headlines."
Ms McKay's plea for support is co-signed by non-executive director Michael Rose, CEO Foundation for Young Australians Jan Owen, PwC partner Marcus Laithwaite, Islamic College of South Australia chairwoman Miriam Silva, non-executive director David Wakeley and Rodin Genoff & Associates managing director Rodin Genoff.
The call comes as The Australian revealed that Ms Abdel-Magied sought advice from anti-gay and anti-women group Hizb ut-Tahrir, a group that is banned in several countries including Germany, Turkey and Egypt.
Ms Abdel-Magied reached out to the radical group's spokesman Wassim Doureihi on Facebook for advice on the best way to express her arguments.
"What specifically was problematic and how can I do better in the future inshallah? I am young, and willing to learn, inshallah. Trying to do the best with the platform I can, Allah willing," she posted on Mr Doureihi's Facebook page before moving the discussion to private messages.
Mr Doureihi, who has faced criticism in the past for his refusal to condemn Islamic State, advised Ms Abdel-Magied not to frame Islam through a secular lens.
"First of all, may Allah (swt) reward you for your tireless efforts," Mr Doureihi wrote.
"Not an easy task, but you consistently do so with grace, humility and courage.
"In a nutshell, you've ended up framing Islam through a secular lens, aimed at secular people and conscious of the presence of a secular government."
These revelations put further pressure on the ABC to denounce Ms Abdel-Magied's views on sharia law.
A change.org petition demanding 'ABC to publicly condemn and fire Yassmin Abdel-Magied over pro-sharia law comments' has over 19,000 signatures.
It was launched in response to another change.org petition launched by a 'Muslim collective' in support of Abdel-Magied, which has so far received just under 2,800 signatures.