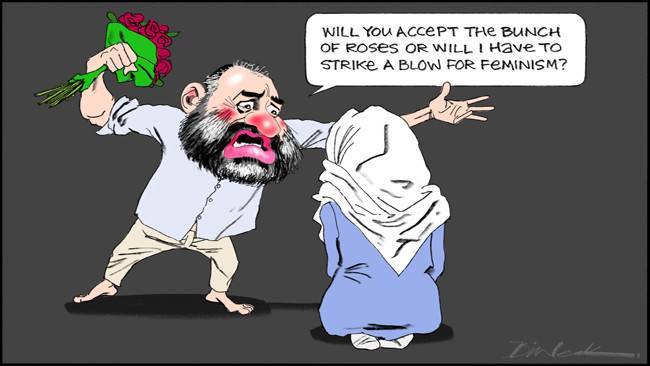 This is the most ironic thing I have seen in my life. WTF lefties…
Israeli Prime Minister Benjamin Netanyahu was met by pro-Palestinian protesters carrying a poster depicting him as Adolf Hitler during his official state visit to…
(PHOTOS)
These shameless swine sneak into the country any which way and then tell us how evil we are because we don't submit to Mohammedan mores fast enough. There needs to be some blowback.
GREENS MP Mehreen Faruqi has claimed Australia suffers from "systemic racism" in an astonishing rant that was broadcast to millions of people around the world.
"We are here to oppose Australia's support for Israel."
A police helicopter hovered overhead as protesters condemned the visiting Israeli Prime Minister Benjamin Netanyahu.
SBS.COM.AU
NSW
Lakemba imam criticises closer trade links between Australia and Israel
A WESTERN Sydney Muslim leader has criticised Israel and the warm welcome extended by Australia to its Prime Minister Benjamin Netanyahu, who has opened the door to a massive increase in trade between the two countries.
Despite a raft of lucrative opportunities for Aussie exporters — including tighter links agreed between Mr Netanyahu and NSW Premier Gladys Berejiklian yesterday — Lakemba Mosque's Imam Sheik Yahya Safi said the PM's visit was unacceptable to the Muslim community .
Speaking in Arabic to a packed mosque during his Friday sermon, Sheik Safi condemned Prime Minister Malcolm Turnbull's description of Israel as the region's only democracy, claiming it had hurt Islamic nations from the moment of its founding.
It had a "black path" then and still did now, he said.
He said Mr Turnbull's welcome was seen as incomprehensible and unforgiveable to the Muslim community, saying: "We as a community would like to express our disappointment in the Turnbull government and its unacceptable response to Israel."
Earlier this week, Mr Netanyahu met with his Australian counterpart and indicated his nation was keen to do more trade with Australia.
"I think the opportunities are vast," he said. "Our trade is a billion dollars. It should be at least double or triple that."
Mr Turnbull's office declined to comment on Sheik Safi's remarks.
Mr Netanyahu is the first Israeli leader to visit Australia.