Cognitive dissonance or complicity?
Five Coptic Christians in Egypt have been murdered in separate attacks within a two-week period, witnesses and authorities confirmed. All five murders bear similarities in a country where Christians continue to face persecution.
Considering the 30,336+ Islamic terror attacks that have resulted in death since September 11, 2001, it is surprising to hear that Muslim terrorism does not exist. Yet we have it on the word of the Pope himself, who proclaimed the following in his recent Message of His Holiness Pope Francis on the Occasion of the World Meetings of Popular Movements in Modesto, California: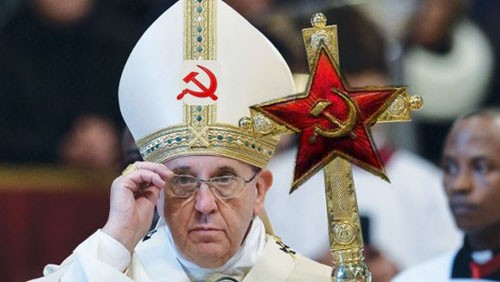 Christian terrorism does not exist, Jewish terrorism does not exist, and Muslim terrorism does not exist.
Two out of three isn't too bad, even for the Red Pope.
In reality, terrorism was baked into Islam from the beginning. Before his cult took hold, street poets in Mecca would publicly ridicule Mohammad for his epileptic antics and claims to be a prophet. He responded by having them assassinated. "I have been made victorious with terror," crowed Mohammad.
It's too bad that the Pope is wrong about Muslim terrorism. But at least he is also wrong when he shouts that "the ecological crisis is real" — in reference to the debunked global warming hoax.
Francis also announced that "No people is criminal," in apparent reference to illegal aliens, as if they have a right to ignore the laws of the countries they illegally invade and then exploit for welfare benefits.
That's three strikes. It might be best for Francis to give up politics and focus on religion.
The Red Pope, outspoken advocate of all things moonbatty.