Sydney Q event makes international news!
.
Mohammedans and their apologists never had a sense of humour.
That's one reason why cartoonists around the world don't like them. Charlie Hebdo, Garland, Texas and the Danish Cartoons come to mind.
Only problem: Ross never signed this particular cartoon. 
No. He didn't.
Sky News host and former Liberal MP Ross Cameron has been accused of signing a sexually explicit cartoon of a woman in a burqa at a fundraising auction for a
controversial "far-right group."
A group of 49 Muslim "scholars" are now demanding an apology from the ABC for not silencing Senator Lambie, saying the prog­ram host, Tony Jones, failed to provide a "safe environment" for Ms Abdel-Magied to speak.
Tell me: is this  cartoon "sexually explicit?"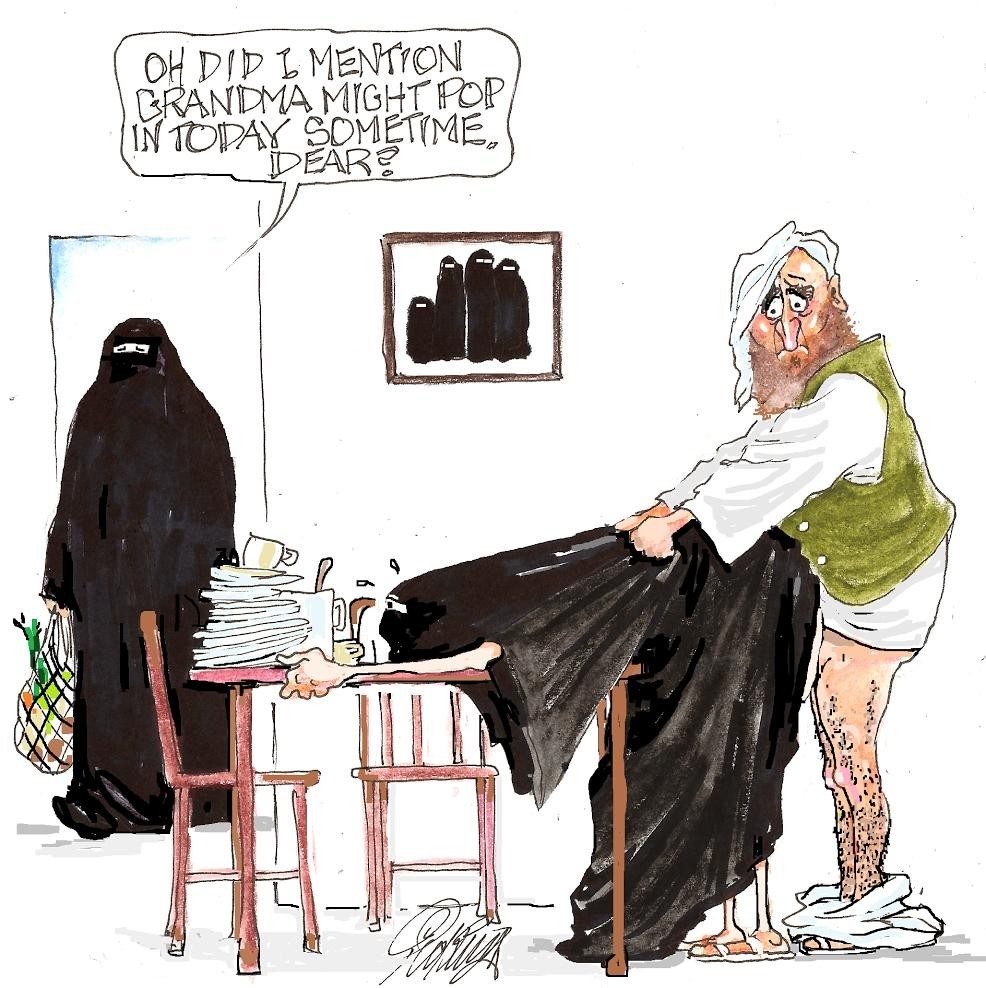 From ALA:
True: Ross Cameron and the other speakers at the Q Society dinner in Sydney signed a cartoon at this private function.
False: It was neither a Larry Pickering cartoon nor was it "sexually explicit".
But then, this wouldn't be the only fact that "non-practising Muslim" Senator Sahand Dastyari got wrong. 
Our photo shows Larry Pickering and Angry Anderson having a good time at the QSA fundraising dinner in Sydney.
Culture of corruption:
Here's how the Turncoat gov't blows your taxes on Islamo-prop in Islamic hellholes where 90% of women are sexually mutilated:
The federal government paid for activist Yassmin Abdel-Magied to tour some of the world's most repressive Islami­c regimes last Novem­be­r, Caroline Overington reports.
Yassmin's tax-funded adventure promoted her book about being a Sudanese-Egypt­ian-Australian Muslim woman who wears the hijab:
The tour, which included stops in Saudi Arabia, where women are flogged for adultery and are not permitted to drive, was funded by the Department of Foreign Affairs and Trade, which declined yesterday to reveal the cost.
Ms Abdel-Magied, who sat next to Malcolm Turnbull at the Iftar dinner for Muslim leaders held at Kirribilli House last year to celebrate the end of Ramadan, made headlines this week when, as a guest on the ABC's Q&Aprogram, she describe­d Islam as "the most femin­ist" of all relig­ions.
More from Tim Blair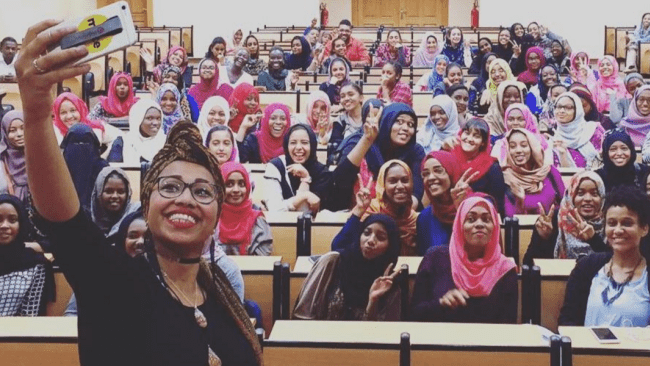 Corrupt Senator Sam Sahand Dastyari accuses Sky News presenter Ross Cameron of signing a sexually explicit cartoon of a Muslim woman in a burqa at a right-wing dinner auction that sold for $600 – as he shows it on live TV
Sky News presenter Ross Cameron spoke at anti-Islam Q Society dinner
Controversial cartoonist Larry Pickering also addressed the far-right fundraiser
Cartoon at that dinner in Sydney depicted a Muslim woman in a sexual act
NSW Labor senator Sam Dastyari claims Cameron signed a copy of the cartoon
Sky News was contacted for comment  after Senator Dastyari held up cartoon
Sky News host and former Liberal MP Ross Cameron has been accused of signing a sexually explicit cartoon of a woman in a burqa at a fundraising auction for a controversial far-right group.
Labor senator Sam Dastyari said it was outrageous how the former federal member for Parramatta had signed the controversial cartoon by Larry Pickering at last week's Q Society dinner in Sydney.
'I'm actually quite angry. Some really homophobic, Islamophobic things that have been said and done, people are getting away with,' he told Sky News' Peter van Onselen on Wednesday.
'I have people who were at that dinner emailing me, calling me telling me that he was signing the Larry Pickering cartoon on the night.'
Sam Dastyari slams Ross Cameron on Sky News
Cartoonist Larry Pickering's work features a woman in a burqa involved in a sexually explicit encounter
'If cartoons that somehow depict Muslim women being raped is somehow an acceptable part of the discourse then we will only go backwards when it comes to de-radicalisation.'
The cartoon Cameron allegedly signed is said to have fetched $600.
But Cameron told Daily Mail Australia he had never signed a Larry Pickering cartoon in his life.
Sources have told Daily Mail Australia Sky News, which is owned by News Corp Australia, is investigating the claims that Cameron signed the cartoon.
Cameron co-hosts the Sunday morning 'Outsiders' program with former federal Labor leader Mark Latham and right-wing columnist Rowan Dean, and makes occasional weekday appearances on Sky News programs hosted by Paul Murray and Janine Perrett.
The allegation he signed the cartoon comes after he was attacked for a bizarre speech he made at that Sydney dinner on Thursday night – which included claims the Liberal Party was a 'gay club' and how he wished they 'built a wall' to keep them out.
In the presence of a Sydney Morning Herald journalist at the dinner, Cameron described the newspaper she worked for as the 'Sydney Morning Homosexual'.
Labor senator Sam Dastyari holds up the cartoon by Larry Pickering. He accused Ross Cameron of signing a copy at the Q Society dinner
'Very pro-gay': Ross Cameron defended a controversial speech in an interview on Sky News
The funds raised by the cartoon's sale were to form part of a legal defence of leading Q Society member Kirralie Smith, an Australian Liberty Alliance Senate candidate at last year's elections, who is being sued by Halal Certification Authority president Mohamed El-Mouelhy.
That, and nothing but that matters. The halal racket is the subject matter that was totally derailed by this braindead Fairfax twat who focussed her whole (s)hit piece on a rant by Larry Pickering. (SY)
Pickering told that dinner that while he didn't like Muslims, he was glad ISIS killed homosexuals.
'They are not all bad, they do chuck pillow-biters off buildings,' he said.
On his website, the Walkley-award winning cartoonist describes the controversial artwork of the woman in a sexual act as a commentary on the anonymous nature of the burqa.
A day after his appearance at the Q Society dinner, Cameron downplayed that speech he had made.
'I gave a very pro-gay speech in which I said that gays have been associated with the creative class since the beginning of history,' Cameron said.
Fellow Sky News presenter Janine Perrett said it was 'the worst apology I've ever heard'.
In that fundraising dinner speech, Cameron had taken aim at the Liberal Party, which recently suspended him, and repeatedly referred to homosexuality and Roman emperor Hadrian.
'The NSW division of the Liberal Party is basically a gay club,' Cameron said.
'I don't mind that they are gay, I just wish, like Hadrian, they would build a wall.'
Cameron told Perrett he apologised if the reporting of the comments caused offence.
'I have absolutely no desire whatsoever to add one ounce of discomfort to any human for their sexual preference,' he said.
'If the reporting of these comments has caused someone to feel a greater sense of isolation over their attraction then I very sincerely apologise.'
Perrett was not impressed.
'Ross, that was the worst apology I've ever heard,' she said.
'So if they weren't reported then you wouldn't apologise?'
'No problems with gays': Cameron said his controversial speech was not critical of gay people
Sky News presenter Janine Perrett (right) was not impressed with Cameron's defence of his speech
Sky News host Janine Perrett is pictured
Pickering made anti-Muslim comments in his speech at the fundraiser.
'Let's be honest, I can't stand Muslims,' Pickering said.
'If they are in the same street as me, I start shaking.'
Pickering has every reason to dislike Muslims. He is a cartoonist. Muslims have a nasty habit of murdering cartoonists. He already had to move house and lives at a secret location now. (SY)
The Q Society's Melbourne fundraiser, a day after the Sydney event, was beset with more than 100 protesters.
A man's throat was grabbed and a woman was almost run over as anti-racism protesters clashed with far-right group the Q Society.
Daily Mail Australia has contacted Sky News for comment.
Note how the Muslims circle the wagons and go on the offensive as if they had been wronged. Compare that with our journaille and the political clowns who team up to destroy us. Despicable. (SY)
Read more: http://www.dailymail.co.uk/news/article-4225884/Ross-Cameron-signed-sexually-explicit-Muslim-cartoon.html#ixzz4YogRcdV0
Follow us: @MailOnline on Twitter | DailyMail on Facebook