Over the last week, 25-year-old Islamic "activist" Yassmin Abdel-Magied has become a viral joke after stating on their ABC's Q&A program that "Islam is the most feminist religion".
Yassmin, who has travelled throughout Muslim majority countries at tax-payer expense to promote her book, was aptly put in her place by Former Prime Minister Tony Abbott yesterday when he stated:
"SHE MUST HAVE BEEN WEARING A BLINDFOLD ON HER TAXPAYER-FUNDED TOUR."
The Fake-Stream Media have characterised Jacqui as a hate preacher, while enshrining Yassmin as a benevolent beacon for "equality".
Remind us again, Yassmin, what's the testimony of a woman worth under Sharia Law?
Tim Blair, The Daily Telegraph
Possibly very large. Similar messages were recently distributed in Hobart and elsewhere. Note the line attributed to everybody's favourite holy prophet dude:
That doesn't seem like something old Mo might have said. And according to various Koran enthusiasts, it isn't:
The above hadeeth is not the saying of Prophet Muhammad and is a very good example of fabrication and falsehood which are attributed to the Prophet. It is mentioned by the scholars in their books as an example of Hadeeth fabrication and lies.
It ought not to be mentioned that 'Love for one's homeland is from faith', nor that this is a narration from the Messenger of Allaah (sallallaahu 'alayhi wasallam), for this is a fabrication.
And, of course, a punishment is due:
Everyone who narrates fabricated ahaadeeth and stories about the Messenger of Allaah (peace and blessings of Allaah be upon him) and does not point out which are saheeh and which are false is exposing himself to sin and the warning (of Allaah). Al-Suyooti mentioned in his book Tahdheer al-Khawaas min Akaadheeb al-Qussaas, p. 167, that whoever narrated false ahaadeeth deserves to be whipped and threatened with worse, and to be rebuked and boycotted; he should not be greeted, he may be talked about behind his back for the sake of Allaah, he should be referred to the ruler (to stop him doing this), judgement should be passed to prevent him from narrating such reports, and testimony should be given against him. 
It is decided, then. Let the whipping and the threatening and the rebuking and the boycotting commence!
On another note:
There are currently 196 countries in the world. 50 of them are Muslim dominated. Obviously they did not takeover all of that land overnight. The point is that Muslims are not in the West in the name of coexistence, they are here to dominate. Just as the Koran calls for. (Verses 3:83, 9:29, and 9:33). It is just a matter of time.
If you needed any further proof that DFAT is populated by morons.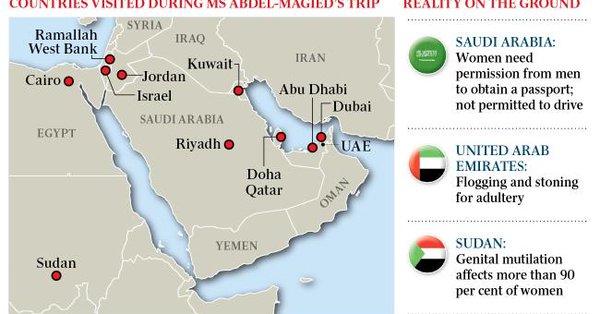 The federal government paid for activist Yassmin Abdel-Magied to tour some of the world's most repressive Islami­c regimes last Novem­be­r, promoting her book about being a Sudanese-Egypt­ian-Australian Muslim woman who wears the hijab.