Will the dimbulbs who keep telling us that Muslims only migrate for "a better life" in the West change their tune now? I won't hold my breath.
Venice's chief prosecutor Adelchi D'Ippolito said the suspects had celebrated the Westminster attack in London which saw Khalid Masood kill four people and injure up to 50 others on March 22.
'Place a bomb under the unbelievers and you go straight to Heaven': Four 'radicalised' people are arrested over plot to blow up Venice's famous Rialto Bridge 
Three men from Kosovo and an unidentified minor have been arrested in Venice
Fisnik Bekaj, Dake Haziraj and Arjan Babaj were said to be 'religiously radicalised'
They were ISIS supporters who were inspired by recent terror attacks in London
Police were monitoring them for months and raided 12 addresses to find them
Three men from Kosovo and an unidentified minor have been arrested on suspicion of plotting to blow up Venice's Rialto Bridge.
Fisnik Bekaj, Dake Haziraj and Arjan Babaj were detained in overnight raids after it emerged that they had undergone 'religious radicalisation'.
One of the suspected jihadist plotters boasted that they would 'go straight to heaven' if they put a bomb under the bridge, a wiretap conversation revealed.
They were reportedly inspired by the Westminster terror attacks in London and had discussed plans to join Islamist fighters in Syria.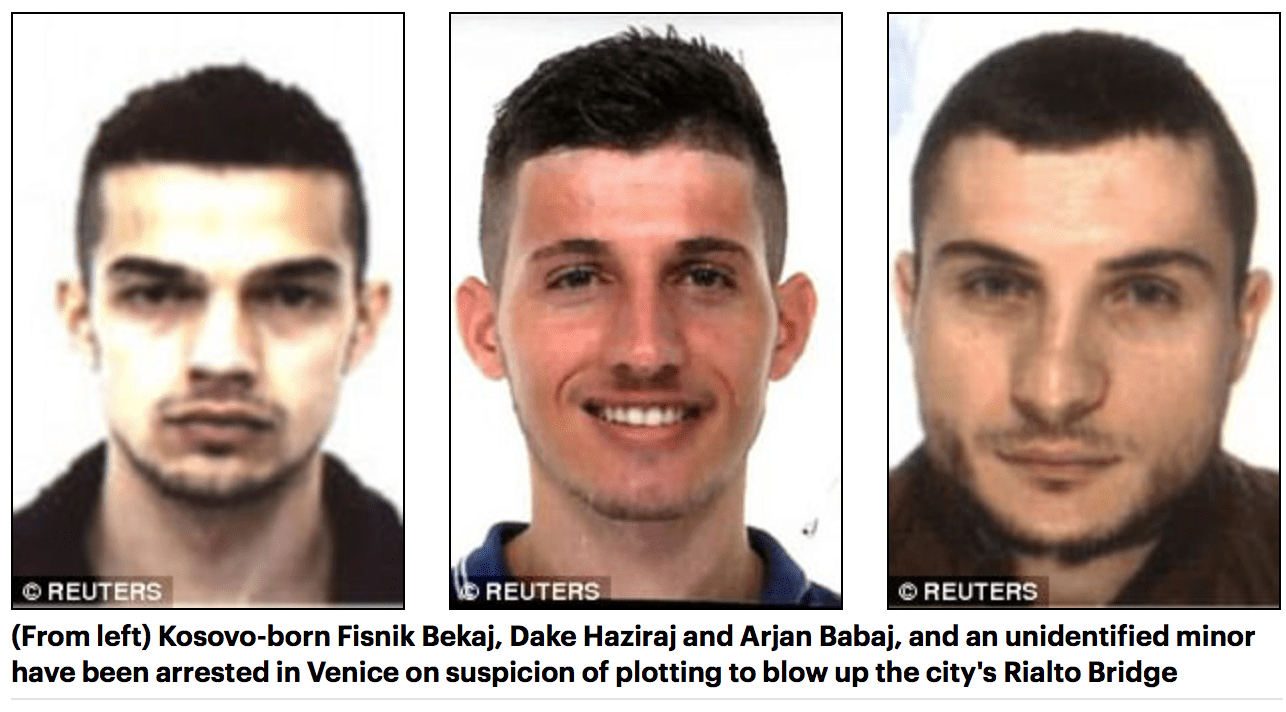 Raids were conducted at 12 addresses in the historic city centre to find the men.
'With all the unbelievers there are in Venice, you put a bomb under the Rialto and you go straight to heaven,' the alleged plotter said.
'That was one the most worrying and alarming remarks we heard,' said Venice prosecutor Adelchi d'Ippolito said at a press conference.
Two of the men worked as waiters in Venice, according to local media. One of the suspects was arrested in an apartment close to La Fenice, Venice's opera house.
Police had been monitoring the group since last year, it emerged.
The suspects appeared to have been studying how to build explosives but did not have the necessary components for making a bomb, the court heard.
A search of a Venice apartment revealed the suspects were getting into physical shape and watched clips of Islamic extremists on how to carry out knife attacks. 
Israel has warned citizens to immediately leave Egypt's Red Sea resorts and cancel all future travel plans over fears of an ISIS attack. 
The country's counter-terrorism bureau said there is a 'serious and current threat' of a terror attack targeting the region, and in particular Israeli tourists.
The Red Sea region includes the tourist destinations of Sharm el-Sheikh, Hurghada, Marsa Alam and Luxor, which are popular with British holidaymakers.
Israeli tourists in the Red Sea region have been told to leave immediately and those planning to go have been told to cancel plans over fears of an imminent ISIS terror attack
Eitan Ben-David, the head of Israel's counter-terror bureau, told The Telegraph: 'We don't want to cry wolf, wolf. We really believe that the threat is serious.'