IZZA LEGHTAS FULL ONE-ON-ONE INTERVIEW WITH TUCKER CARLSON (4/19/2017)
Refugees International: Europe should be ASHAMED for not helping more migrants
Thanks to Vlad Tepes
Too bad Tucker didn't do his homework and grill her about how she got to work for Soros. 
Who is Izza Leghtas? Here's her Twitter handle: https://twitter.com/izzaleghtas?lang=en
Leghtas has been engaged in undermining western civilisation for quite a while. Here she whines about Danish women trying to protect themselves against rapefugees with pepper spray:
Izza Leghtas, a Senior Advocate for Europe at Refugees International, condemned the move as "an appalling act of hostility and xenophobia towards asylum-seekers and refugees."
Here she is promoting the burqa:
Izza Leghtas, a researcher on western Europe for Human Rights Watch, said the judgment was disappointing. "Bans like this undermine the rights of women who choose to wear the veil and do little to protect those who are compelled to do so, just as laws in other countries forcing women to dress in a particular way undermine their rights to freedom of religion and expression."
Profiling verboten:
Izza Leghtas, of Amnesty International said:
"The Spanish authorities are using stop and search powers abusively as a way to control migration. Spain has the right to control migration, however, that should not be at the expense of the rights of migrants and minorities to equality and protection from discrimination,"
"Spanish police must provide officers with training on how to conduct identity checks in compliance with the principle of equality and the prohibition of discrimination, and bring to an end the intimidation of those who observe or document the identity checks.
"It is time the authorities acknowledge and condemn the practice of racial profiling as discriminatory and unlawful and take measures to eliminate it."
All of these one sided 'human rights' aka entitlements for third world invaders are the program of Soros's 'Open Society'.
Go here to see the 187 organizations being funded by George Soros and his non-profit empire.
Missing from the list is one of nine major federal resettlement contractors—-the International Rescue Committee. (Others of the nine may also be getting booty from Soros, but the IRC is out front about it, as we have reported ad nauseam!)
We have many posts on the relationship, click here, to learn more.
However, I just now went back to 2013 to see exactly what the IRC said about Soros at its New York City gala to honor him.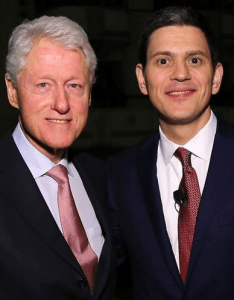 Clinton with David Miliband, former British Foreign Secretary and now CEO of the IRC feted George Soros in glitzy NYC gala.[/caption]
More on Miliband here and here.
From Forbes:
So while CBS CBS +1.00% anchor Scott Pelley, the annual benefit's emcee, kept things moving, and saxophonist Joshua Redman and pianist Aaron Goldberg provided lively entertainment for the 1,000 attendees, it was the honorees who were the real stars of the evening.
[….]
The night's headline honoree was yet another accomplished former refugee, hedge fund billionaire George Soros, who escaped from Hungary in 1946. He was lauded by Bill Clinton ("It's hard to think of any citizen of the world who would have done more to deserve the award," the former president said), his son Jonathan and United Nations Ambassador Samantha Power.
[….]
Upon receiving the award (a photograph of Einstein taken by the late Fred Stein, an acclaimed photographer whom the IRC helped flee Nazi Germany), Soros somberly declared that Syria was a "glaring failure of international governance" and pressed the IRC to take action. The event raised $3.5 million to help. True to form, Soros immediately pledged $1 million.
See who else was there, click here.
Our George Soros archive is here and see our David Milliband archive by clicking here.