UK: Manchester jihad mass murderer "devout" Muslim who learned Qur'an by heart
He learned the Qur'an by heart and his father is a pillar of the mosque. Yet somehow he succumbed to what Theresa May and so many other Western leaders have repeatedly characterized as an outrageous misunderstanding and hijacking of the true teachings of Islam. Why wasn't the peaceful, benign Islam that Abedi supposedly imbibed at home and at his mosque, and from the Qur'an itself, not strong enough to withstand the appeal of this twisted version? Authorities never answer, or even seem to consider, such questions.
"Salman Ramadan Abedi named by police as Manchester Arena attacker," by Ian Cobain, Frances Perraudin, Steven Morris, and Nazia Parveen, Guardian, May 23, 2017 (thanks to the Geller Report):
"The Prime Minister vowed to 'defeat the ideology that often fuels this violence', saying: 'We struggle to comprehend the warped and twisted mind that sees a room packed with young children not as a scene to cherish but as an opportunity for carnage.'"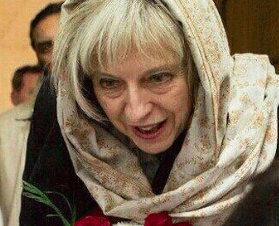 Struggling indeed.
The man who murdered 22 people and injured 59 others has been named as Salman Ramadan Abedi, a Mancunian of Libyan descent.
Police confirmed the 22-year-old's identity after officials in the United States passed it to news reporters, apparently against the wishes of the British police and security services.
Abedi was known to the security services but was not part of any active investigation or regarded as a high risk. He was viewed as a peripheral figure in much the same way as the Westminister attacker, Khalid Masood.
The police and security services are trying to establish whether he worked alone or was part of a wider network that helped him with the bomb. Although Islamic State has claimed responsibility, the police have found no evidence to support this.
Even before Abedi was named, several members of south Manchester's Libyan community wondered whether the suicide bomber was one of their own: perhaps one of the young men who had fought in Libya during the 2011 revolution, some of whom came home traumatised and angry.
But none appear to have suspected that British-born Abedi – a slightly withdrawn, devout young man, always respectful to his elders – would become a mass murderer.
"Salman? I'm astonished by this," one member of Manchester's Libyan community told the Guardian. "He was such a quiet boy, always very respectful towards me. His brother Ismail is outgoing, but Salman was very quiet. He is such an unlikely person to have done this."
Salman and his brother Ismail worshipped at Didsbury mosque, where their father, who is known as Abu Ismail within the community, is a well-known figure. "He used to do the five and call the adhan. He has an absolutely beautiful voice. And his boys learned the Qur'an by heart.
"Abu Ismail will be terribly distraught. He was always very confrontational with jihadi ideology, and this Isis thing isn't even jihad, it's criminality. The family will be devastated."
Abu Ismail Abedi, who worked as an odd-job man in Manchester, is thought to be in Tripoli. His wife, Samia, is thought to be in Manchester. The couple are believed to have another son, Hashem, and a daughter, Jomana.
"Abu Ismail comes and goes between here and there," the family friend said. "I can't believe [Salman Abedi] would have been radicalised in Tripoli. All those types have been driven out of the city. It must have happened here.
"But what was he doing, murdering all those people. There must have been somebody influencing him. It's terrible. He was off his head."
But others had a different recollection. Mohammed Saeed, a senior figure of Didsbury Mosque and Islamic Centre, said Salman Abedi had looked at him "with hate" after he gave a sermon criticising Isis and Ansar al-Sharia in Libya.
Saeed said he gave a strong sermon against terrorism and about the sanctity of life in 2015. He said 2,000 members of the mosque were with him; a small number were not; and a few signed a petition criticising him.
"Salman showed me a face of hate after that sermon," he said. "He was showing me hatred."
Saeed said a friend was so worried that he got his adult children to sit beside Salman Abedi in case he was attacked by him….
Did he notify the police?