UK: Muslims screaming "this is for Allah" murder 7 at FIVE locations in London
How many people have to die before it is recognized that the UK's strategy of evasion, denial, appeasement and accommodation isn't working? Britain, and the free world in general, must fight back effectively, or this will be just the beginning. The willful ignorance must end.
Madame Prime Minister: I tried to warn you. You banned me from the country, while allowing in a steady stream of jihad preachers. You now have the Britain you have made, and that you wanted. If Britons don't swiftly remove you from power and replace you with someone who will speak honestly about the jihad threat, they will continue to reap the rewards of your treason.
"Jihadi terrorists shouting 'this is for Allah' kill seven in knife frenzy at 'FIVE' locations in the capital: Hunt for men with 12in blades who began the rampage by mowing down revellers on London Bridge," by Ekin Karasin, Mailonline, June 3, 2017:
Jihadi terrorists shouting 'this is for Allah' have reportedly killed seven people after mowing down up to 20 with a white van on London Bridge and stabbing revellers with 12-inch hunting knives.
Lets hope the Muslims are safe and  the police will be able to protect them from a 'backlash' from right-wing extremists. The learned analysts  on "our" ABC, among them Eric Abetz, cannot think of anything that could possibly be a motive for this terrible attack, and Labor senator Sam Dastyari, an Iranian Muslim who just so happened to be there, babbled unintelligibly for about 5 minutes without mentioning Islam, Muslims or jihad. Tomorrow the papers will be full again with 'backlash' stories, every 'terrorism expert' in the land will lecture us that these attacks have nothing to do with Islam and that the terrorists will never win; people will hold candlelight vigils and sing 'imagine no more countries', and some pop tarts will organise a concert for open borders…. the usual.
LONDON – A van driving at high speed mowed down pedestrians on London Bridge Saturday night before the occupants got out and began stabbing patrons at nearby bars and restaurants, witnesses said in an attack that police described as terrorism.
.
This is a separate incident from the London Bridge attack. It also could still be some non-Muslim maniac, but if so, he is closely following established jihadi procedure.
Witnesses report stabbings, three people with throats cut at London Bridge vehicle attack site
"When you meet the unbelievers, strike the necks…" (Qur'an 47:4).
And of course, the Islamic State issued this call in September 2014:
So O muwahhid, do not let this battle pass you by wherever you may be. You must strike the soldiers, patrons, and troops of the tawaghit. Strike their police, security, and intelligence members, as well as their treacherous agents. Destroy their beds. Embitter their lives for them and busy them with themselves. If you can kill a disbelieving American or European — especially the spiteful and filthy French — or an Australian, or a Canadian, or any other disbeliever from the disbelievers waging war, including the citizens of the countries that entered into a coalition against the Islamic State, then rely upon Allah, and kill him in any manner or way however it may be….If you are not able to find an IED or a bullet, then single out the disbelieving American, Frenchman, or any of their allies. Smash his head with a rock, or slaughter him with a knife, or run him over with your car, or throw him down from a high place, or choke him, or poison him….
And we have seen several vehicular jihadis get out of the car after they plowed into pedestrians, and start stabbing people. In June 2015, a Muslim in Austria drove his car into a crowd, killing three, and then got out and stabbed passersby. Then in November 2016, a Muslim student at Ohio State University named Abdul Razak Ali Artan drove his car into a crowd, then got out and stabbed several others. (Jihad Watch)
This is jihad.
In other news: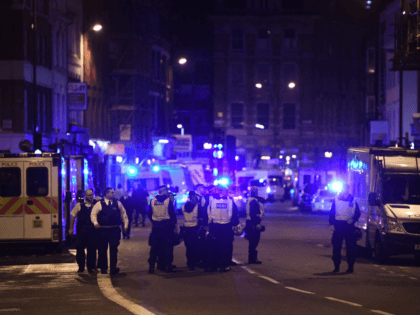 Police responded to an incident in central London on Saturday night following a report a van has hit a number of pedestrians on London Bridge. The Met Police has confirmed they responded to reports of stabbings in nearby Borough Market,