Cory Bernardi demands army's imam be sacked for 'supporting Islamists Hizb ut-Tahrir and Sharia law and opposing war against ISIS'
Federal senator Cory Bernardi has called for Australian army imam to be sacked
He claims imam Mohamadu Nawaz Saleem is a public support of Hizb ut-Tahrir
The 'radical' group wants worldwide Sharia Law and to end the fight against ISIS
Mr Bernardi said imam Saleem's views were 'wholly incompatable' with the ADF
It comes after Sheikh Tawhidi withdrew his bid to take up the ADF's imam role
Senator Cory Bernardi has called on the Australian army to sack its Muslim imam, who has a history of supporting islamic extremist group hizb ut-Tahrir.
No Muslim should be allowed near the Oz army.
Imam Mohamadu Nawaz Saleem, the chief Australian Defence Force imam, allegedly supports the controversial group in its calls to introduce worldwide Sharia Law and opposition to the war against ISIS.
As is his religious obligation. Muslims will never be loyal to an infidel nation state. The concept is totally alien to them.
And now Mr Bernardi has slammed the ADF over his hirign, questioning how it can keep the imam employed in the role given his 'radical' views and support of Islamic State – an enemy Australian soldiers are currently fighting overseas.
Imam Mohamadu Nawaz Saleem (pictured) has previously supported the controversial group in its calls to introduce worldwide Sharia Law and opposition to the war against ISIS
Raising the topic during question time in Canberra on Thursday, Mr Bernardi called on minister for defence Marisse Payne to take a stand and sack imam Saleem.
'Imam Saleem… signed a joint statement defending Hizb ut-Tahrir, a radical Islamic group which has called for the overthrow of democracy and the imposition of global sharia law,' Mr Bernardi told the senate.
'How can the minister justify the continuing employment of Imam Saleem… given his support for such un-Australian and anti-democratic principles?'
This (infil-) traitor must be sacked immediately. 
Told by Ms Payne that the imam did not 'speak on behalf' of the ADF, Mr Bernardi said the army should be forced to terminate his employment.
Claiming that imam Saleem's 'views and beliefs are wholly incompatible' with the army, the Senator claimed that firing him was in the 'national interest'.
In response to Mr Bernardi's questions, Ms Payne said that while the imam may not share views in line with the ADF's, he would continue to have their 'support'.
'Sheikh Saleem may support views that are expressed by the organisations of which he is a member,' she said.
'Clearly, I do not necessarily agree with them all, and Defence does not necessarily agree with them all… (but) we, of course, support his right to express those views.'
Sheikh Mohammad Tawhidi (pictured) submitted his bid to be an Army Reserve chaplain last week, but on Thursday told Daily Mail Australia he had since withdrawn that bid
It comes after Shia imam Sheikh Mohammad Tawhidi withdrew his application to be the Army chaplain, a role he last week told Daily Mail Australia he sought.
The Adelaide-based Sheikh Tawhidi revealed he had given up on the role because it would have meant he could not continue to criticise the Greens.
Sheikh Tawhidi told Daily Mail Australia he believes the far-left party are soft when it comes to slamming Islamist extremism and pro-Sharia law groups like Hizb ut-Tahrir.
'I respect the Army's rules but I cannot allow the Left to pave the way for Islamic radicalism in Australia,' he told Daily Mail Australia.
'The Greens are turning Australia into New Baghdad.'
In addition to the role as ADF imam, Sheikh Tawhidi also revealed he had applied to be an infantry soldier with the Army Reserve.
Hyperbole, lies and victimhood BS from Britain's curry princess: "the Muslims are angry".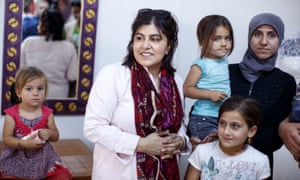 Britain's relationship with its Muslim community has become so brittle that it needs to be reset from scratch, according to one of the UK's most prominent Muslims. Speaking from her home in Wakefield, West Yorkshire, in the aftermath of the London Bridge attack, Conservative peer Sayeeda Warsi said: "When things go wrong with an iPhone or a coffee machine, pressing the restart button is usually a good, safe place to start. Right now, Britain's relationship with her Muslims is within that frozen, overloaded, splurging episode – we need to press the button."
A third UK act of terrorism in 10 weeks means that a recalibrated discourse among politicians, Muslims and the British public needs to start urgently, she said. She is clear that the Muslim community is playing its part by condemning the actions of the terrorists more forcibly than ever in an effort to demonstrate that there is no place for Islamism. As proof of this, she points to the reaction of the Muslim community following the tragedies.
"The fact that scholars and imams have said they will not perform Muslim burials is pretty unprecedented. Imams and young people have taken to the streets, we've seen vigils up and down the country, Muslims have raised money for the victims."
BS. The imam's are deceivers. Muslim "young people" have done nothing. Western fools have participated in candlelight vigils.  Meaningless drivel.
Warsi, who resigned from the cabinet in 2014 over the government's policy on Gaza, said she has seen the UK's Muslim community fearful, but never has she witnessed it as furious. "I've never seen as much anger. The language used to describe the terrorists has never been sharper, angrier, and, I would say, the level of anger towards the terrorists from British Muslims is even greater than it is within the mainstream."
She, too, is similarly exasperated. Her grandparents arrived in West Yorkshire from Pakistan in 1958, with her father originally securing employment as a mill worker. Born in 1971 into a working-class home in Dewsbury, Warsi made history in 2010 as Britain's first Muslim cabinet member, becoming co-chairman of the Conservative party. Despite such achievements, however, she is aware that her Britishness remains an issue of debate.
Warsi and her family are Paki infil-traitors. They will never be British.
"My family has 60 years' history in Britain, but how long before I have to stop taking a loyalty test?" The enduring debate on multiculturalism alongside the populist instincts that convulse her political party makes Warsi wonder whether her grandchildren will actually call Britain their home.
What does it take to get Warsi to pack up and leave?
A group of 2.8 million people are, she said, consistently defined through the lens of a tiny fraction of murderers. "There are far more Muslim doctors in Britain than terrorists, yet the community is not defined by the reputation of its daily life-savers, it's defined by the reputation of ad hoc life-takers."
Those doctors hold the same views as the murderous degenerates who blow British kids to smithereens.
Warsi would like the country's leading politicians to do much more to counter this. She urges the government to show restraint in its response to terrorism, pointing out that the Muslim community in all three recent attacks had come forward to warn the authorities that the perpetrators had exhibited extremist behaviour. "There's no point saying we need to go deeper into the Muslim community, because in all cases they reported them [the terrorists]; it was obvious to them who was radicalised."
Lies and deception. To do nothing is not  strategy, it is surrender.
Warsi also asks the government to shy away from an ideological response to tackling terrorism, name-checking one former cabinet minister as a Conservative colleague whose instincts helped engender an antagonistic and counter-productive relationship with the Muslim community. One central source of irritation is the broad retreat from dialogue with large sections of the Muslim community.
The cowards have been shying away from an ideological response for decades. There is not and there never will be "dialogue" with the  Muslim community. Islam forbids it. There can only be surrender.
"The government has got to stop its policy of disengagement. There are a lot of calls saying they should be speaking to more young people, more women, a broader range of people, but since 2007 successive governments have had a policy of disengagement. We have to question whether not speaking to people has actually yielded results," said Warsi, whose book The Enemy Within: A Tale of Muslim Britain presents a forensic indictment of counter-terrorism policy. "If we work with the Muslim community we will make this problem smaller. If we introduce legislation that pits us against them, we are going to make it bigger."
This falsehood has been perpetuated by smarmy Mohammedans for way too long to be taken seriously.
Another thorny issue that needs urgent attention, according to Warsi, is the approach to far-right extremism and Islamism. "There is still no definition of far-right extremism. The only definition of extremism that exists within government policy is Islamism. We also have no definition of what is Islamophobia."
"far-right extremism" doesn't exist. Its a furphy. "Islamophobia" is an insult. No one should take the bait.
Even now Warsi – whose multiculturalist credentials saw her placed on an Islamic State "kill list" last year – remains the only British politician to have delivered a mainstream speech on Islamophobia. Yet she is quick to warn that Muslims must take responsibility, in particular by challenging enduring conservative views. "You're not a terrorist, but are you fit for purpose? That includes everything from their attitude to women, minorities, LGBT communities, education, the child exploitation issue."
Warsi – who wore a traditional shalwar kameez dress at her first meeting in Downing Street – also believes the British Muslim community needs to work towards phasing out the burqa from British streets, describing it as "not the greatest manifestation of British Islam".
Another change, she believes, is scrutinising the policymakers' obsession with integration, pointing out that many of the recent attackers lived, superficially at least, westernised lifestyles at some stage. Instead, says Warsi, the debate on assimilation should focus more on the economics of mobility.
"Integration is a middle-class pastime. If we're really going to address the root causes of separatist communities, then let's look at the economics, poverty, life chances. If you have no choice and your life chances are limited, then integration is not a priority.
"Just because you don't speak English does not mean you're going to be a terrorist – the majority of terrorists speak good English. Secondly, there's always a fraction of religious groups that choose to live separate lives and that is not an issue of integration. We have to keep the issue of terrorism and integration seprarate."
We have to keep Islam & Muslims out of civilized society. Islamic terrorists who speak well English are more dangerous than those who don't, but it shouldn't make a difference. All of it is undesirable. to us.
But Warsi is philosophical that Britain's Muslims will ultimately be embraced, citing the cycle of history to show that the demonisation of minorities in the UK will eventually, inevitably, subside. "The Muslim community might be seen as the enemy within now, but it's only the latest in a long list of others that have been seen as such, starting with Catholics, Jews, blacks, the Irish, the miners, socialists. We're just the latest in a long line."
No. Never. Muslims are a creed apart. They are not Catholics, Jews, blacks, the Irish,  miners or socialists. They are our sworn enemy. That has to be understood.