The honor of Islam lies in insulting kufr and kafirs. One who respects kafirs, dishonors the Muslims. To respect them does not merely mean honouring them and assigning them a seat of honor in any assembly, but it also implies keeping company with them or showing considerations to them. They should be kept at an arm's length like dogs. ..  (Ahmad Sirhindi (d. 1624) was an Islamic scholar and a prominent Sufi.)
Update:
.
Saudis disgracing themselves in Australia. Same mob who refused to have a female bus driver during Asian Cup.
SAUDI ARABIAN SOCCER TEAM REJECTS MOMENT OF SILENCE FOR JIHAD VICTIMS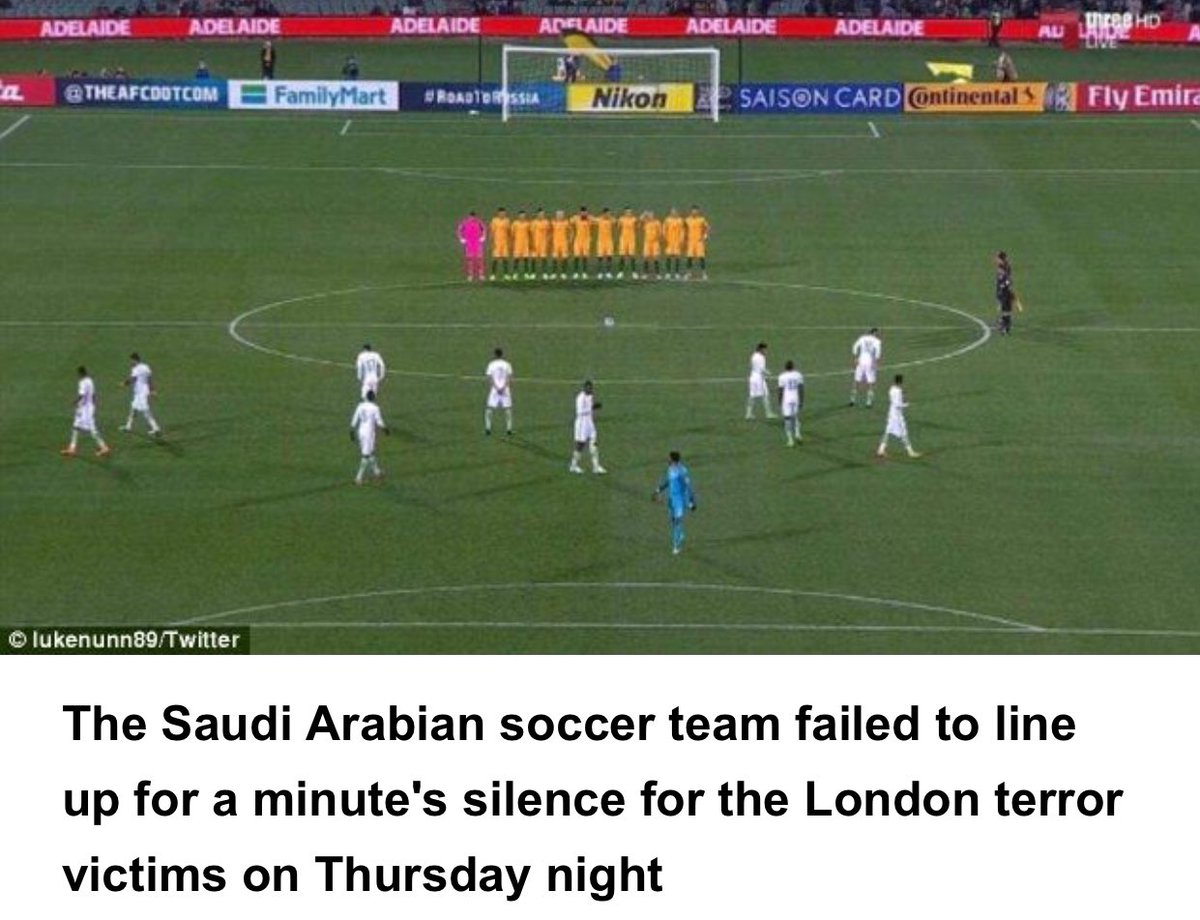 Team claims observance "not part of Saudi culture"
They don't have a culture. They despise the kuffar. They are savages.  Here's how they tick:
While the Australian players and coaches lined up with arms linked in a show of solidarity and respect for the moment, the Saudis can be seen walking around the field and continuing their pre-game preparations in an apparent rejection of the symbolic gesture.
The Saudis were notified that the observance would take place, but declined to take part in it, saying it is 'not part of Saudi culture.'
"The FFA sought agreement from the Asian Football Confederation and the Saudi national team to hold a minute's silence in memory of those lost in Saturday night's terror bombings in London and in particular the two Australian women," said a spokesman for the Football Federation Australia. "Both the AFC and the Saudi team agreed that the minute of silence could be held."
"The FFA was further advised by Saudi team officials that this tradition was not in keeping with Saudi culture and they would move to their side of the field and respect our custom whilst taking their own positions on the field."
The Saudi team is composed primarily (?) of Muslims.
Incensed fans and viewers took to social media to air their outrage at the insult.
Why didn't they do it right there and then? Throwing manure at insolent Koranimals  should be obligatory.
Saudi Arabia's national football team refused to take part in minutes silence for victims of London terrorist attack
.
Minutes silence for London terror, Saudi players wandering around like they don't give a fuck, Saudi fans shouting the whole time ….
.
Dear #NotAllMuslims crowd – please explain why ordinary Muslims were celebrating the attack on London today?
Jihadists took the lives of eight innocents in London on Saturday night, including two Australian women, aged 21 and 28, one of whom was a nurse and the other an au pair. Two more Australians were among the nearly 50 injured.
Some 'moderate' Muslims are known to celebrate and make light of terrorist attacks in Western countries, as Infowars has documented.
"A screenshot from France 24 Arabic's live video feed shows Muslim viewers reacting to the rampage with smiley faces and thumbs up,"reported Paul Joseph Watson after the massacre on Westminster Bridge in London in March. "In addition, comments below the live video feed including individuals remarking, 'God curse the infidels,' and, 'That's how the lone wolves of Allah operate.'"
"The idea of ordinary, so-called 'moderate Muslims' celebrating terrorist attacks drives fear into the heart of the leftist establishment because it demolishes the notion that Islam is a 'religion of peace' and that only a tiny minority of Muslims support terrorism."
'In their eyes the attackers are martyrs': Sheikh Mohammad Tawhidi claims Saudi Arabian team refused minute's silence for London terror victims because under Sharia law 'it's not a sin for a Muslim to kill a non-believer'
Sheikh Mohammad Tawhidi (pictured) says it is a 'lie' to say the Muslim culture does not remember the dead with a moment of silence
An Islamic imam has suggested the Saudi Arabian team refused to take part in a minute's silence for the London terror victims because they believe 'it is not a sin for a Muslim to kill a non-believer'.
Sheikh Mohammad Tawhidi says it is a 'lie' to say the Muslim culture does not remember the dead with a moment of silence, and instead argues the football team did not partake in the mourning because they stand with the jihadist men.
'They did not stop for a moment of silence because according to Wahhabi Islam – which governs Saudi Arabia – it is not wrong or a sin for a Muslim to kill a non-Muslim,' he told Daily Mail Australia.
In their eyes the attackers are martyrs who are going to paradise. And if they stand for a minute of silence they are against their Muslim brothers who fought for jihad and fought the "infidels",' he said.
Sheikh Tawidi also added the team would have been 'ridiculed' back home if they had commemorated the victims of the London terrorist attack. 
But this may not be the view of every player within the Saudi team, he pointed out.
Sure. Here again we get the 'not-all-muslims' BS. But not one of them rejected their behaviour. All of them showed their contempt.
Read more: Mail Online
With regard to non-Muslims, the Muslim should disavow himself of them, and he should not feel any love in his heart towards them: [Quotes Qur'an 60:1 & Qur'an 60:4]
But this does not mean that a Muslim cannot interact with them in a nice manner that will encourage them to enter Islam, so long as that is within the guidelines of sharee'ah, as Allaah says…..
Update:
Instant karma punishes the Arabs by losing 3:2 to Australia after a classy late score by Tommy Rogic in Adelaide.
We wish the losers a safe flight home. May the House of Saud be merciful on this unclassy bunch.