Viktor Orban: European Union Is Following 'Soros Migrant Plans'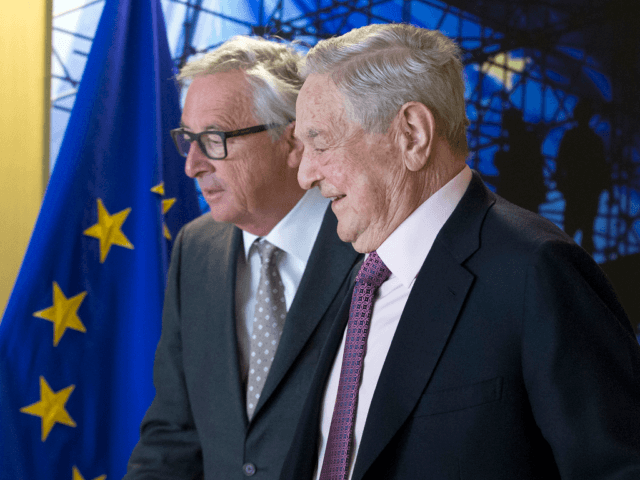 AP IMAGES
Hungarian Prime Minister Viktor Orbán has claimed the European Union are implementing migration plans designed by left-wing billionaire Geroge Soros to bring in a million migrants per year to Europe with the help of his army of NGOs.
Orbán claimed the EU and Soros wish to bring in the one million migrants annually to create an EU immigration force to undermine the national sovereignty of member states, Die Presse reports.
According to Orbán, many heads of government across Europe agree with his government's policy on migration but will only say so in private. He also said that because of the recent surge of migration into Italy, he expected the southern European nation could soon join Hungary and others in wanting to secure their national borders.

The Italian government have already made several steps toward securing their border after they saw 13,500 migrants arrive by naval vessels and NGO rescue ships in a 48-hour period. The NGO ships have been accused by Italian prosecutors of cooperating with people smugglers and Italy has even threatened to close its ports to their boats if the traffic continues at the same pace.
Orbán also mentioned former Libyan dictator Muammar Gaddafi who once warned that if his government should fall, then millions of people would flood Europe from Africa. The Hungarian prime minister said that although Gaddafi was no democratic ruler, Western interventionism in Libya was partly responsible for the current crisis.
Over the last few months, Prime Minister Orbán has railed against fellow Hungarian national Soros, claiming that his cadres of NGOs, largely financed by his Open Society Foundations, are promoting open borders and mass migration into Europe. Soros was described by the Hungarian leader as a "speculator operating an extensive mafia network".
The Hungarian government has also proposed a law to combat foreign-funded NGOs in the country by forcing them to reveal their funding sources and register as a "foreign-supported organisation" if they take in more than 7.2 million Hungarian forints ($26,000/£20,000) in annual revenue.
Orbán is not the only European leader coming out against the left-wing billionaire as more and more governments are investigating Soros ties to various groups. Some, like website Politico, have credited the work of Breitbart News with inspiring many leaders in Eastern Europe to investigate the activities of groups financed by Soros.