"Palestinian" Muslim opens fire on Israeli security officers near Jerusalem, murdering three, seriously wounding one
"Police said the terrorist, a father of four, had a legal work permit, making him one of the few Palestinians with such a document to commit a terror attack in recent years."
A legal work permit doesn't blunt the jihad imperative to "drive them out from where they drove you out" (Qur'an 2:191).
"3 Israelis killed, 1 seriously hurt in terror shooting near Jerusalem," by Judah Ari Gross, Times of Israel, September 26, 2017 thanks to JW:
Three Israeli security officers were killed and one was seriously hurt in a terror attack outside the Har Adar settlement near Jerusalem early Tuesday morning, police said.
LONDONISTAN: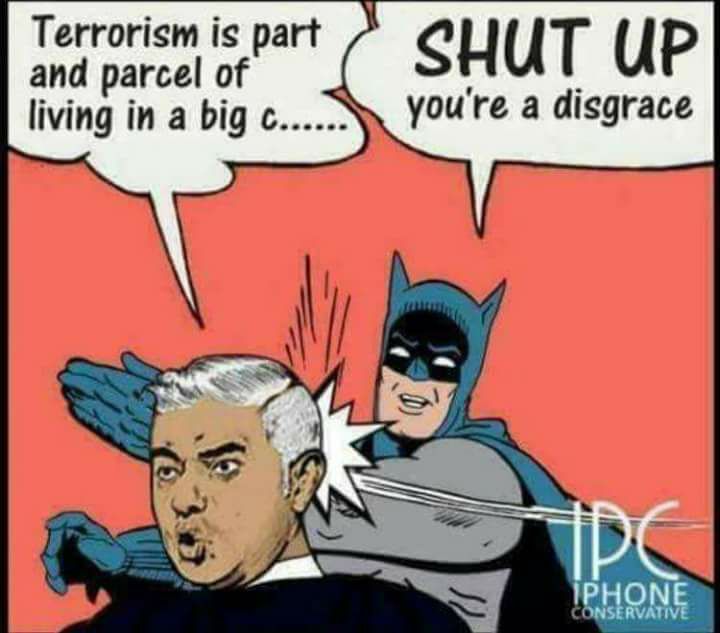 Mayor Sadiq Khan said on Sunday that it would be wrong for Britain to host US President Donald Trump on a state visit, describing some of the US leader's views on Islam as "ignorant". ..
But don't you get all worked up about the blood in the streets, the real problem is, you guessed it, "Islamophobia:"
11 Most Racist Islamophobic European Countries towards Muslims
by Aida Salihović
As you may suppose, I talk about Charlie Hebdo shooting, after which nothing was the same for Muslims in Europe. Additional attacks throughout various European countries only contributed to the fact that Islamophobia is on the rise in Europe, but we should not act numb and pretend that there are not some other things outside this continent that contributed to this since there are many. …
More on the success of the fake god's followers in casting terror – then whining about the resultant fear of its evil religion – at Insider Monkey
Dumbing down takes a heavy toll:
Islamophobia as White Supremacy
Open the floodgates to numberless Islamic welfare colonists, accept terror atrocities on a regular basis as the new normal, welcome sharia tightening like a garrote around your throat, or you are a racist:
This provides some insight into what "white supremacy" means, and how alarmed we should be by government attempts to suppress it. (Moonbattery)
UN concerned French terror law could affect Muslims
The UN, of course, is controlled by the OIC, and  the OIC seeks to remove anything that could possibly help infidels to protect themselves against the Islamic expansion project.
UNHCR says proposed anti-terror legislation may perpetuate emergency measures introduced in 2015
UN experts on Wednesday warned France to comply with international human rights obligations while debating a new anti-terror law.
.
France's draft law "may perpetuate the emergency measures introduced in 2015, and establish a permanent state of emergency," analysts from the Office of the UN High Commissioner for Human Rights (OHCHR) said.
They also said France's Muslim population could be disproportionally targeted by counterterrorism powers.–World Bulletin / News Desk