UK Policeman Fired For Facebook Comment About Wrapping Terrorists in Bacon
Fried Britannia: taking dhimmitude to new heights, daily….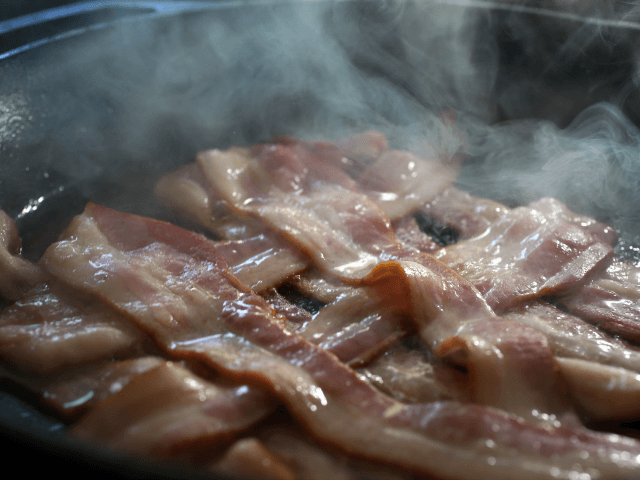 by VIRGINIA HALE
A policeman has been fired from the Cumbria force for gross misconduct after making a Facebook comment that was judged as likely to cause offence to Muslims.
Ross Lister, a serving PC in Barrow-in-Furness for three years, was dismissed following a Misconduct Special Case Hearing at Cumbria Constabulary headquarters, the North-West Evening Mail reported Tuesday.–Breitbart
All this "cultural enrichment" took root in Londonistan long before a Muslim became Mayor
But as they keep telling us, "diversity is our strength." 
Gatestone:  "London is more Islamic than many Muslim countries put together", according to Maulana Syed Raza Rizvi, one of the Islamic preachers who now lead "Londonistan", as the journalist Melanie Phillips has dubbed the English capital.  No, Rizvi is not a right-wing extremist. Wole Soyinka, a Nobel Laureate for Literature, was less generous; he called the UK"a cesspit for Islamists".
"Terrorists can not stand London multiculturalism", London's mayor Sadiq Khan said after the recent deadly terror attack at Westminster. The opposite is true: British multiculturalists are feeding Islamic fundamentalism. Above all, Londonistan, with its new 423 mosques, is built on the sad ruins of English Christianity.
London is also full of sharia courts. There are officially 100. The advent of this parallel judicial system has been made possible thanks to the British Arbitration Act and the system of Alternative Dispute Resolution.
According to Innes Bowen, writing in The Spectator, only two of the 1,700 mosques in Britain today follow the modernist interpretation of Islam, compared with 56% in the United States. The Wahhabis control six percent of mosques in the UK, while the fundamentalist Deobandi control up to 45%. According to a survey from the Knowledge Center, a third of UK Muslims do not feel "part of British culture."
Most important cities have huge Muslim populations: Manchester (15.8%), Birmingham (21.8%) and Bradford (24.7%). In Birmingham, the police just dismantled a terrorist cell; there is also a greater probability that a child will be born into a Muslim family than into a Christian one.
In Bradford and Leicester, half the children are Muslim. Muslims do not need to become the majority in the UK; they just need gradually to Islamize the most important cities. The change is already taking place. "Londonistan" is not a Muslim majority nightmare; it is a cultural, demographic and religious hybrid in which Christianity declines and Islam advances.