Report: Driver Shouted 'Allahu Akbar'
NBC New York reports that the suspect is a Middle Eastern male in his mid-30s. His ID has a Florida address on it.
Many killed and wounded. Driver shot by police, expected to survive @NBCNewYork
"A man of Middle Eastern descent."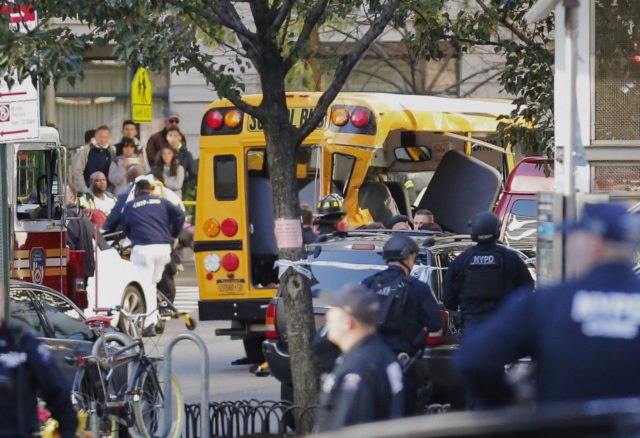 by AMANDA HOUSE, 31 Oct 2017
A suspect is in custody Tuesday after mowing down pedestrians "in an act of terror" in lower Manhattan, killing eight, according to New York Mayor Bill de Blasio
Witnesses, according to Fox News, saw the suspect shout "Allahu Akbar" upon exiting his car after driving the wrong way on a busy bike lane near West and Chambers Street. After striking several people, the individual left his vehicle and was shot by police.
It was unclear initially whether the suspect used a gun, a truck, or both.
The New York Police Department reports it has one suspect in custody.
According to Fox News, the FBI is responding to the scene.
From the Associated Press: "Police and witnesses say a motorist drove onto a busy bicycle path near the World Trade Center memorial and struck several people, then emerged from the vehicle screaming and firing something that appeared to be a gun."
An Associated Press photographer on the scene Tuesday witnessed at least two bodies lying motionless on the path beneath tarps.
The New York Police Department posted on its Twitter feed that one person was in custody. The department says it's unclear whether anyone was shot.
A man who was riding in an Uber along the West Side Highway near Chambers street says he saw several bleeding people on the ground after a truck struck several people.
A witness said the truck had also collided with a small bus and one other vehicle.
The suspect was shot twice by law enforcement after he was stopped on a bike path by a school bus that got in the way, according to Fox News.
Law enforcement sources confirm to Breitbart News' John Carney that the police are investigating this as a terrorist incident.
NBC New York reports that the suspect is a Middle Eastern male in his mid-30s. His ID has a Florida address on it.
He was targeting a school bus, according to the network, and the imitation guns he had were a BB gun and a paintball gun.
"This was an act of terror, and a particularly cowardly act of terror aimed and innocent civilians, aimed at people going about their lives who had no idea what was about to hit them," said De Blasio. "We, at this moment … know of 8 innocent people who have lost their lives and over a dozen more injured. We know that this action was intended to break our spirit, but we also know New Yorkers are strong, New Yorkers are resilient, and will not be moved by an act of violence."
"I want to ask all New Yorkers to be vigilant. We know its Halloween night and in the days ahead people will be uneasy," he continued.
After De Blasio spoke, Governor Cuomo spoke, reiterating there is no ongoing threat:
"It reminds us how precious life is… that shock and that pain is going to be very real… our first responders did an extraordinary job… the new terrorist tactic which they called for publically are these lone wolves who commit an act of terror. This is very preliminary … but at this moment there is no evidence to suggest a wider plot or wider scheme… the actions of one individual who meant to cause pain and harm and probably death, and the resulting terror, and that was the purpose. We will be vigilant, more police everywhere, you'll see them in the airports, you'll see them in the tunnels, it's not because there is any evidence of any threat."
From a commenter on Breitbart:
Another thing: Almost all the victims are likely liberal. They're cyclists in Manhattan, after all. But almost all of us here have been sympathetic toward the victims. *As we should be*. Yet, if this happened in a conservative place toward obvious conservatives then there'd be less sympathy from the left. There'd be "I told you so's". There's be "lack of empathy because they support Trump". Not most, mind you. But many. But I am glad our side doesn't do this. We may not like peoples' politics but we don't wish ill on them. And we do care when they get harmed. And nor do we even assume their politics either based on where they're from or what hobbies they have. Many of them certainly do though, such as toward certain country music concertgoers.