"I am the sixth pillar of Islam"…
Thanks to the Tundra Tabloids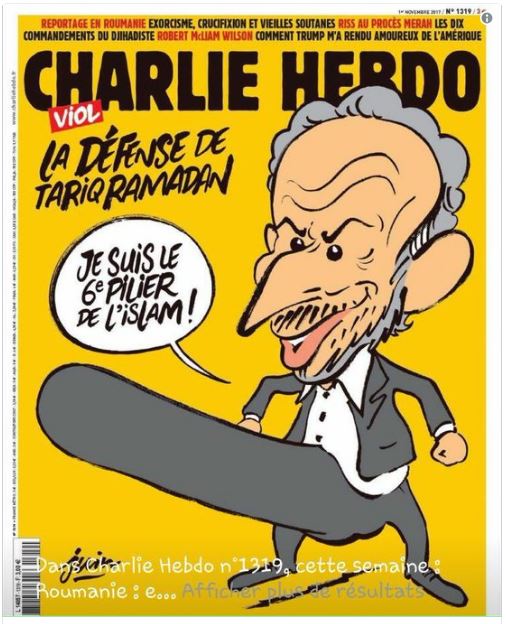 By Sana Elouazi
Rabat – The French satirical magazine Charlie Hebdo published a front-page caricature on Wednesday depicting the Swiss-born Islamic scholar Tariq Ramadan with a "huge" erection, arousing virulent reactions among social media users.
In its latest edition, titled "The Defense of Tariq Ramadan," the magazine portrays  the Oxford professor – lately accused of multiple sexual assaults – with a comically large  erection, below a speech bubble that reads "I am the 6th pillar of Islam," referring to his exaggerated phallus.
The drawing, signed by cartoonist Pierrick Juin, has became one of the top trending topics on social media in France, according to many local news outlets.
The caricature provoked strong reactions on social media, sparking a heated debate between those who saw the cover as offensive towards Islam, and others who praised the humor of Charlie Hebdo and the pertinence of its front-page.
In other news:
France is finished. They knew of TariqRamadan's rape jihad & did nothing but they prosecuted Brigitte Bardot FIVE TIMES 4 criticizing Islam
A UK police officer has been found guilty of 17 charges after investigators discovered horrifying images and messages on his cell phone. Mohammad Arshad, 35, used his career as a policeman to lure, groom, and sexually assault numerous vulnerable children in his personal rape ring.Authorities found lewd pictures of children on his Blackberry phone, and more than 188 images of children were discovered on his computers upon searching his home.After Arshad was charged with 9 counts of engaging children in sex acts, 3 counts of sex with a child, 2 counts of meeting children following sexual grooming, 1 count of rape, 1 count of forcing a child to watch sexual acts, and 1 count of paying for the sexual services of a child, the court heard the stomach-churning details of his debauched abuse.