Beats me how the swine from the lame stream media can sleep at night.
NBC News: Muslim Americans Again Brace for Backlash After New York Attack
"As we mourn those lost, Muslim Americans brace for backlash"
Again we see it: for the establishment media, Muslims are always the primary victims of Islamic jihad massacres. Imagine the hysterics and histrionics had Muslims actually been the victims. NBC News is a disgrace; the best response to this agitprop is to turn them off and never go back.
Dense & dumb & more ignorant than a turd.
Idiotic statements like this  after an Islamic mass-murder attack are almost as bad as the attack itself.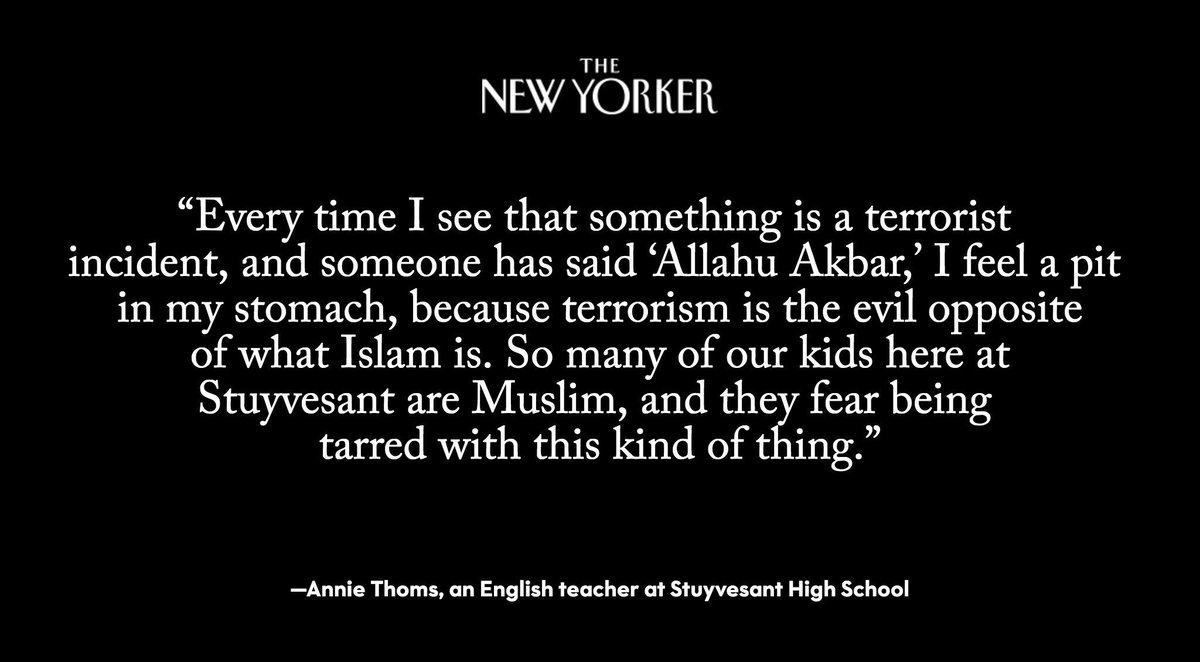 If "Islam has nothing to do with this", then why tell us that Muslims are bracing for a backlash? Because Islam has Everything to do with it
"Muslim Americans Again Brace for Backlash After New York Attack," by Chris Fuchs, NBC News, October 31, 2017:
Rita Panahi Blog Posts
Islamophobia card played after NYC terror attack
It didn't take long for the usual Islamist apologists to go from denying the latest 'lone wolf' attack was an act of terror to playing the Islamophobia card. The best description of that misused and overused term remains: "Islamophobia is a term created by fascists and used by cowards to manipulate morons."
Today's attack in downtown New York, near the World Trade Centre site, has left at least eight people dead and 11 others injured.
We've seen the same lunacy after every Islamist attack in the West with appeasers refusing to focus on the victims and the threat posed by radical Islam and instead fretting about the supposed backlash against the Muslim community.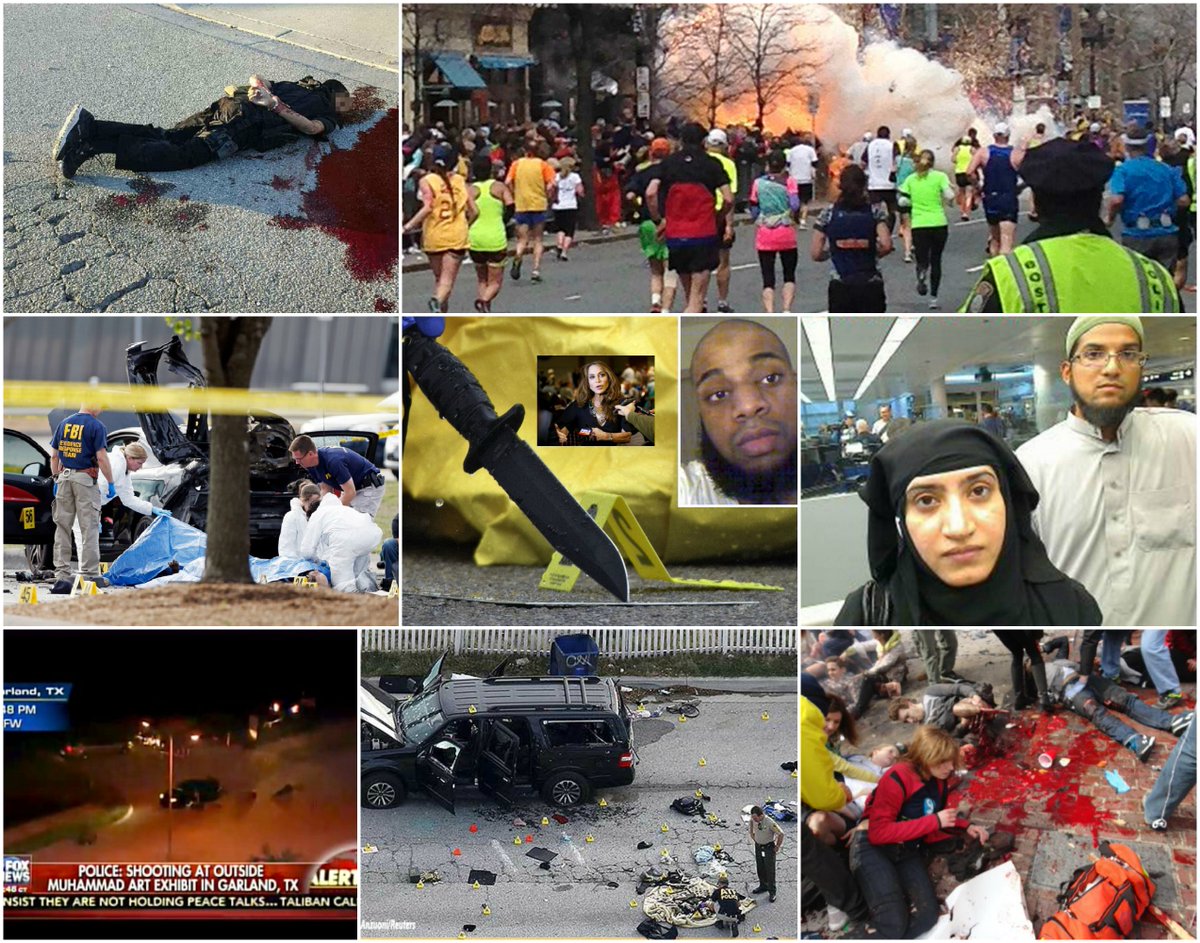 Umer Ahmad, a 43-year-old Muslim-American physician from New Jersey, was in his Trenton office when he heard that a rented pickup truck had deliberately driven down a bike path in Lower Manhattan, killing eight people and injuring about a dozen more.
"My initial reaction was, obviously, concern and shock over what happened," Ahmad told NBC News. "And then, basically, I was wondering if it was a Muslim who did it."
The suspect was identified as an Uzbek immigrant named Sayfullo Habibullaevic Saipov, 29, who entered the United States in 2010, law enforcement officials said.
Saipov hopped out of the truck and shouted "Allahu Akbar," or "God is great," before firing a BB or pellet gun, four senior law enforcement sources said. Law enforcement sources said he left a note in the truck claiming he committed the attack for the Islamic State terrorist group.
A police officer on patrol in the area opened fire, hitting the suspect in the abdomen and ending what New York Mayor Bill de Blasio called "an act of terror."
Ahmad's question was answered.
"My biggest concern is that he's readily identified as a Muslim and then that is extrapolated out to my own faith," he said.
In the wake of Tuesday's attack, some Muslim Americans and community leaders expressed concerns over how their religion would be perceived and whether Muslims would become targets of violence.
"There has been a history of, sort of, blowback, and that's obviously going to be something that people think about," said Ali Najmi, a board member of the Muslim Democratic Club of New York. "But the primary concern is, usually, and is now, how we can best lend ourselves in this time of crisis."
Najmi predicted that Muslim-American groups would organize around ways to help those affected by Tuesday's attack.
"Their primary concern is about how we can be helpful and how we can help the victims and people in crisis," he said.
Afaf Nasher, executive director of the New York chapter of the Council on American-Islamic Relations, said the action and attitude that Muslim Americans must take were ones of continued service — "service to what needs to be done for, number one, those that are attacked, but also just in general for the general community."
"From our perspective as Muslim Americans, we are just incredibly heartbroken," Nasher added. "And just thinking about the senseless blood that was spilled and thinking about the families who are now in mourning, it's difficult to even talk."…
Meanwhile, the soldiers of allah are beating their chests with glee: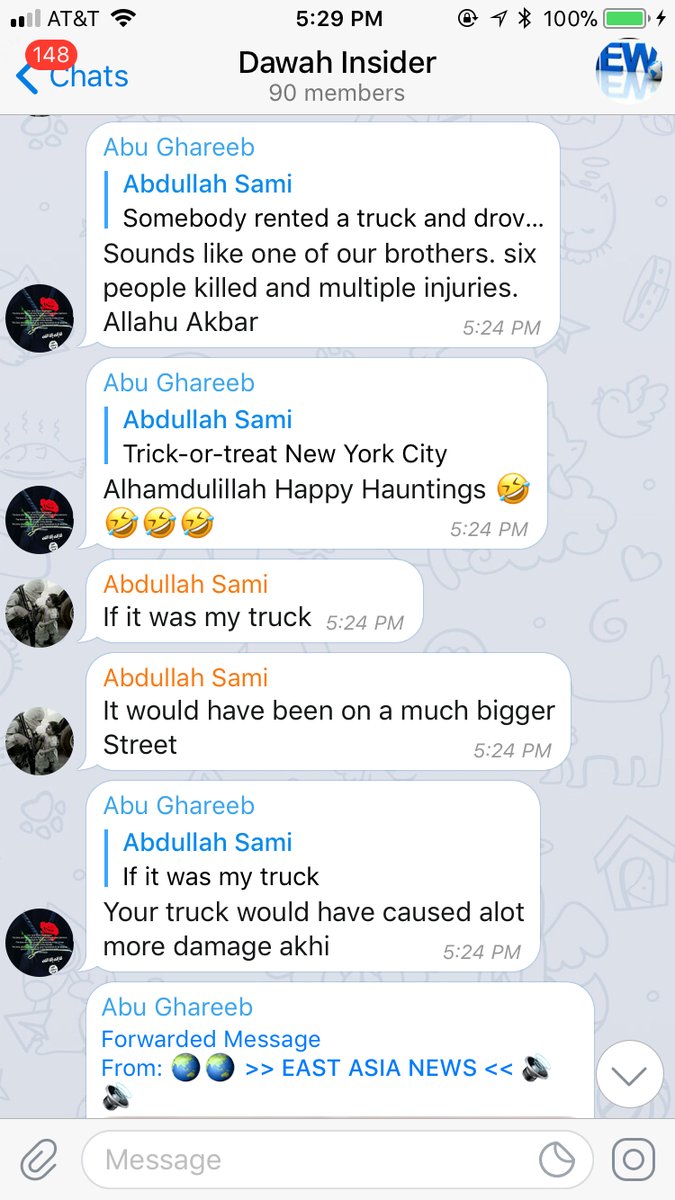 In the November 2016 issue of the ISIS magazine Rumiyah, the terror group specifically advocated this style of attack. Here's the instructions from ISIL on how to make sure the infidels are crushed dead