And there you have it, straight from someone who has seen it all first hand. All along we have been saying these people are lying leeching parasitic scum, this just confirms it!
A former guard on Manus Island says many of the asylum seekers on the island use drugs, verbally bait locals, target female staff for abuse and are refusing to budge because they are "set" on getting to Australia.
While sympathetic to the cause of many, Tom said others in detention were "quite wealthy" and had designer watches and expensive phones.
While never assaulted himself, Tom said he'd witnessed several other "atrocities" against staff.
"They can become quite dangerous if they don't like what they hear," he explained.
Tom said it was "common" for those inside the centre to trade cigarettes and other items with Manus Island locals for marijuana.
.
MANUS ISLAND WATCH
The Papua New Guinea Supreme Court has rejected an application requesting authorities to resume electricity, food, medical care and water supplies to the Manus Island detention centre where almost 600 refugees and asylum seekers have barricaded themselves inside.
The PNG Supreme Court has rejected an application to restore electricity, medical care, food and water supplies to the Manus Island detention centre.—SBS.COM.AU
Bendigo services willing and able to extend refugee services to Manus Island asylum seekers.
Refugee services group wants to bring Manus Island detainees to Bendigo. Says it will fix the lack of multicultural diversity.
.
"… fix the lack of multicultural diversity?"  
A case of collective insanity. If leftist do-gooders, Moonbats & dole-bludgers insist on "sharing" their miserable existence with illiterate Mohammedan savages from Africa & the Middle East who hate us, they should be forced to pay for it.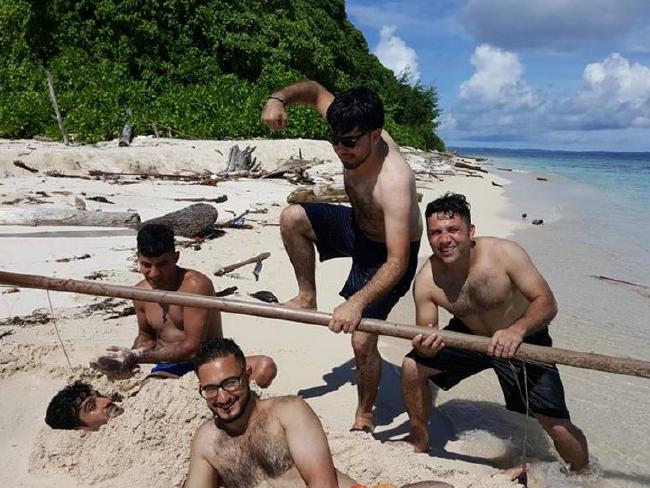 Manus Island asylum seekers post beach holiday selfies
The distraught mother of Sulayman Khalid, 22, who spearheaded ISIS-inspired terror attacks on Government buildings says her son was just a…
Surprise surprise.
This convicted terrorist's mother says he was normal and all ok until he started frequenting an Islamic prayer room.
His mother wants to see more de-radicalisation programs.
How about closing bookstores, prayer rooms and Mosques that teach this evil ideology??
You can all help stop Islam in Australia. Join Q Society and help with the push back.…
Sajid Ali, now 38, Riaz Makhmood, 39, and Zaheer Iqbal, 39, are all charged…
.
SAVILE TOWN, UK
48 of the 4,033 people living in Savile Town, Yorkshire are white British. Almost all the other residents, according to the last census, have Pakistani or Indian backgrounds. A culture where women are severely restricted, not allowed to be seen. British tv and music are banned. Confronting or what?
There are almost no white residents to be found in Savile Town. A detailed breakdown of the last census of 2011 recorded that only 48 of the 4,033 people living here were white British.
DAILYMAIL.CO.UK
A hardline Islamic leader says women need to wear the hijab so men can control their sexual urges. Australian rock band member and convert to Islam, Sheikh…