Teenagers accused of bashing and robbing Australian Open tourists face court
Melissa Cunningham from the AGE doesn't dare to mention that the "teenagers" are the same African enrichers who have been terrorising Melbournistan for quite some time.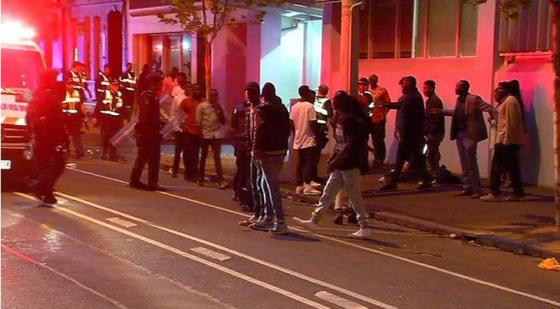 A group of teenagers have faced court accused of bashing and robbing foreign tourists visiting Melbourne for the Australian Open, leaving one US man seriously injured.
Five teenagers, including one who was on bail, have been charged by the Melbourne's Embona Robbery Taskforce following two separate robberies in Melbourne's CBD on Wednesday night.
Charge sheets allege one of the teenagers intentionally caused serious injury to a victim in circumstances of "gross violence'' in that at the time of the assault the victim was "incapacitated''.
Police allege in one incident a 52-year-old man and 17-year-old boy, both from the United States, were bashed and robbed in the Queen Victoria Gardens just after 11pm.
The two US citizens have been identified as highly acclaimed American doctor Edmund Pribitkin and his teenage son Edik.
Edik is believed an avid tennis fan and player who dreamed of going to the Australian Open with his father.
The duo were leaving the tennis on Wednesday night when they were allegedly attacked by the group of teenagers who asked them for cigarettes before they began punching and kicking them.
"They didn't seem to want their possessions or anything like that because my brother and dad offered them," Doctor Pribitkin's daughter Tesa told Nine News.
"But they sort of just kept hitting them repeatedly."
Dr Pribitkin suffered serious head injuries and was put in an induced coma while Edik suffered a broken nose and concussion.
Both are now in a stable condition at The Alfred.
Ms Pribitkin said the family were still in shock and "processing" the attack.
"It's horrible because I think it is something that's going to be affiliated with the Australian Open for us for a while."
In the second incident later that night, police will allege three German tourists aged in their 20s were set upon and robbed by the same group of teenagers in the Queen Victoria Gardens.
The German nationals suffered minor injuries in the attack and did not require hospitalisation.
Police arrested five teenagers in Birrarung Marr just before midnight on Wednesday.
Three 17-year-old boys have been charged with a number of offences including intentionally causing serious injury with gross violence and robbery, and remanded with all three due to appear in a children's court on February 8.
One of the teenage boys was charged with committing an indictable offence of affray while on bail.
He also faces 11 more charges, including intentionally causing injury, robbery and theft of an iPhone and a MVMT wristwatch valued at $550 and multiple counts of using unlawful violence.
Two 16-year-old girls have also been charged with attempted affray, robbery and assault.
Both have been bailed to appear in a children's court on February 8.
Investigators are also keen to speak to anyone who witnessed the incidents.