Pull my other leg:
Africans are afraid to go out in Melbourne for fear of being abused after backlash against teen gangs
South Sudanese refugees in fear of going out in fear of ongoing racial abuse
Minister recently said Victorians were too afraid to go out due to gang violence
Sudanese refugees are now more wary about where they go to and time of day
It's expected to continue to be a hot topic in lead up to Victorian state election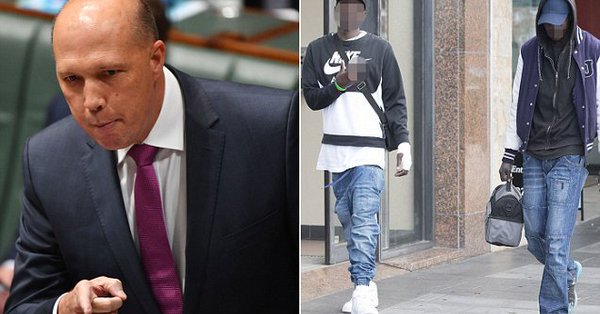 Growing numbers of Melbourne's South Sudanese community are choosing to stay home and not go out in fear of ongoing racial abuse and vilification regarding African gang violence.
Federal Home Affairs Minister Peter Dutton sparked outage in January when he said Victorians were too afraid to go out because of African crime gangs.
'People don't see this in NSW, in Queensland, but the reality is people are scared to go out at restaurants of a night time because they're followed home by these gangs, home invasions, and cars are stolen,' Mr Dutton told Sydney radio station 2GB. (Continued below the fold)
"AFRICAN" STABS TWO MEN IN MELBOURNE
Detectives from the Transit Crime Investigation Unit have released the vision following the attack which saw two men stabbed on a tram on Droop St, Footscray.
Police allege the man, perceived to be of African appearance, stabbed both men about 8.45pm on July 28 last year before fleeing on foot along Geelong Rd.
In other news:
A Muslim refugee claims immigrants may steal and loot and rob Australians…
Eager to serve the umma. The western world is full of useful idiots who do the bidding of the Mohammedans. Boris Johnson is no better than Tony BLiar when it comes to advancing the cause of Islam.
.
Plight of Rohingya people is 'one of the most shocking humanitarian disasters of our time,' says Boris Johnson
.
Update:
Green turd stands with the savages
Melbourne's media has been dominated by racialised crime reporting and politicians like Matthew Guy or immigration minister Peter Dutton seeking to exploit it.
.
Mr ADAM BANDT : "…Everybody has the right to feel safe in our community, but right now cynical politicians are putting the safety of Melbourne's African-Australian community at risk…"
Quite the contrary!! Africans are putting the Australian community at risk! How many of those Africans ARE Australians, to justify calling them 'African-Australian' community??
At the time, Victoria's Chief Commissioner of Police Graham Ashton described reports Victoria was not a safe place to live as 'complete and utter garbage.'
Hundreds of Victorians also hit back at Mr Dutton by posting images of themselves dining out on Twitter, using the hashtag #Melbournebitesback.
Now, it's the Sudanese who are too scared to go out, according to Darwin based lawyer and former South Sudanese refugee Maker Mayek.
'We've seen people in Western Australia, in Perth, reporting that they're being targeted at supermarkets, being called names. People being called the N-word, go back to where you came from,' he told ABC Radio.
'If the minister wants someone who is afraid to go out, it is the members of the South Sudanese community now.'
Sudanese refugees are now more wary about where they go to and the time of day, according to Mr Mayek.
He believes it will continue to be a hot topic in lead up to the Victorian state election.
'We'll be asking the politicians to really consider whether this is something that they should be keep talking about,' he said.
'Clearly, it puts a community in harm's way.'
Mr Mayek acknowledged issues with a small number of youths behind recent incidents in Victoria.
 As a community we do acknowledge there have been issues to do with transition right from the get go, right from the time we arrived in this country," he told the Brisbane Times on Saturday.
Mr Mayek is the man behind the #africangangs campaign to counter "appalling" media coverage and political comments about the South Sudanese community.
Read more: http://www.dailymail.co.uk/news/article-5381185/Sudanese-refugees-afraid-eat-Melbourne.html#ixzz56wLyXAeF
Follow us: @MailOnline on Twitter | DailyMail on Facebook