From the Gates of Vienna:
Martin Sellner of the Austrian Identitaires and Brittany Pettibone, his American girlfriend, were detained upon entry into the UK and will be deported. Mr. Sellner and Ms. Pettibone came to Britain to interview Tommy Robinson, which is now a deportable crime, unlike, say, supporting ISIS terrorists or calling publicly for the murder of Jews and Christians.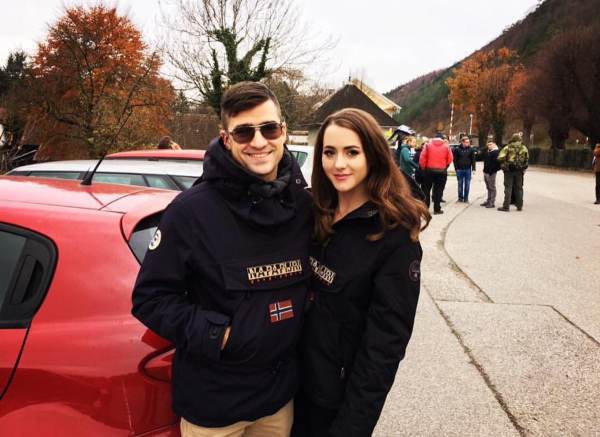 From Vlad Tepes:
… the enforcement of thought crimes, so selectively enforced against conservative, or Enlightenment values, that it makes the official stated laws on thought and hate crimes, such as they are, grotesque, Soviet like distortions of what actually takes place.
Notice the Police reaction to assault by ANTIFA against Tommy:
 Lauren Southern on the banning and detention of Youtube conservative bloggers.
By far the most evil and powerful tool in the arsenal of the tyrant is selective enforcement. The fact that muslims who preach genocide, slavery and systemic rape as a political tool can come and go from the UK, and Canada for that matter, uninhibited while people like these, and Michael Savage, Pamela Geller, Robert Spencer, Martin Sellner, and others have been prevented from entering the UK, and even deported, who had no criminal history whatsoever but merely objected to the transformation of Western nations into Islamic communist ones. The ban targets even actual members of Parliament of European states like Geert Wilders.
The interview below is from Washington DC at the Congressional Library in 2009, with Lord Pearson, who had invited Geert Wilders to speak at the House of Lords.
Black Pigeon speaks:
It gets worse, far worse:
Police Failed to Act as 1,000 Girls Beaten, Pimped, Raped, and Even KILLED Over 40 Years in Britain's Worst Grooming Scandal
The British, the European ruling class is complicit in this. Mass-rape of British females by Paki savages, the replacement of the natives with a Mohammedan proletariat,  goes hand in hand with white genocide. The coppers are just enforcing the plan.
by JACK MONTGOMERY
An investigation by the Sunday Mirror has revealed Britain's worst ever grooming scandal, which saw authorities paralysed for 40 years by fears of "racism" accusations as grooming gangs victimised up to a thousand girls in Telford.
The left-leaning newspaper claims its 18-month investigation found "abuse on unprecedented levels", with three women being killed when abuser Azhar Ali Mehmood burned down their home with them inside and two others dying in connection with the scandal.
Social workers reportedly knew of the abuse, which saw girls as young as 11 targeted, from the 1990s, but police took ten years to launch an investigation and the authorities failed to keep tabs on suspects and perpetrators from the South Asian community fearing "racism" accusations.
Victims told the Sunday Mirror that the abuse — which is said to have begun in the 1980s — carries on to this day, and notes that police failed to investigate one recent case five times before a Member of Parliament directly intervened.
The newspaper claims to have uncovered previously unseen files showing council staff chose to view girls being abused, trafficked, and even sold as "prostitutes" rather than victims.
Telford is a relatively small city, with a population of 170,000, making this scandal the most extensive and long-running in the country.
The number of victims in Rotherham was slightly higher at 1,500, but Rotherham is a significantly larger city with a population of around 260,000.
"I hated what was happening and my abusers made my skin crawl but I was told that if I said a word to anyone they'd come for my little sisters and tell my mum I was a prostitute," said one 14-year-old victim, whose phone number had been sold to paedophiles.
"Night after night, I was forced to have sex with multiple men in disgusting takeaways and filthy houses.
"I must have been getting the morning after pill from a local clinic at least twice a week but no one asked any questions.
"I fell pregnant twice and had two abortions. Hours after my second termination, I was taken by one of my abusers to be raped by more men.
"The worst moment came just after my 16th birthday when I was drugged and gang-raped by five men.
"Days later, the ringleader turned up at my house and told me he'd burn it down if I breathed a word of what had happened."
Related:
The Sunday Mirror cites victims as saying police and social workers repeatedly turned them away or failed to offer "emotional support", and the authorities actively attempted to hamper their investigation.
Local MP Lucy Allan described the newspaper's findings as "extremely serious and shocking" and has demanded a full public inquiry.
Specialist child abuse solicitor Dino Nocivelli, of Bolt Burdon Kemp, told the newspaper: "These children were treated as sexual commodities by men who inflicted despicable acts of abuse.
"The survivors deserve an inquiry. They need to know how abuse took place for so long and why so many perpetrators have never been brought to justice."
But police and council staff have previously written to Home Secretary Amber Rudd MP to discourage this, saying it is not necessary.
The word "Islamophobia" is commonly used for two distinct phenomena: the targeting of innocent Muslims in vigilante attacks, which is never justified, and the honest analysis of how jihadis use the texts and teachings of Islam to justify violence, which analysis is always justified and urgently necessary. Numan Kurtulmus is referring to "anti-refugee sentiments, xenophobia and Islamophobia," which are "manifesting themselves in the form of hostility against Turkey and Turks." He should ask himself why this "hostility," insofar as it actually exists, has come about, when Europeans have been and continue to be welcoming of Hindu and other immigrants. Why is it only Muslims who end up coming into conflict with the society to which they migrate? If Kurtulmus wants to see an end to this "Islamophobia," he could work to bring about an end to jihad terror attacks, Muslim migrant crime and violence, Muslim boasts of imminent conquest, etc. But he won't.
"Turkey warns against growing Islamophobia in Europe," Anadolu Agency, March 9, 2018:
Turkey's culture and tourism minister on Friday warned against growing Islamophobia and anti-refugee sentiments in Europe.
"It is extremely worrying that in Europe, the rise of anti-refugee sentiments, xenophobia and Islamophobia are manifesting themselves in the form of hostility against Turkey and Turks," Numan Kurtulmus said on Friday.
The Turkish minister visited Mevlana Mosque of Muslim-Turkish community in Berlin, which was badly damaged by an arson attack in 2014.
Kurtulmus said Muslims in Germany were worried over the rise of racism and growing number of xenophobic attacks in recent years.
He condemned a Molotov cocktail attack at a Turkish mosque in southern German city of Lauffen am Neckar on Thursday night, which caused a minor fire.
The Turkish minister said the rise of racists and anti-Muslim sentiments were undermining peaceful coexistence in the country.
"This is manifesting itself not only by the use of far-right rhetoric in politics. It is also a very dangerous development poisoning relations between the countries," he said, referring to recent tensions between Ankara and Berlin.
Kurtulmus called on German politicians and civil society organizations to take a stronger stance against xenophobic and Islamophobic hate crimes.
Germany has witnessed growing Islamophobia and hatred of migrants in recent years triggered by a propaganda from far-right and populist parties, which have exploited fears over the refugee crisis and terrorism….