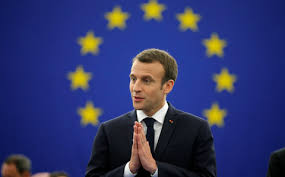 Everything must go. Lets bring in the liquidators. France in receivership. Macron  the appointed administrator. Winding up  2000 years  of Western civilisation and culture to replace it with Mohammedan & black African savagery:
'Bombshell' population growth in Africa means Europe is entering an "unprecedented" age of mass migration, Emmanuel Macron has said, asserting that the two continents' destinies are "bound".
The French people may have a different vision, given their calls to outlaw "radical Islam" and their demands for the deportation of 11,000 known jihadists. Macron talks the talk when it suits him, when he promises the French people that he will fight the jihad ideology, but his other statements present a different portrait.
Macron once asserted that jihad terrorism was now part of daily life in France, so the French may as well get used to it.
Macron is a leftist who has gone along to get along with the EU. He has embraced the EU's suicidal globalist vision of wide-open borders, in the bizarre hope that migrants from oppressive countries in the Middle East and North Africa would somehow peacefully integrate, despite all the evidence to the contrary. Just ignore the anti-Western rancor of Muslim migrants, indoctrinated into them from early childhood. Europe is determined to continue its utopian dream of peace, while the hijrah continues as well. European Commission chief Jean-Claude Juncker has declared that "Europe has a 'clear need' for mass migration from Africa," and even claims that without millions of migrants coming in, "Europe will be lost."
Related:
CONSERVATIVE lawmaker Nicolas Dupont-Aignan, the head of the mainstream nationalist political party Debout la France (Stand up France), has labelled the French president Emmanuel Macron a "traitor" who was "liquidating" the country.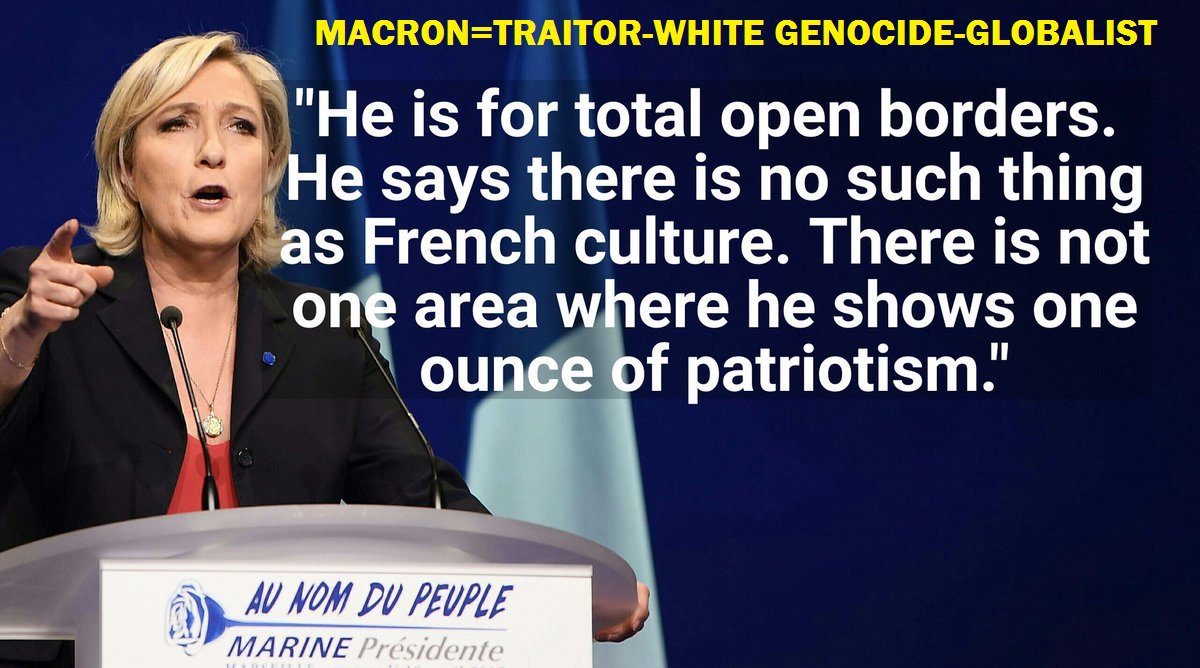 Macron claims bombing Syria "saved the honour of the international community".
Emmanuel Macron has angrily confronted critics of last week's airstrikes in Syria – claiming France, the UK and the US "saved the honour of the international community".
Europe is already near lost, but not due to its low birthrates. It is is grave peril because of spiraling lawlessness, jihad attacks, violent no-go zones, sharia patrols and the kind of sharia oppression that a decade ago would have been considered inconceivable in the West. Just yesterday, Muslims started "extremely violent" riots in France over a woman who was forced to remove her full face veil, and now, lesbians in suburbs heavily populated by Muslim migrants are being forced to hide their sexuality.
Recently, the EU border agency boss, Fabrice Leggeri, warned the European Parliament that the increase in people-smuggling from Africa makes for a high threat of jihad terror in Europe. Emmanuel Macron's double game is evident, but he is firmly compliant with the EU plan to saturate Europe with migrants from Africa and the Middle East who have contempt for democratic societies and the principles of human rights.
The Visegrad Group (Hungary, Slovakia, the Czech Republic, and Poland) and Austria need urgent support. They have resisted these damaging immigration policies and are now the only hope for Europe, unless the people in other countries fight for their freedoms at the polls. Let's hope it isn't too late. Europe definitely does not need a "shared destiny with Africa."
"Macron: Europe Entering Age of 'Unprecedented' Mass Migration, 'Shares Destiny' with Africa," by Virginia Hale, Breitbart, April 17, 2018:
'Bombshell' population growth in Africa means Europe is entering an "unprecedented" age of mass migration, Emmanuel Macron has said, asserting that the two continents' destinies are "bound".
"The migratory phenomenon we are facing will be historic," declared the French president in a television appearance Sunday night, when he announced that "great poverty", "climate change", and "geopolitical conflicts" will see Africans flooding into Europe "for many years to come".
To back up his point, Macron pointed to "bombshell" population gr0wth across the third world continent, which he added has been "tremendously well described" by French-American journalist and professor Stephen Smith in a recent book.
"[Africans] are mostly turning to Europe because the continent [of Europe] is not an island, because of our location, and because Europe has its destiny bound with Africa," stated the vehemently pro-EU French figure during a two-hour long interview.
Smith, the Africa expert to whom Macron referred during his appearance on BFMTV, estimates that the number of Africans living in Europe will grow from nine million to between 150 million and 200 million within the next 30 years.
In The Rush to Europe, the Duke University professor describes a massive, unprecedented population transfer still in its infancy, which he explains will — "paradoxically" — be triggered largely as a result 0f Western aid money financing would-be migrants' journeys from Africa.
Asserting he set out to provide a "dispassionate" expert view on how Africa's demographic explosion will affect Europe, Smith in his book has outlined a number of different scenarios he believes could emerge from the situation.
"The most optimistic" of these — according to Le Figaro — is "Eurafrica", which would see mass migration create a 'welcoming', multicultural Europe, which "would fully embrace being a 'mixed-race land of immigration and interbreeding'"…..